Get the Executive Summary
"*" indicates required fields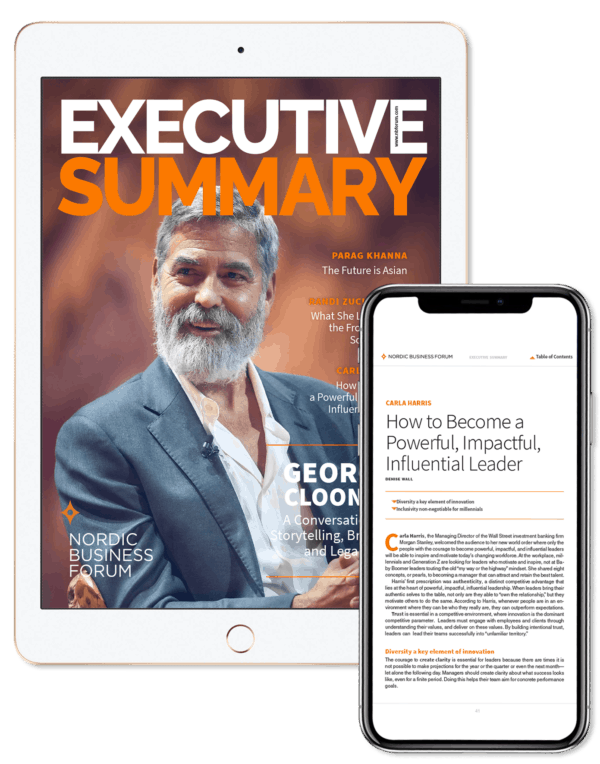 ---
About the summary
Nordic Business Forum 2019 gathered more than 7,600 CEOs, entrepreneurs, and business executives on October 9-10 in Helsinki.
The Executive Summary includes summary articles on all presentations held at the event.
5Alex OsterwalderJumpstart Business Growth
9Costas MarkidesInnovation as a Springboard to Success
13Anssi RantanenThe Key to Encouraging Experimentation in Business
17Juliet FuntThe Strategic Pause
21Parag KhannaThe Future is Asian
25Alex OsterwalderBuilding the Invincible Company
29Daniel PinkThe Scientific Secrets of Perfect Timing
33Steve WozniakA Life of Creativity, Invention, and Purpose
37Sara BlakelyThe Fundamental Tenets of Being an Entrepreneur
41Carla HarrisHow to Become a Powerful, Impactful, Influential Leader
45Donald MillerHow The Power of Story Can Grow Your Business
49Randi ZuckerbergWhat She Learned on the Front Lines of Social Media
53George ClooneyA Conversation on Storytelling, Branding, and Legacy
57Brené BrownAn excerpt from Dare to Lead: Brave Work. Tough Conversations. Whole Hearts.