Building Leaders Who Change the World
Nordic Business Forum aims to provide you with all the tools and networks needed to be a part of the change. Our 2021 speaker line-up is packed with brilliant minds to help you disrupt your business and forecast the future of work. With 7,600+ estimated guests around you, networking plays a big role at the event and will give you the chance to meet the right people to develop your business in the right direction.
Speakers
Meet and learn from the leading minds on 29-30 September 2021 in Helsinki, Finland.
Agenda
Learn From the Greatest Business Minds on the 29th and 30th of September 2021
Nordic Business Forum 2021 will take place at the Helsinki Expo and Convention Center.
Timezone: EEST – Eastern European Summer Time, Europe/Helsinki – UTC +02:00
PLEASE BE ADVISED THAT THE SCHEDULE MAY BE SUBJECT TO CHANGE.
Day 1 - 29 September 2021
Day 2 - 30 September 2021
Tickets on Sale Now
Your All-access Pass to Join Us on the 29th and 30th of September 2021
Your accountant will love us. We accept several payment methods (invoicing and credit card), and you choose to be invoiced either within 14 days or 30 days. Furthermore, all our tickets are subject to a 30 days full cancellation policy from the date of purchase.
TICKET
Matchmaking and networking with the other attendees

Access for the presentations for 30 days after the event has ended

Simultaneous Interpretation in Estonian, Finnish, and Russian

30-day cancellation policy
VIP TICKET
All included in "Ticket" plus...

VIP session by Ryan Holiday

VIP session with Kjell A. Nordström
FIRST CLASS TICKET
All included in VIP plus...

Seating in the first four rows

Access to First Class Lounge

Q&A session with Yuval Noah Harari

Q&A session with Lloyd Blankfein

Extra Q&A sessions (TBA soon)

Photo Opportunity with a speaker (TBA soon)
We offer discounts on group orders. You will automatically get a 5 % discount for orders with 10+ tickets and a 10 % discount for orders with 20+ tickets. If you are planning to attend with a larger group, our corporate packages might be just what you're looking for!
Accepted payment methods: credit cards, Finnish online banks, and invoicing (E-invoice, PDF-invoice, paper invoice, or Russian invoice).
*On-demand does not include the recordings of the VIP Sessions nor Chatri Sityodtong's keynote.
Watch the Events Through our Live Stream
With the Live Stream Pass, you gain access to high-quality live broadcasts from all Nordic Business Forum and Oslo Business Forum events during the calendar year. Full replays become available on-demand after their original live broadcasts and can be viewed for 30 days.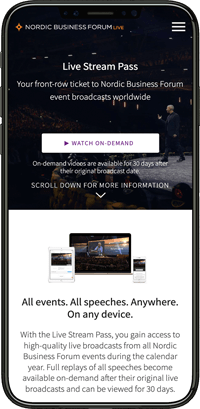 Frequently Asked Questions
Where the Event is held?
The event is held in Messukeskus Helsinki, Expo and Convention Centre.
Is the Nordic Business Forum Helsinki event going to be organized?
We are hopeful that the EU goals of the COVID-19 vaccination schedule are reached and we get to run the event on 29-30 September in Helsinki as planned.
The plan from the Finnish government
for lifting the restrictions imposed due to COVID-19 (published April 21st) gives a good prospect for the event to be held normally in September. However, we are naturally closely following the situation, and are ready to make any adjustments if necessary.
What happens if the event is rescheduled or canceled?
If the event is rescheduled within 6 months of the original event dates, we will directly transfer your ticket to the new dates. This is also stated in our
terms and conditions.
In case the event is rescheduled for more than 6 months, your ticket is transferred to the new dates, but you can also get a full refund for your tickets if you wish. In case the event is canceled, you will get a full refund for your purchases.
What if I travel from outside Finland?
We are following the official guidelines from the local authorities. Based on our terms and conditions, we are not liable for any restrictions of travel set by the authorities. If you are not able to travel due to COVID-19 restrictions, you will also be given the option to change your NBF2021 ticket to a ticket for NBF2022. You are also allowed to sell your NBF2021 to anyone willing/able to attend physically.
Do I need a COVID-19 vaccination certificate in order to attend the event?
The Finnish government has not yet decided on whether vaccination certificates or negative test results will be needed to attend indoor events for any period of time in the future. We are following the official guidelines closely and will inform our attendees of the latests decision of the authorities.
I have another question. Where can I get help?