Getting here
Nordic Business Forum 2019 will be held at the Helsinki Expo & Convention Center, which is located close to the center of Helsinki with excellent transport connections.
Arrival by train
The Helsinki Expo & Convention Center is situated next to Helsinki Pasila railway station, so we highly recommend arriving by train. All national and international trains (apart from Allegro trains) stop at Pasila, and it is only a 300-meter walk to the main entrance of the Expo & Convention Center.
Arrival by plane
The Helsinki-Vantaa Airport is 13 km from the Expo & Convention Center. Look for the I and P trains, which connect the airport to the Pasila railway station. The journey takes around 30 minutes, and trains leave every 10 minutes during the day. You can also grab a taxi from the airport, which will take roughly 15 minutes and cost about 35€.
Arrival from the harbors
If you arrive in Helsinki via ferry, we recommend that you either take a taxi or a tram. Both are located in front of the arrival terminal.
If you are coming from Tallinn with a Tallink ferry arriving at 9.30 in Western Terminal 2, you are able to take a free-of-charge shuttle bus service. We will have transfer buses waiting for you at the harbor and customer service people guiding you. The buses will drive straight to the event venue (no stops in hotels, as they are not ready to check you in yet).
Coming to us from Tallinn? Check out our special offer with Tallink here, or contact us for more information.
Arrival by bus
You can reach the seminar venue on buses 506 and 69, both of which stop at the Helsinki Expo & Convention Center.
Arrival by tram
You can reach the Expo & Convention Center easily with tram lines 7 and 9. All of these trams connect to the city center.
Taxi
To arrange for a taxi, call +358 (0)100 0600. Tell them that you are going to the Helsinki Expo & Convention Center and they will know where to go. The taxi stand at the Expo & Convention Center can be found at the main entrance (South Entrance).
Parking
The Expo & Convention Center Car Park is accessible at the North Entrance of the venue. If you are using a GPS, enter the address: Ratapihantie 17. The parking fee is €12, which allows you to park once and stay for 24 hours. It uses a barrier-free autopay parking system that identifies vehicle registration plate numbers during entry and exit. You can pay for your parking at the payment machines, after which you will have one hour to drive out. Alternatively, you can choose to pay in advance online or receive an invoice later and just drive away. Find out more about parking here.
Pre-check-in information
To enter the event, each attendee will need to collect their seminar pass from our check-in desks upon arrival at the venue.
Claiming Your Own Pass
Please be prepared to show your ticket and valid ID when you arrive at the pre-check-in.
Claiming Your Friend's Pass
If you want to claim your friend's pass/badge, have your friend's ID (or a copy of it) and your friend's ticket with you.
Early birds can collect their pass from one of our designated pre-check-ins:
Monday, October 7, from 10.00 to 20.00
Tuesday, October 8, from 10.00 to 23.00
Tuesday, October 1st, from 9.00 to 17.30
Event Agenda
Nordic Business Forum 2019 will take place at the Helsinki Expo and Convention Center.
Timezone: EEST – Eastern European Summer Time, UTC +03:00
Day one (Wednesday 9 October 2019) will focus on growth in innovation. The day will start with a special session at 10am for VIP and First Class ticket holders, and with lunch at 11am for all guests. Speakers include Juliet Funt, Daniel Pink, and Steve Wozniak. The day's program will end at 7:20pm for all guests, while VIP and First Class guests are invited to stay on for a VIP evening.
Day two (Thursday 10 October 2019) will focus on growth in marketing and leadership. The day will with a special session at 8:40am for VIP and First Class ticket holders, and the general program for all guests will begin at 10am. Speakers include Brené Brown, Randi Zuckerberg, and George Clooney. The event will end at 5:50pm.
Accessibility At the event
The lowest P1 level of the car park near the northern entrance has 20 parking spaces marked for the disabled. The users of disabled parking must declare their vehicle registration plate number at our customer service desks.  Also, the hotel parking area is free for disabled persons during the events.
Entrances and getting around
All entrances and premises at the Helsinki Expo & Convention Center provide easy access. All floors can be accessed by lift. Most of the restaurants at the center also provide easy access.
Taxis are allowed to drive right up to the entrances. If you would like to borrow a wheelchair during your time with us, please let us know in advance by emailing info@nbforum.com or calling us at +358 20 775 1390 so we can make sure it's ready when you arrive.
Physical assistance
If you require physical assistance or will be attending the event with a caretaker (who will still require a separate ticket), or if you require personal assistance at the event, please contact us in advance so we can tailor a solution to your specific needs. Send us an email at info@nbforum.com or give us a call at +358 20 775 1390 so that we can discuss your needs and prepare everything accordingly to ensure a smooth and stress-free experience for you.
Toilets
All the Helsinki Expo & Convention Center floors have easy-access toilets. Our staff (in the signature orange bow ties and scarves) are happy to point you in the direction of the closest toilets.
For more information, please contact us or visit the frequently asked questions (FAQ) by the Helsinki Expo & Convention Center.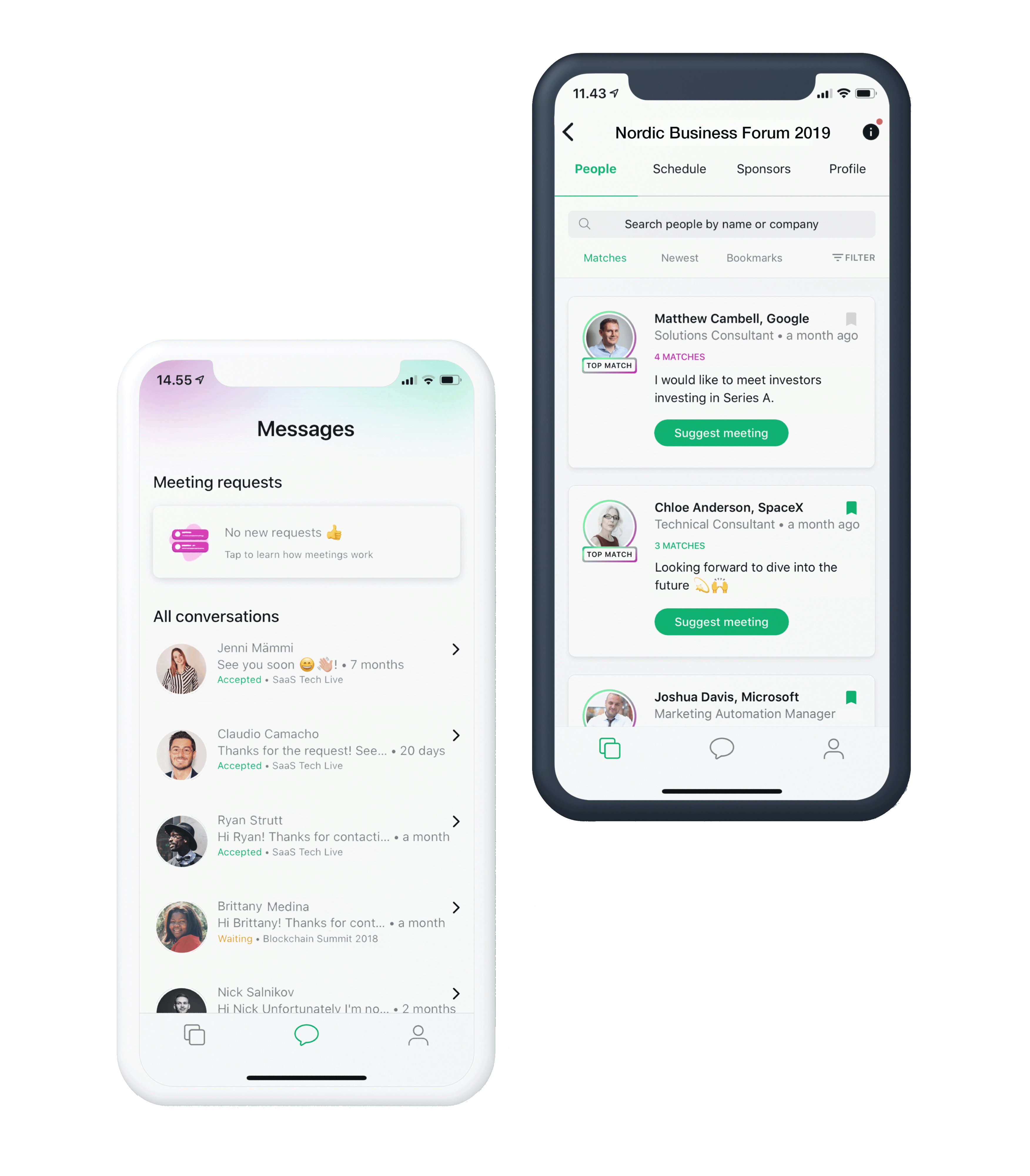 Network with Brella
Brella is the official event app for NBForum 2019! With it, you will have easy access to our interactive event agenda, be able to ask questions from the speakers, as well as a direct platform to network with other event guests.
Here's how to get started:
Download the app for iOS or Android or access Brella through their desktop site.
Log in with LinkedIn, Google, or Facebook, or create an account using your email address
Next, select "Join new event" and enter the join code nbforum2019
Fill in your profile and start networking!
Download the app on any of your devices to navigate around Nordic Business Forum 2019 like a pro. Happy Brella-ing!
PEER EXCHANGE TABLES
If you're a CMO, CFO, CEO, or a chairperson on the board of directors, we have an extra special area for you to network with each other around set discussion topics during specific breaks. Join each other at one of five tables where you'll find a theme and some prompting questions to get the conversation going.
Day 1 First Break: CMOs to discuss marketing, growth hacking, the collaboration between sales & marketing, artificial intelligence, and leadership.
Day 1 Second Break: CFOs to discuss profitability, cash flow, forecasting, budgeting, and valuation.
Day 2 Lunch Break: CEOs to discuss innovation, strategy, time management, leadership, and company culture.
Day 2 Second Break: Chairpersons to discuss strategy, acquisitions & mergers, guiding your CEO, board work, and internationalization.
RESTAURANTS
In addition to the official event buffet food served in the networking area, there are many restaurants open at the lower gallery (see venue map below). The food served in these restaurants is included in your conference ticket. All the restaurants are open on Wednesday 9/10 from 11:00 to 17:30 and on Thursday 10/10 from 11:45 to 16:00. In addition to these restaurants, there will be food trucks outside the venue too.
Candy sells the popular exhibition licorice among other sweets.
Piazza Italia offers true Italian flavors from pizzas, pastas, and salads, to delicious pastries.
WOK'N'CURRY is a tasty and spicy Asian kitchen serving curries, woks, and fresh lassi drinks.
PIZZA'N'GRILL heats up pizza, panini, sandwiches, and salads for you to eat on-site or to go.
VIP Evening
Right after the first seminar day, First Class guests, VIP guests, and speakers are invited to continue networking at an exclusive cocktail evening at the band stage area in the networking hall (October 9th, from 19:20 to 22:30).
The evening will be accompanied by complimentary food and drinks, featuring a Lapland-themed menu. There will also be performances by Rinneradio & Steve'n'Seagulls. With more than a hundred million YouTube views, Steven'n'Seagulls is an international country music sensation from Jyväskylä, which is the home of Nordic Business Forum too. Their album Fathers in Arms reached #1 spot on the Billboard Bluegrass in the US in 2016.
Official NBForum Afterparty at Radisson Blu Plaza Hotel
At 22:00 on October 9th, we welcome you to the official afterparty of #NBForum2019, which takes place in downtown Helsinki at Radisson Blu Plaza Hotel, Mikonkatu 23.
You will have the pleasure of hearing live music performed by Finnish artist Diandra with a band called Sallad. Continue the evening while our DJ helps set the right atmosphere for some relaxed networking.
The party starts at 22.00 and welcoming drinks will be served for the first hour. Want to pre-book dinner at the Radisson? We have 130 seats available for you to pre-book!
Looking for a restaurant for dinner on your own? Here are a few of our recommendations:
* Reservations for all the restaurants marked with an asterisk can be made by calling +358 (0)9 6128 6000. If you mention "NBF" at the time of your reservation, your party will receive a complimentary glass of sparkling wine.
Wednesday, October 9th
14:00 – 14:30 Q&A session with Costas Markides Moderated by Howard Sublett, Chief Product Owner, Scrum Alliance
16:35 – 17:00 Behind-the-scenes tour of the main stage tech space
17:00 – 17:20 Q&A session with Parag Khanna
Thursday, October 10th
12:00 – 12:25 Photo opportunity and Meet & Greet with Randi Zuckerberg
15:15 – 15:55 Photo opportunity and Meet & Greet with George Clooney
Simultaneous Interpretation

Professional interpreters from Delingua Language Services offer translations of the main stage presentations into Finnish, Russian, and Estonian.
Interpretation app
Event guests can access the simultaneous interpretation service for free with the "Linguali Event – Participant" app, which is available for iOS and Android users.
To access the service:
Step 1: Connect to the "NBForum" WiFi network
Step 2: Download and launch the "Linguali Event – Participant" app
Step 3: Select your preferred language
Step 4: Plug in your headphones and enjoy!
Head over to our frequently asked questions to find out everything that you need to know about attending Nordic Business Forum events. If you have any additional questions or concerns, our customer care is happy to help you! Contact us by email at info@nbforum.com or give us a call at +358 20 775 1390.