25-26 September 2024 - Helsinki, Finland
Watch NBF 2024 Livestream from Wherever You Want
Join our unforgettable 2-day business conference to elevate your leadership skills. Enjoy real-time or on-demand access for up to 90 days. Experience the event from your office or home as you were seated in the first row!
Explore Livestream Options
Watch NBF 2024 from wherever you want—one user per license.
1. Online Tickets: Watch and network as individual
Join our event from anywhere with our online ticket (one user per ticket). Experience world-class business insights from the comfort of your device.
Enjoy the content in live and/or with on-demand access available for up to 90 days after the event.
Connect and network with fellow online attendees effortlessly using our all-in-one platform.
Don't let distance be a barrier to immersing yourself in the Nordic Business Forum experience. Join us from anywhere in the world.
Organize a public screening of NBF 2024 Livestream
2. Group License: Watch with a large group in one location
Organize your very own Nordic Business Forum show by hosting an exclusive screening for your employees, customers, or partners in one location.
You will get to showcase the event through a live stream and/or on-demand recordings that will be available for 90 days after the event.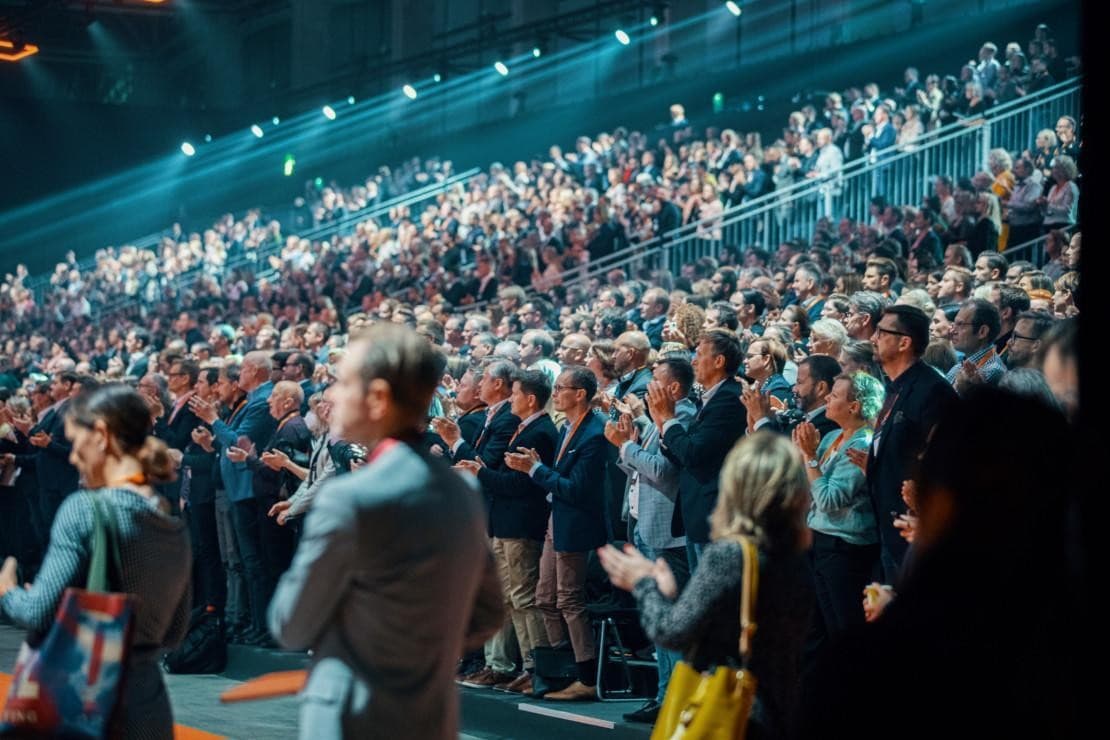 Set up the NBF 2024 livestream player on your internal website
3. Remote Group License: Watch on your internal website
Showcase the entire event live stream and recordings effortlessly on your internal website, such as SharePoint. You can securely embed the player on your employee portal or any password-protected website. Each license is valid for one website only.
Our remote group license is tailor-made for forward-thinking, large organizations with multiple office locations. Now, you can unite your teams from across the globe to access unparalleled leadership and business training. Our license is not limited to corporate giants alone. It's also the perfect choice for:
Companies wishing to provide their employees with premium leadership and business training regardless of location.
Educational institutions, including business schools, universities, colleges, and executive MBA courses, looking to enrich their curriculum with industry-leading insights.
Easy to Install, Easy to Enjoy
Installing our player is as easy as copy-pasting. Select the iFrame code, copy it, and paste it onto your internal password-protected website's HTML editor.
Once the player is set, the content will be accessible to anyone from your organization. There is no limit to the number of simultaneous viewers. The content can be watched live and on-demand for 90 days after the event has ended.
Early Bird Licenses on Sale Now
Don't let distance be a barrier to immersing yourself in the Nordic Business Forum experience. Join us from anywhere in the world.
The current early bird pricing is still valid for…
399 € + VAT 24% Save 300 €
For groups watching together
2490 € + VAT 24% Save 900 €
For watching on your internal website
5990 € + VAT 24% Save 2000 €
Several payment methods

Invoice, online banks, credit card. You can also choose to be invoiced within 30 days or even in January 2024.

Transparent pricing policy

The website price is always the best possible price. No need to search for discount codes or wait for last-minute deals. The amount of tickets in each category is limited.

30-day cancellation policy

Purchase today at the best possible price and you are allowed to cancel your order within 30 days. No questions asked!
Nordic Business Forum's type of physical events are always taxed with the local VAT of the country where the event is organized (no matter whether the customer is a consumer or a company and from any country).
Still not convinced? Test the quality with the video below.
Do you need help choosing the right livestream product for your company?
Want to know more about our live-stream products? Our customer service is happy to help you with additional questions!