World-class Business Conferences & Experiences to Remember
What started in 2010 as a small event in central Finland is now a Northern Europe-wide series of business events committed to building leaders who change the world. We cater to CEOs, business executives, and entrepreneurs alike, and host world-class business conferences in Finland, Sweden, Norway, the Netherlands, and of course also online. Our events attract about 10,000 attendees and tens of thousands of live stream viewers from all over the world.
Our events gather together business leaders, renowned experts, and preeminent thinkers to share ideas and build connections. Our flagship event in Helsinki has quickly risen to among Europe's top business events.
Our attendees benefit from educational lectures by some of the world's foremost business experts and have the opportunity to network with a diverse, high-level international crowd. We take pride in putting together an impressive speaker lineup and a top-notch customer experience to serve our bright-minded event attendees. At our events, you can focus on yourself and the inspiration, knowledge, and networks – we will take care of the rest and make sure it will be an experience to remember.
Company info
Nordic Business Group was founded in December 2008 by Hans-Peter Siefen and Jyri Lindén. The company operated until November 2011 under the name Finnish Community of Entrepreneurship. Since 2012, Nordic Business Forum Oy has been a subsidiary company of Nordic Business Group. The other subsidiary of Nordic Business Group is Nordic Business Investments Oy, which concentrates on real estate development.
In May 2019, Nordic Business Forum acquired a part of Oslo Business Forum, one of the largest and most prominent business conferences in Norway. Most recently, in April 2021, Nordic Business Forum acquired a majority of DenkProducties, a leading leadership event organizer in the Netherlands.
The first Nordic Business Forum was organized in 2010 and over the years the annual main event has grown to be one of the most significant business seminars in the world. We have offices in Jyväskylä, Helsinki, Tallinn, Oslo, and Amsterdam.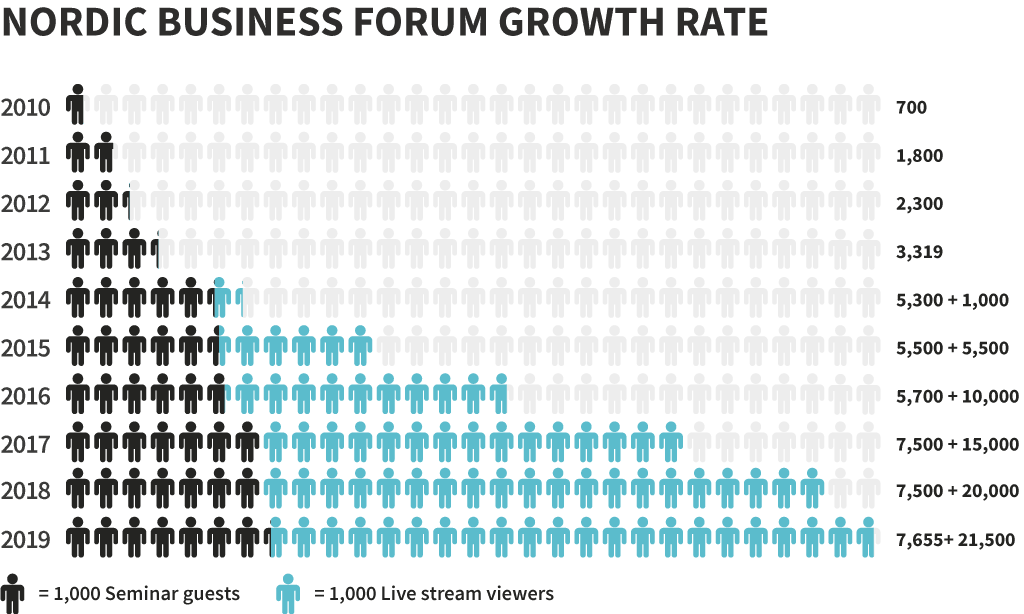 Company mission & goal
We believe that inspiring and equipping business leaders who want to make the world a better place is the single most effective way in which we can make an effect on the whole society at large.
Back in 2011, Nordic Business Forum set a 10-year goal of developing the annual main event into the most noteworthy business seminar in the world. Step by step we are pursuing to reach that goal by 2021.
Our values
Delivering value
It is very important to us to keep in mind why we do what we do every day. That is why we pursue to deliver value in everything we do. With every blog post or email we write, or an event or a meeting we hold, we aspire to identify what is the value we're giving to our clients and other stakeholders.
Entrepreneurial mindset
We aim to encourage entrepreneurial mindset among organizations and people. We believe that entrepreneurship keeps the societies going and entrepreneurial mindset keeps the companies going. People with an entrepreneurial mindset are life-long learners who have the eagerness for personal development.
Fair deals
Our goal is to offer unique training experiences at reasonable prices.
Creating enriching interaction
We support open collaboration and positive relationships and pursue to create a healthy and enriching environment for networking in our events.
Cross-generational thinking
According to cross-generational thinking, we didn't inherit this world from our parents, we merely lease it from our children. This also applies to our way of doing responsible business.
Behind the Scenes of Nordic Business Forum
Leaders Who Change the World – Documentary
In 2019, we got together with 7,655 leaders for our tenth annual Nordic Business Forum. To celebrate that milestone, we decided to film a documentary to capture our story – and the behind the scenes of our story.
The documentary reveals who are the people behind one of the most significant business conferences in Europe and how they organized such a massive event. The film studies different issues one faces when trying to build such a company – working under pressure, dealing with stress, fear of public speaking, and teamwork.
Interim Managing Director
Founders and Group CEO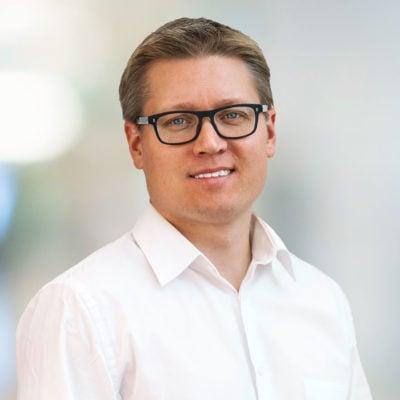 Hans-Peter Siefen
Co-Founder, Group CEO
Board of Directors
Mika Mäkeläinen
Chairman of the Board
Mika Mäkeläinen is a long-time entrepreneur and author. He is, for example, one of the founders at Frosmo, Siili Solutions Plc, and Rainmaker Group. Especially in Finland, he is also known as the author and publisher of Heaven + Hell books (2012, 2013, 2014). In addition to serving as the current chairman, he was the chairman of the board at Nordic Business Forum from 2013 to 2015.
Ari-Pekka Salovaara
Member of the Board
Ari-Pekka Salovaara is an angel investor and responsible for SMB customers at Visma. This includes companies in 10 different countries that generate 400 million revenues. Salovaara has done 30+ direct/indirect angel investments and he is a board of 15 companies.
Jenny Wolfram
Member of the Board
Jenny Wolfram is the founder and CEO of BrandBastion, a company that uses artificial intelligence to help brands have better conversations on social media while increasing their sales and improving their brand favorability. Wolfram was also nominated on the 30 under 30 list of Forbes magazine in 2017.
Saku Tuominen
Member of the Board
Saku Tuominen is an entrepreneur, author, and keynote speaker. He is the founder and creative director of a global education non-profit HundrED and co-founder of a restaurant company Financier Group. He has written 15 books on various topics like creativity, working life, the human mind, and internationalization.
Risto Lähdesmäki
Member of the Board
Risto Lähdesmäki is the co-founder of Idean Ltd. He has over 15 years of experience in designing digital services, user interfaces, and user experiences, helping to shape the future of UX/UI branding across startups and Fortune 500 corporations. In 2012, he internationalized Idean in Silicon Valley. Since then, Idean has also expanded to multiple other areas in the US and in Europe.
Hans Janssen
Member of the Board
Hans Janssen is the co-founder and CEO of DenkProducties, a dutch event organizer that became a part of the Nordic Business Forum group on April 2021. Janssen is also an owner at Nordic Business Forum group.
Jyri Lindén
Member of the Board
Jyri Lindén is a co-founder and a major owner of Nordic Business Forum together with Hans-Peter Siefen. Lindén is the CEO of Nordic Business Forum's parent company Nordic Business Group (NBG), and also the CEO of the other NBG subsidiary: Nordic Business Investments (NBI). NBI focuses on real estate investing in Finland.
Tree donations
Each year, Nordic Business Forum donates tree plants in order to compensate for the computational carbon footprint of its events.
Since 2011, Nordic Business Forum has engaged with the initiative of donating a tree plant for every attendee of our main event. In 2021, we obviously haven't been able to organize almost any of the in-person events normally. This is why we decided to instead compensate for the carbon footprint of each of our employees at Nordic Business Forum, Oslo Business Forum, and Denk Producties.
Since the beginning of this initiative, Nordic Business Forum has donated 54,320 tree plants in total.
Inspiration for Two
During the years 2012 to 2016, Nordic Business Forum provided inspirational days for 25,000 students in junior high schools and high schools around Finland and Estonia. All of the Inspiration for Two work was done on a 100% voluntary basis by Nordic Business Forum without any subsidies from the government.
Nordic Business Forum Oy has been recognized with the following awards:
Entrepreneurship Educator of the Year Award 2016
Business Event of the Year 2015
ICT Product of the Year 2014
An Honorary Award for the Most Satisfied Customers 2014
Alvari Award 2012
Central Finland Marketing Deed Award 2011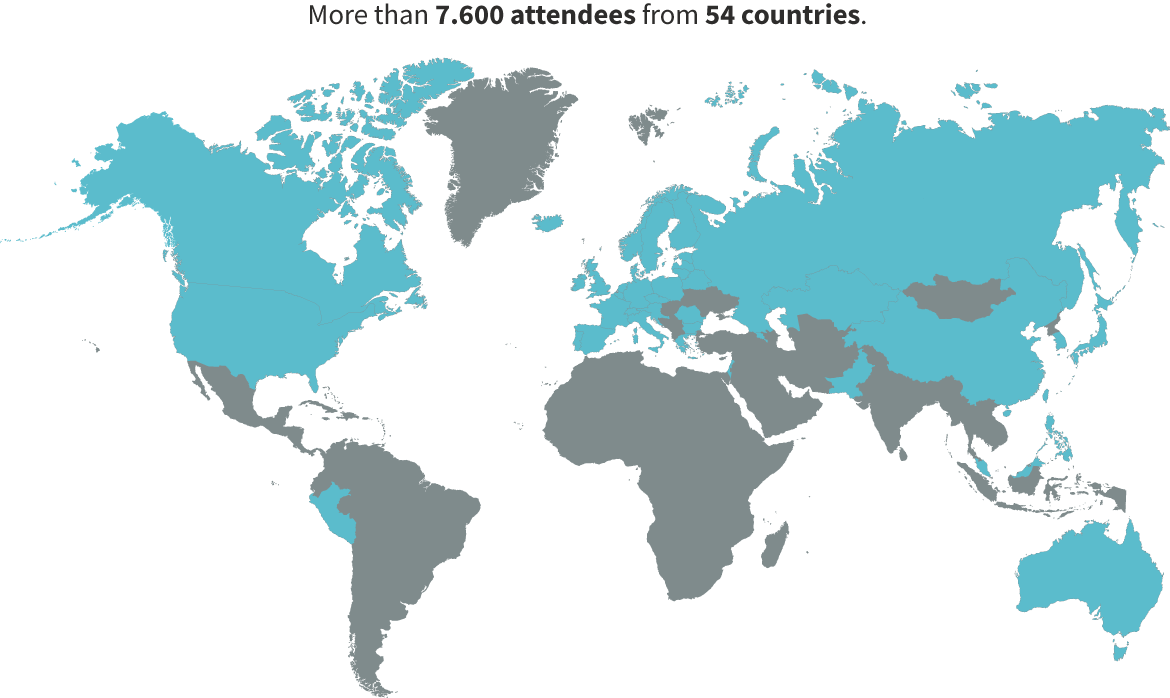 7,600+
attendees

40+
nationalities

96%
recommend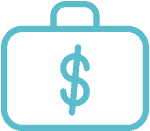 40%
C-level or Chairman
For the Media
Resources for anyone interested in learning and writing about Nordic Business Forum