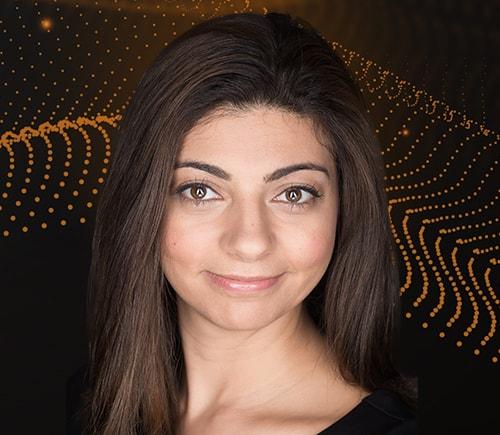 Rana el Kaliouby
CEO and co-founder of Affectiva, Author of the forthcoming book "Girl Decoded"
---
Topic: Emotion AI in the Time after COVID-19
Computer scientist, author and AI expert Dr. Rana el Kaliouby envisions a world in which technology understands and interacts with us the same way we interact with one another – through conversation, perception and emotional understanding. She's pioneering artificial emotional intelligence, ("Emotion AI,") to ensure that in the near future our devices – our mobile phones, cars, smart TVs, personal digital assistants and even our household appliances – will be able to sense and react to people's cognitive and emotional states with accuracy and empathy.
In her presentation, Dr. el Kaliouby will explore the possibilities of this technology, and reveal eight major ways that Emotion AI will transform the future of work – from productivity companions and human-robot teams, to a complete re-imagination of our transportation experiences and how we connect with one another. Her presentation will show business leaders how new jobs will be created and why they must rethink how employees are trained (and re-trained) for the constantly evolving technology and business landscape, as well as the new kinds of roles that will emerge as Emotion AI increasingly touches our lives.
Biography:
A pioneer in artificial emotional intelligence (Emotion AI), Rana el Kaliouby, PhD, is co-founder and CEO of MIT spinoff and category-defining company Affectiva. Rana led the innovation of the company's award-winning technology, which uses deep learning and massive amounts of data to analyze complex and nuanced emotions and cognitive states from face and voice. She has raised over $50 million in venture and strategic funding for Affectiva, where the company's technology is used by automotive OEMs and tier 1 suppliers to improve road safety and the in-cabin experience, in addition to 25% of the Fortune Global 500 companies to test content, and in other industries like HR video recruitment and mental health. Rana is now paving the way for Human Perception AI: software that can detect all things human, from nuanced human emotions and complex cognitive states, to behaviors, activities and the objects people use.
Prior to founding Affectiva, Rana was a research scientist at MIT Media Lab where she spearheaded the applications of emotion recognition technology in a variety of fields, including mental health and autism research. Rana holds a BSc and MSc in Computer Science from the American University in Cairo, a PhD from the Computer Laboratory at the University of Cambridge and a Post Doctorate at MIT.
Rana is one of few women leading a disruptive AI company. A Muslim-American and passionate advocate, she frequently speaks in press and on stage about innovation, women in technology, ethics in AI and leadership. Forbes recently included Rana in their list of America's Top 50 Women in Tech, Fortune Magazine included her in their 2018 40 under 40 and she was named one of the three Global Business pioneers by Bloomberg in 2017. Rana is also a member of the World Economic Forum's Young Global Leaders and a member of the Partnership on AI, alongside founding companies Amazon, Apple, Google/DeepMind and others.
Meet the Other Speakers of Nordic Business Forum Helsinki 2020