World-class business conferences & experiences to remember
What started in 2010 as a small event in central Finland is now a Nordic-wide series of business events committed to building leaders who change the world. We cater to CEOs, business executives, and entrepreneurs alike, and host world-class business conferences in Finland, Sweden, and Norway. Our events attract about 10,000 attendees and tens of thousands of live stream viewers from all over the world.
Our events gather together business leaders, renowned experts, and preeminent thinkers to share ideas and build connections. Our flagship event in Helsinki has quickly risen to among Europe's top business events and we aim to develop it into one of the world's most noteworthy conferences by 2021.
Our attendees benefit from educational lectures by some of the world's foremost business experts and have the opportunity to network with a diverse, high-level international crowd. We take pride in putting together an impressive speaker lineup and a top-notch customer experience to serve our bright-minded event attendees. At our events, you can focus on yourself and the inspiration, ideas, and networks – we will take care of the rest and make sure it will be an experience to remember.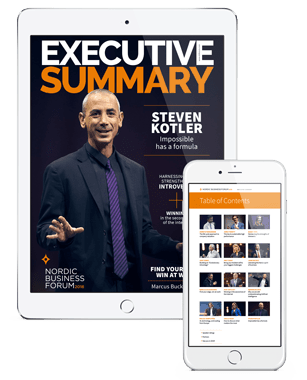 Executive Summary
Nordic Business Forum 2018
The Executive Summary takes you through the presentations and offers you the key points and insights from Nordic Business Forum 2018.

Our podcast, Business as Unusual, will air twice every month on Thursdays at 17:00 CEST/18:00 EEST. In each hour-long episode, Pep will peruse and poke fun at the latest business news, as well as interview a special guest.
Ask us a question using #BusinessAsUnusual on Twitter!