Join one of the world's most prestigious business events
In just nine years, Nordic Business Forum has become one of the world's most significant business conferences for a reason. The events are known for a customer experience like no other. We take pride in putting together an impressive speaker lineup and a top notch customer service to serve our bright-minded event attendees. Some have even called Nordic Business Forum a business conference and a rock concert all wrapped into one. Become inspired, discover new ideas, and build valuable networks. You will not regret attending.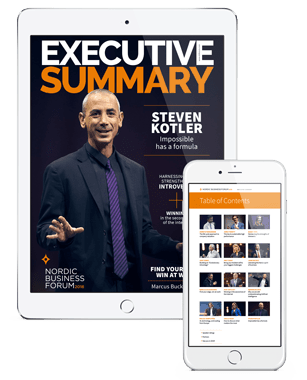 Executive Summary
Nordic Business Forum 2018
The Executive Summary takes you through the presentations and offers you the key points and insights from Nordic Business Forum 2018.

Our podcast, Business as Unusual, will air twice every month on Thursdays at 17:00 CEST/18:00 EEST. In each hour-long episode, Pep will peruse and poke fun at the latest business news, as well as interview a special guest.
Ask us a question using #BusinessAsUnusual on Twitter!