Practical Information about Attending Nordic Business Forum 2022
Time: 20 - 21 September 2022
Place: Messukeskus, Helsinki, Finland
Messukeskus Helsinki - How to Get There
Nordic Business Forum will be held at the Messukeskus Helsinki (Expo & Convention Center), which is located close to the center of Helsinki with excellent transportation connections. We warmly recommend using public transportation to come to the venue to 1) generate smaller carbon emissions, 2) avoid paying and worrying about parking, and 3) reducing (and avoiding) overall traffic.
All national and international trains (apart from Allegro trains) stop at Pasila, and it is only a 300-meter walk to the main entrance of the venue.
You can arrive to Messukeskus easily with tram lines 2, 7, and 9. Both trams connect to the city center. You can  also reach Messukeskus with multiple different buses. We suggest you plan your route at hsl.fi
To arrange for a taxi, call +358 (0)100 0600. The taxi stand at Messukeskus can be found at the main entrance (Southern Entrance).
From Helsinki-Vantaa Airport you can take the I or P train directly to Pasila railway station. Alternatively, you can also grab a taxi from the airport (roughly 15 minutes and 35€).
If you arrive in Helsinki via ferry, we recommend that you either take a taxi or a tram. Both are located in front of the arrival terminal.
Where to Stay in Helsinki
Kämp Collection Hotels offer exclusive rates for all Nordic Business Forum 2022 attendees. They have, for example, multiple hotels in the city center of Helsinki, and all of them are an easy commute away from the event venue.
Our event guests can book rooms with a 15% benefit on the flexible rates. You can already book your accommodation on the Kämp Collection Hotel website.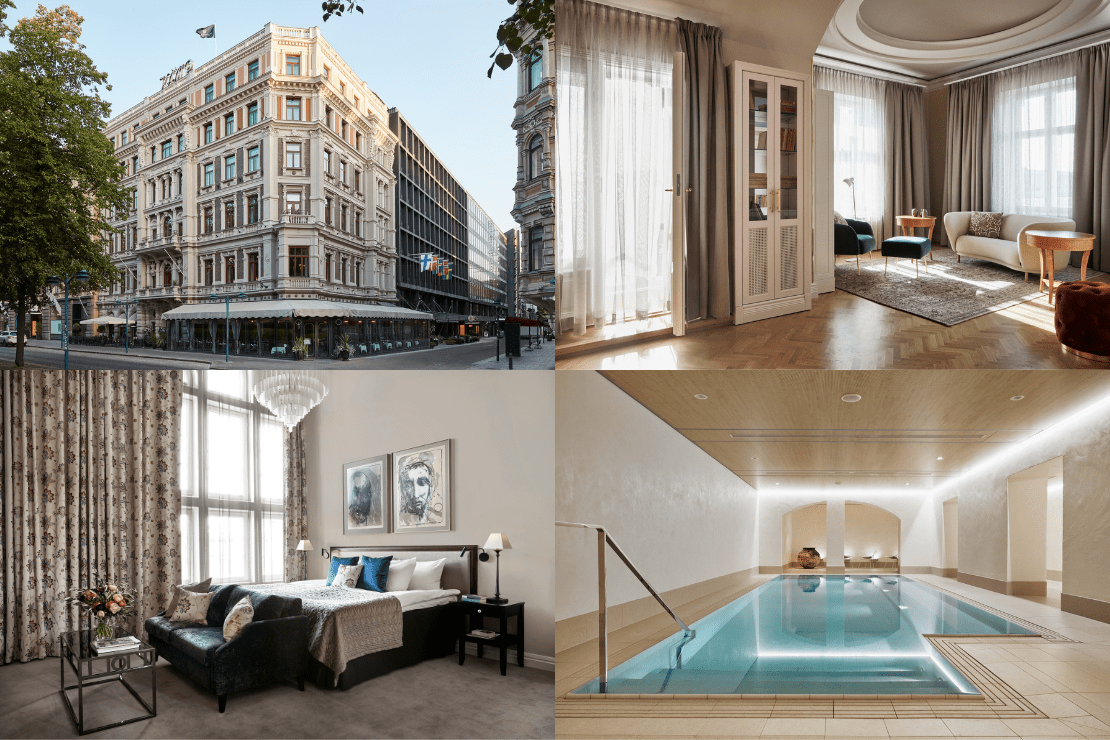 Accessibility at the Event Venue, Messukeskus
All areas of the event venue are accessible with a wheelchair.
The lowest P1 level of the car park near the northern entrance has 20 parking spaces marked for the disabled. The users of disabled parking must declare their vehicle registration plate number at our customer service desks. Also, the hotel parking area is free for disabled persons during the events.
Entrances and getting around
Taxis are allowed to drive right up to the entrances. All entrances and premises at Messukeskus provide easy access and all floors can be accessed by a lift. 
If you would like to borrow a wheelchair during the event, please let us know in advance.
If you require physical or personal assistance or will be attending the event with a caretaker (who will still require a separate ticket), please contact us in advance so we can tailor a solution to your specific needs.
Need Simultaneous Interpretation? Professional interpreters from Delingua Language Services offer translations of the main stage presentations into Finnish, Estonian, and Russian.
Event guests can access the simultaneous interpretation service for free with the "Interprefy" app, available for iOS and Android users.
Don't have tickets yet? Fortunately, there are still a few left.