27-28 September 2023 - Helsinki, Finland
Nordic Business Forum 2023
Experience an unforgettable event and elevate your leadership skills at our prestigious 2-day business conference.
With over 6,600 global business leaders from 50+ countries in attendance, you'll have the opportunity to network with top C-level professionals and gain valuable insights into the latest industry trends.
Don't miss your chance to join us and make lasting connections at this world-class event.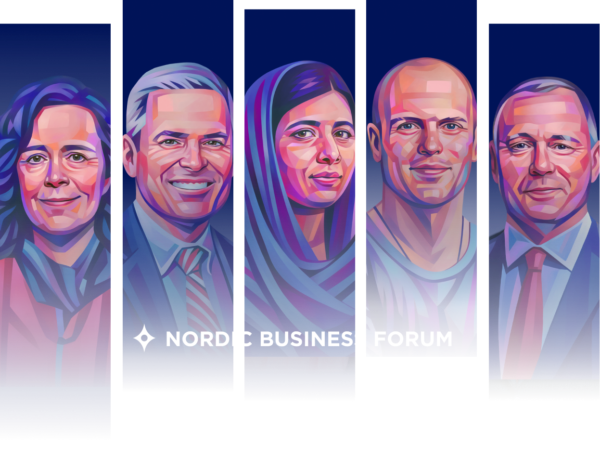 Leadership - Innovation - Resilience - AI
As a business leader, it is up to you to create change in your organization: a change that will prevail over the status quo. But, how do we do that? How can we lead the change toward a better future? How can we ensure constant innovation to stay relevant in our fields? How can leaders develop strong resilience in these troubled times? How should we prepare for the massive growth of AI?
We should not only ask these questions—but answer them. And together with 7,000 attendees and 10 world-class speakers, we will.
Don't expect change, don't wait for change. Be the change.
Business & Personal Development
Our event features top business experts and speakers who share their success stories and expertise in business and leadership. You will gain ideas and inspiration for your business and personal development.
Joining our event will help you improve your skills, grow your business, and provide guidelines and tips on where to focus on in the future.
Team Building & Inspiration
Attending Nordic Business Forum with your management team can help you create a better future for your company. It can accelerate your team's growth and development, expose them to new perspectives, inspiration, and ideas, and ultimately lead to the growth and development of your company.
The event also offers executives and business owners a chance to take a break from their regular duties, focus on personal development, network with peers, and enjoy top-notch catering in a supportive environment.
We bring together decision-makers and business owners from the Nordics, Baltics, and beyond, creating a community of individuals who aspire to learn from one another and build strong networks.
Our networking tool allows you to book meetings with almost anyone attending the conference, providing ample opportunities to meet decision-makers and potential customers.
Our tickets are out of stock, but you can still get your online access
Included for all tickets:
Several payment methods

Invoice, online banks, credit card. You can also choose to be invoiced within 7 days.

No need to pre-assign the tickets yet

This means that you can buy as many tickets as you want now and decide later on who will use them.

Discounts on group orders

You will automatically get a 5 % discount for orders with 10+ tickets and a 10 % discount for orders with 20+ tickets.

Transparent pricing policy

The website price is always the best possible price. No need to search for discount codes or wait for last-minute deals. The amount of tickets in each category is limited.
Last chance to get a discounted online access
Save 200€ by securing your access before 26.9.2023 at 23:59 (EEST).
Online Access
Watch the event from anywhere you want. Live or on-demand.
Two-day NBF 2023 Live Stream access for a single user

Networking with other online attendees on our event app

90-day access to the live stream recordings after the event

Simultaneous Interpretation in Finnish and Estonian
Ticket
Access to all the main sessions and networking opportunities.
Two-day event pass for Nordic Business Forum 2023 in Helsinki

Networking with other attendees on our event app

90-day access to the live stream recordings after the event

Simultaneous Interpretation in Finnish and Estonian
VIP
Elevate your experience by joining two extra sessions and the VIP Evening.
First Class
Enjoy the ultimate Nordic Business Forum experience.
Nordic Business Forum's type of physical events are always taxed with the local VAT of the country where the event is organized (no matter whether the customer is a consumer or a company and from any country). Attendance inquiries at info@nbforum.com
Join Remotely via Livestream!
We have three different licenses for three different audiences: individuals, groups, and remote groups. Browse our products and get the one that best fits your needs.
Agenda for 27-28 September 2023
You can find the full event-day agenda on our dedicated agenda page, but we have collected the most important times here. When planning your time of arrival, please reserve time for check-in, dropping off your coat, and a security check before entering the event area.
For online attendees, the live stream includes the entire general program and all of the live studio interviews. A more detailed agenda for the live stream will be published later.
Day 1 : 27 September 2023 
08:45 Doors Open
10:00 VIP Session
11:00 Welcoming Lunch
11:15 Live stream begins
12:00 – 19:00 Main Program
19:40 Live Stream Ends
19:00 – 22:00 VIP Evening (Only for VIP and First Class Guests)
Day 2 : 28 September 2023 
07:45 Doors Open
08:30 VIP Session
09:30 Live stream begins
09:45 – 16:00 Main Program
16:40 Live Stream Ends
Ideas are the most valuable thing you can get from an event. That is why we have wanted to store a compilation of the great ideas and quotes our speakers have shared over the years.
Our Event Summaries take you through Nordic Business Forum conferences. See who we have had speaking and what have been the hottest topics. And most of all, keep an eye on the ideas that help you reach the next level.
Frequently Asked Questions
Can I attend the event online?
Yes you can. We always offer the opportunity for individuals and groups alike to attend our events online. The online products will become available later.
Will the speakers be in Helsinki in person?
Where can I find my event tickets?
Our ticketing partner, Kongressi, has an "Attendee Dashboard" on which all the attendee information is stored. You will have received a link to this dashboard by email when you purchased your ticket(s). To access it, simply click the link in the email (or copy the URL into your browser).

Check your spam filter to see if you have missed our emails. If you have not received anything, please contact us at info@nbforum.com and we will look into it!

If you are attending the event as part of a group and did not buy the ticket yourself, the ticket purchaser is responsible for adding your information to our database. Please contact your ticket purchaser if you have not received any emails from us.
Can two people use one ticket?
Yes they can! You can split the ticket so that one person can attend the event on the first day and the other on the second day. This service costs 150€ +vat 24% and you can purchase it by contacting our customer care at info@nbforum.com.
Where do I sit in the seminar hall and can I reserve a seat?
There are designated seats for VIP and First Class guests, and regular ticket holders can sit wherever in the seminar hall on seats that have not been reserved. You can reserve a seat for 150€ +vat 24% by contacting our customer care at info@nbforum.com.
What is your cancellation policy?
Nordic Business Forum events have a 30-day cancellation policy from the date when the order is placed. However, cancellations will not be accepted if the order is made less than 30 days before the course begins. Once the 30 days are up, no changes can be made to the tickets and there will be no refunds.
What are the payment options you offer?
We offer three payment methods: invoice, online bank, and credit card. The credit card and online bank options are provided by STRIPE and Paytrail. If you want an invoice, you can choose between an email or a printed invoice. E-invoices are available when issued by Nordic Business Forum Oy for Finnish companies.
Can I get a discount on tickets?
You'll automatically qualify for a group discount when you buy more than 10 or 20 tickets. With our transparent pricing policy, the website price is always the best deal. No need to search for discount codes or wait for last-minute deals, as prices will only go up until tickets sell out or the event is near.

Please note that we only sell tickets at the price of the current price step. You can't get tickets at the previous price tier if you forget to get tickets before a price increase.
I'm not able to attend the event. Can I transfer my ticket to someone else?
Yes, you can! You can update the attendee information of your ticket through the ticket portal (Kongressi). You can find the link for the portal in your email. If you can't find the email or need assitance, contact our customer care at info@nbforum.com.
What happens to the ticket(s) if Nordic Business Forum 2023 event can't take place?
If the Nordic Business Forum Helsinki 2023 is rescheduled tickets and live stream accesses are valid for 2024 event.
Can press representatives attend the event?
Yes. We have a limited amount of seats reserved for media representatives and press representatives can apply for accreditation through our
accreditation form
. We will go through all accreditation requests case by case, and inform the status of your accreditation before the event.
If you can't attend online but would like to follow the event online, you can ask for a free via
media@nbforum.com
Our event is the perfect platform to connect with like-minded individuals and expand your knowledge and skills. So what are you waiting for? Take action and secure your spot today! Tickets are selling fast, and you don't want to be left out.