Practical Information about Attending Nordic Business Forum 2023
Time: 27 - 28 September 2023
Place: Messukeskus, Helsinki, Finland
Warm welcome to Nordic Business Forum 2023!
You can find your tickets in the email you used when making the purchase.
If you bought multiple tickets, please make sure to assign the tickets on the ticket portal Kongressi as soon as possible. This way all attendees will have time to inform us their special diets and will receive all the relevant event information from us.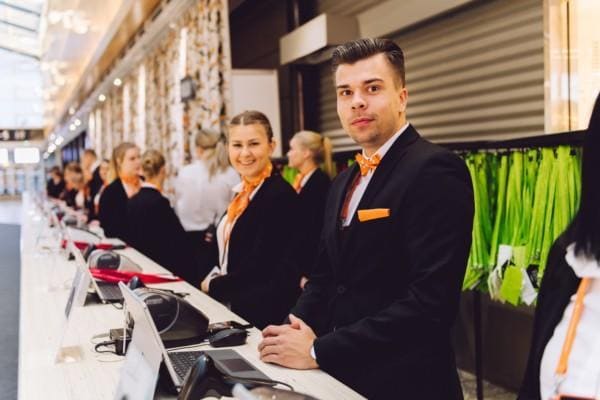 Nordic Business Forum will be held at the Messukeskus Helsinki (Expo & Convention Center), which is located close to the center of Helsinki with excellent transportation connections.
We highly recommend using public transportation to come to the venue to 1) generate smaller carbon emissions, 2) avoid paying and worrying about parking, and 3) reduce (and avoid) overall traffic.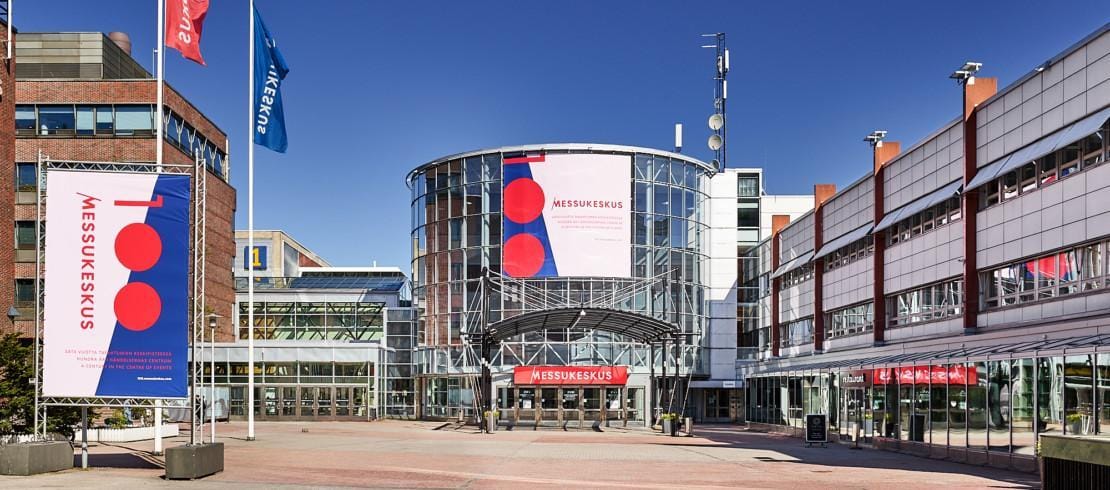 All national and international trains (apart from Allegro trains) stop at Pasila, and it is only a 300-meter walk to the main entrance of the venue.
You can arrive to Messukeskus easily with different buses and trams. We suggest you plan your route at hsl.fi
To arrange for a taxi, call +358 (0)100 0600. The taxi stand at Messukeskus can be found at the main entrance (Southern Entrance).
From Helsinki-Vantaa Airport you can take the I or P train directly to Pasila railway station. Alternatively, you can also grab a taxi from the airport (roughly 15 minutes and 35€).
If you arrive in Helsinki via ferry, we recommend that you either take a taxi or a tram. Both are located in front of the arrival terminal.
Staying Overnight in Helsinki
Book Your Stay with Our Hotel Partner Scandic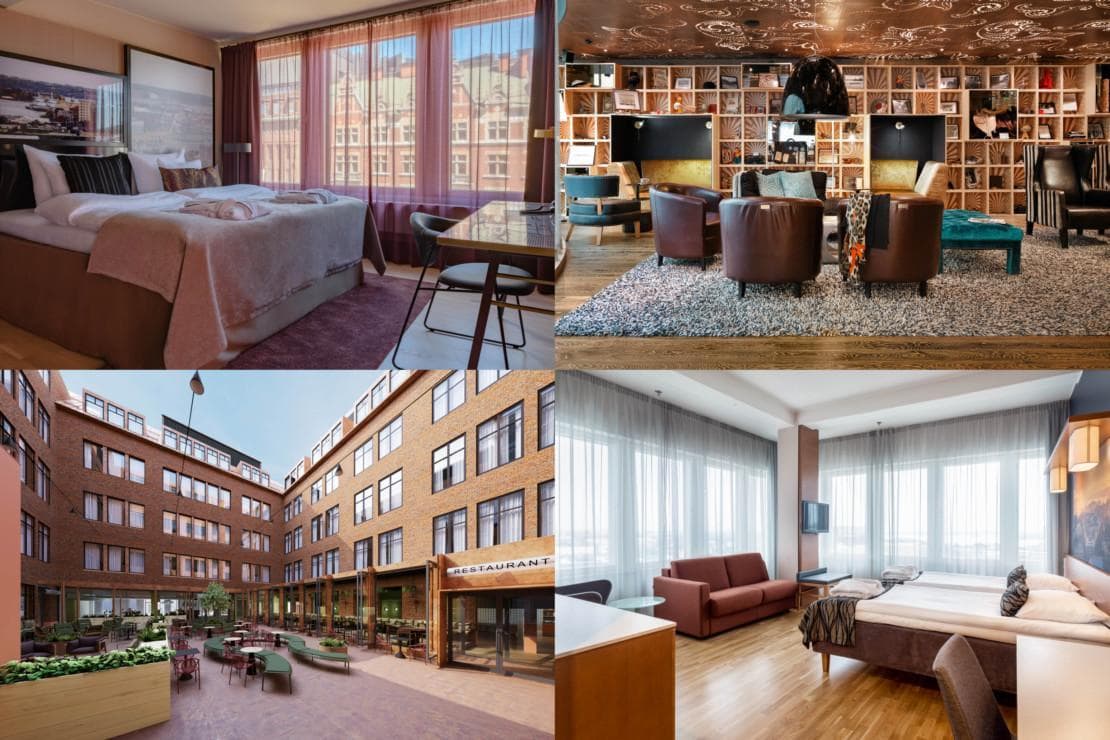 Our event and networking app is powered by Brella. You can find a lot of relevant info (agenda, etc.) on the app but it also provides an AI-powered matchmaking feature to book 15-minute meetings with other event guests. Through Brella you have the opportunity to meet with the right profiles among our 7,000 attendees.
Around 3 weeks before the event, you will get an invitation to sign up to Brella. Then we suggest you:
Download the app on Google Play or App Store.
Create your profile or login to your existing account through the link we've sent to you by email.
Set up your networking profile and book your first meetings.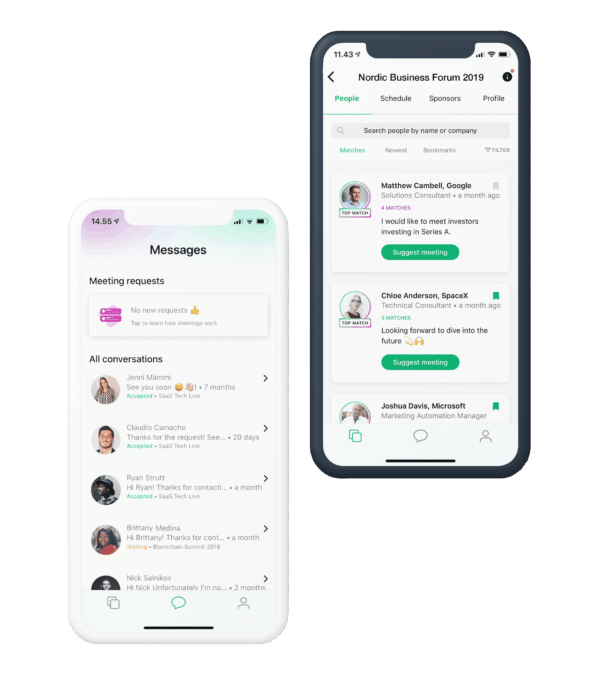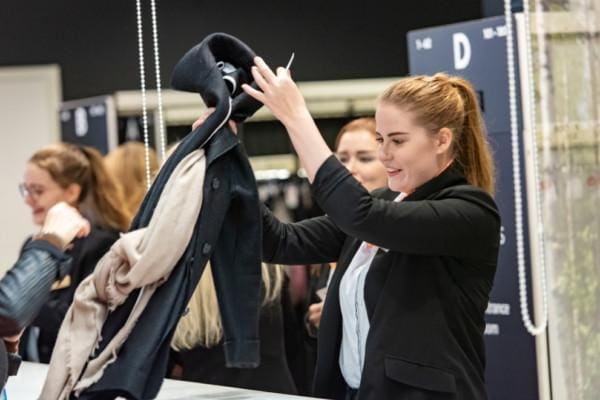 September in Helsinki can be a bit chilly, but inside the venue you will not be cold. Drop your coat, bag, luggage, or any other at the cloakroom.
Pro tip: Take a picture of your tag in case you lose it.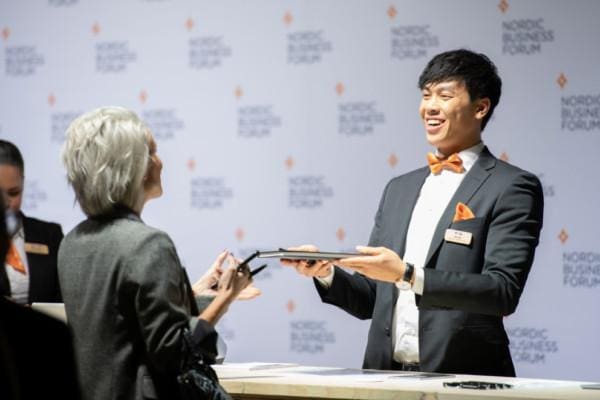 We provide you with a notebook and a pen right when you enter the event venue. From the book, you can find a lot of relevant info about the event but also plenty of empty pages to fill during the two event days. After all, you never know when your next big idea will pop in your mind.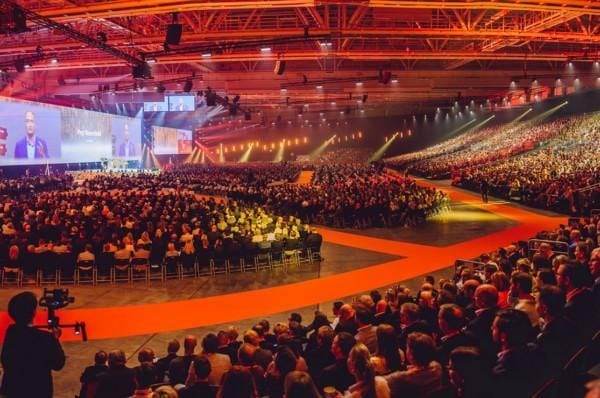 The main stage is where you can follow the main keynotes and discussions. During the breaks, we also host interviews with our speakers and event guests at the live studio.
You can find the full schedule for the 2 days on the agenda page.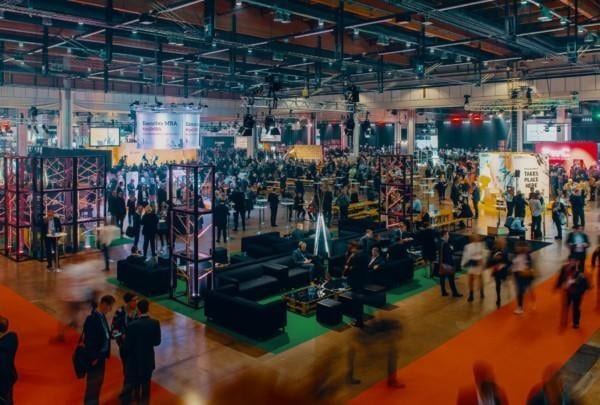 At the networking area of the event venue, you can meet our official event partners. 
During the main stage breaks, they have plenty in store for you to discover. We highly recommend visiting their exhibition booths during the event!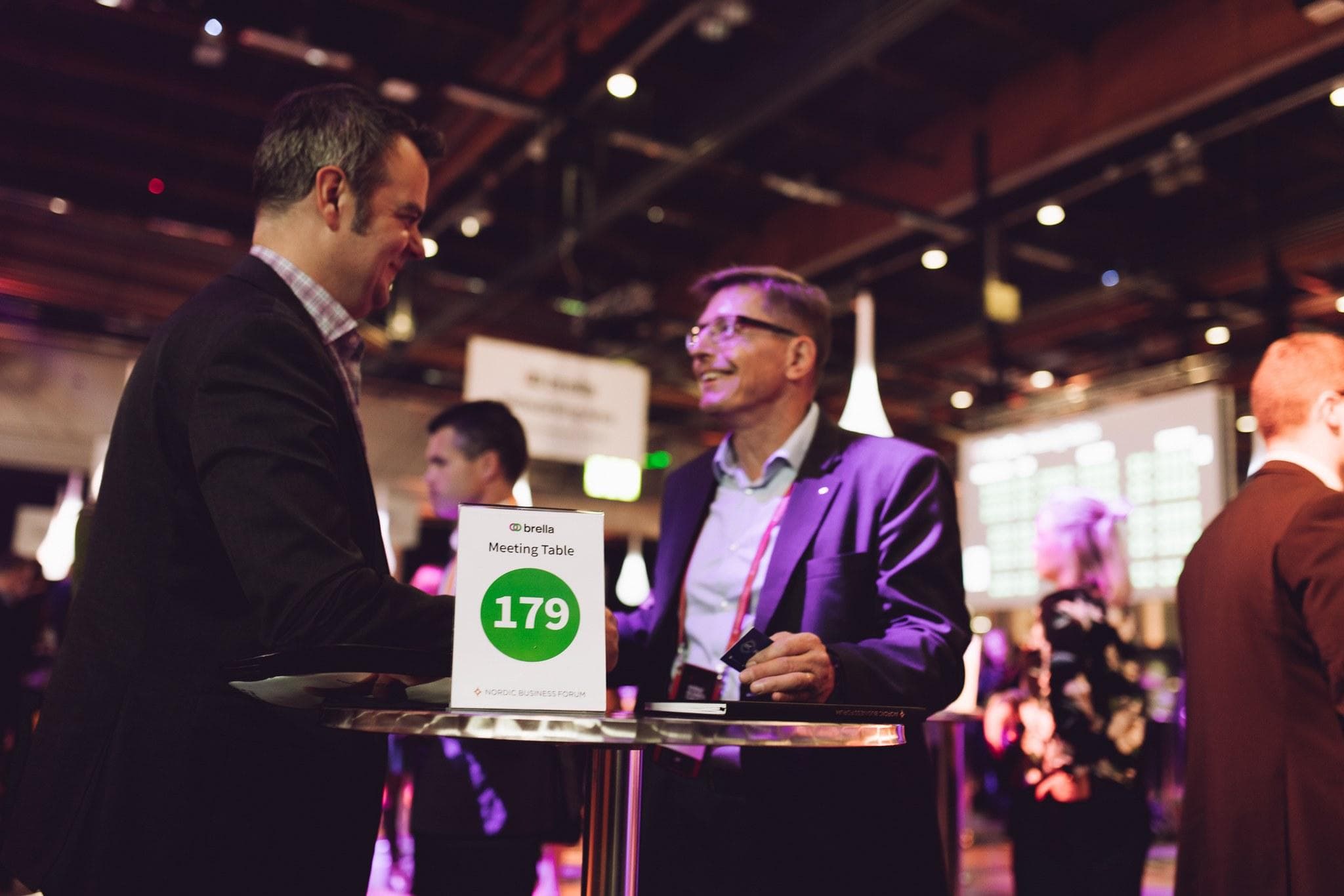 During the breaks, you have the great opportunity to mingle and meet with the other event participants.
With our Brella event and networking app, you can easily schedule 15-minute meetings and start new business relationships right then and there.
You can also visit the Theme Tables, where you'll find like-minded people who are eager to discuss specific topics.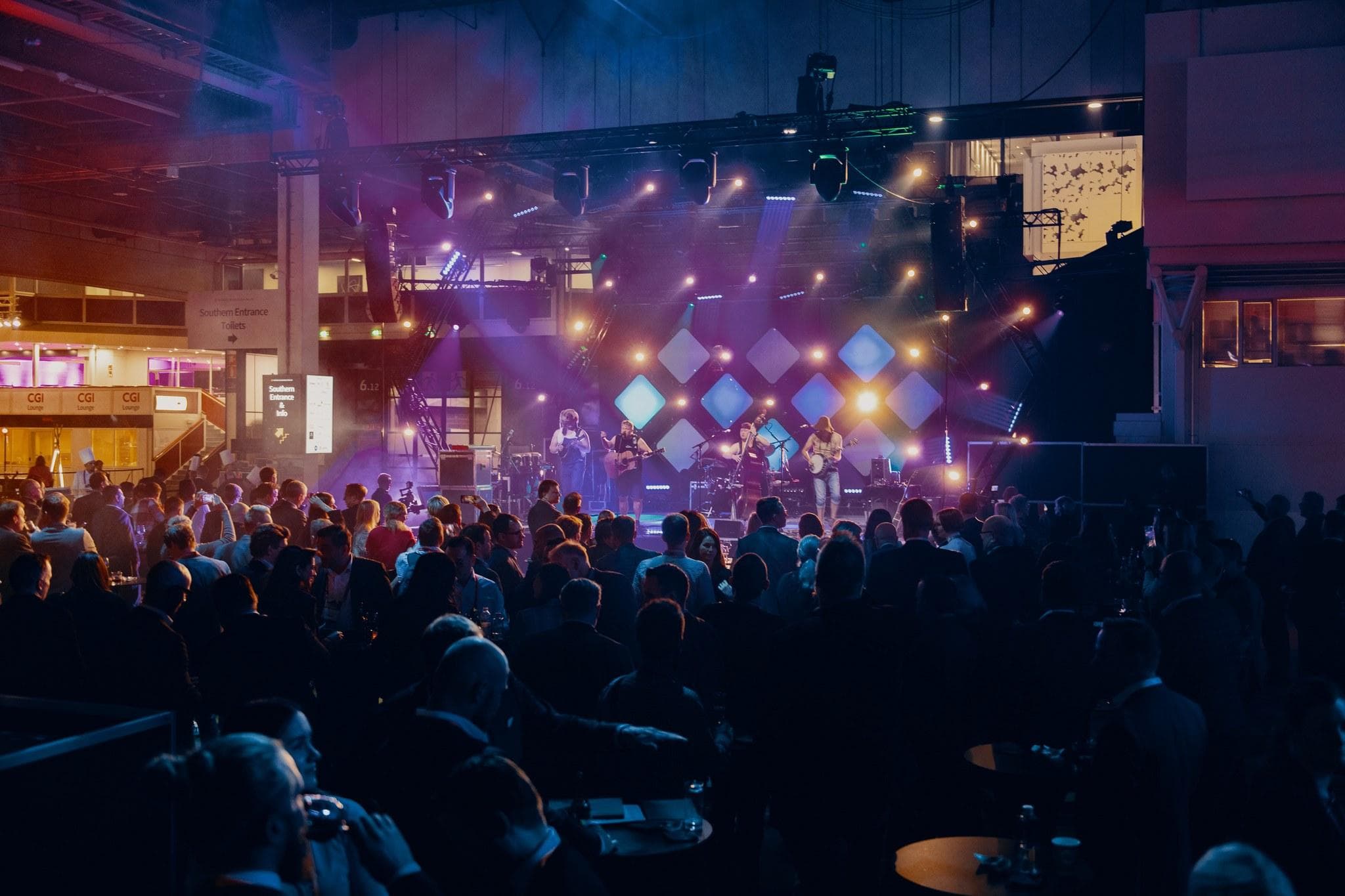 On 27 September, all VIP and First Class guests are invited to our VIP evening to enjoy a tasty dinner on our bill at the networking area.
Simultaneous Interpretation Professional interpreters from Delingua Language Services offer translations of the main stage presentations into Finnish and Estonian.
Event guests can access the simultaneous interpretation service for free with the "Interprefy" app. You can download it from Google Play store or Apple App store. Closer to the event, we will provide you with a token code to access the interpretation.
Accessibility
All areas of the event venue are accessible with a wheelchair.
The lowest P1 level of the car park near the northern entrance has 20 parking spaces marked for the disabled (vehicles with disabled parking permit signs). For free of charge usage, the users of disabled parking must declare their vehicle registration plate number at our customer service desks. Also, the hotel parking area is free of charge for disabled persons during the events.
Entrances and getting around
Taxis are allowed to drive right up to the entrances. All entrances and premises at Messukeskus provide easy access and all floors can be accessed by a lift. 
If you would like to borrow a wheelchair during the event, please let us know in advance.
Wheelchair spots at the seminar hall
We have dedicated spots for wheelchairs in the seminar hall. Please contact our staff (in the signature orange bow ties and scarves) and we'll guide you to those spots.
If you require physical or personal assistance or will be attending the event with a caretaker (who will still require a separate ticket), please contact us in advance so we can tailor a solution to your specific needs. Guide and assistance dogs are welcome at Nordic Business Forum.
At the main seminar hall we have a specific seating row where we have an audio loop (inductive) prepared. Our staff (in the signature orange bow ties and scarves) are happy to help you find the correct seats.
First and foremost, if you have cough, fever, or other symptoms of any transmittable disease, please stay home.
We will have hand sanitizer easily available around the event venue. There are also plenty of toilets to wash your hands.
When it comes to other measures, we always follow the current recommendations by the local health officials.
First Aid by Finnish Red Cross is on duty the entire time during the event. You can find them from the First Aid point or through our any member of our staff. You may also them directly at +358 40 450 3237.
The emergency phone number in Finland is 112.
Please remember to carry your ID with you throughout the event. Also, you should always only use your own event badge. 
All event guests, speakers, partners, and staff are required to uphold our code of conduct as we want everyone to be able to join the event in a friendly and safe environment. We prohibit discrimination of any kind and harassment, bullying, or disrespectful behavior in any form will not be tolerated. Any infractions or violations of this code will lead to immediate expulsion from the event without a refund.
We have dedicated security staff at the event at all times. Additionally, be prepared for a security check upon arrival to the venue.
Furthermore, our staff is there to help you with anything!
Don't have tickets yet? Fortunately, there are still a few left.