7Apr2015
Does Content Marketing Work? 89 Percent Says It Does
A recent Content Marketing Trends Survey by Ascend2 concludes that content marketing works. The survey also looked at the effectiveness of different content types and the metrics marketers used to evaluate content marketing success.
Whether you are a CEO, CMO or just someone working in marketing, you most likely haven't missed the common refrain of 21st century marketing seminars:"Become a media company and provide valuable content to your customers."
But have companies actually benefited from content marketing? If marketing research and lead generation firm Ascend2's recent survey results are to believe, almost nine out of ten companies have.
The Content Marketing Trends Survey covered 290 marketers, sales and business professionals from companies around the world.
Measurable results seem to be the name of the game. More than half of the respondents considered lead generation and improving customer engagement to be two of the most important marketing objectives. Only 19 percent regarded improvement in search engine ranking as one of the most important objectives.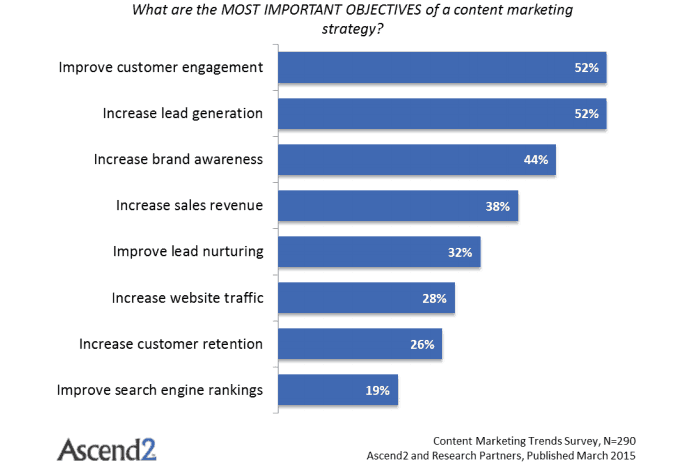 63% of respondents saw their content marketing efforts as "somewhat successful" and 26% as "very successful" in achieving important objectives. This means that altogether 89% thought that content marketing actually helped them meet their marketing goals.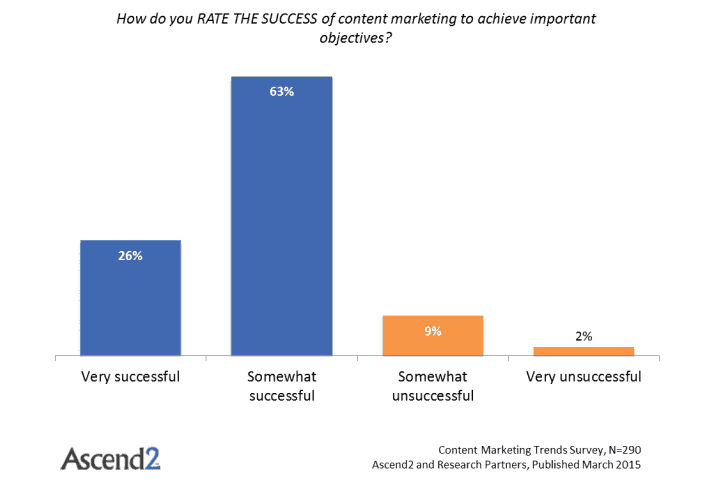 The survey also explored the effectiveness of content type. Contrary to popular belief, a picture didn't seem to be worth a thousand words. Instead, articles and case studies were listed as the most effective types of content. Videos were not far behind, but many considered videos to be the hardest content type to produce – 59 percent of marketers held this view.
Although respondents agreed that news releases are very easy to produce, they were considered to be ineffective. That's why news releases hit the bottom of "the most effective content type" chart.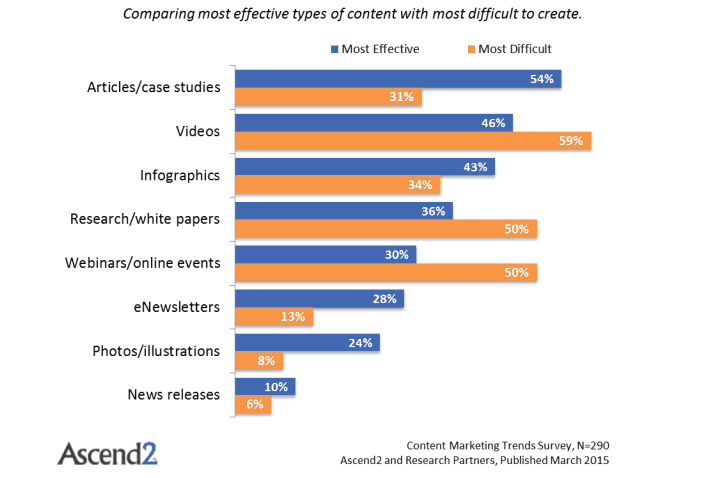 From the metrics point of view, conversion rate and lead quality were regarded as the most useful parameters for measuring content marketing performance. Only 17% of respondents thought the same about search engine ranking.
---
References: Ascend2 Content Marketing Trends Survey
The full report is available for free here. Contact information has to be provided.
Photo credit: Shutterstock
Advert [sam id=4 codes='false']