What are NBR Annual Rankings?
Nordic Business Report is a digital business magazine published by Nordic Business Forum, which covers themes related to entrepreneurship, innovation, leadership and more. One of the main features of each NBR magazine is an annual themed ranking of some of Europe's top business professionals across different industries. Nine (9) countries are represented: Finland, Sweden, Norway, Iceland, Denmark, Russia, Estonia, Latvia, and Lithuania.
Our most recent ranking was "Young North European Business Owners" which ranked the top 35 most influential North European business owners under the age of 35 which a renowned jury has selected based on the candidates' accomplishments, impact, responsibility, scale/growth rate of their business, and future potential. Previous rankings include Finland's Thinkers 20 (2012), Nordic Thinkers 20 (2013), 30 Under 30 in the Nordics (2014), Top 20 Women in Business in Northern Europe (2015), Thinkers 20: The Brightest Business Minds in Northern Europe (2016), and Top 20 Responsible Leaders in Northern Europe (2017) and 25 and Under in Northern Europe (2018).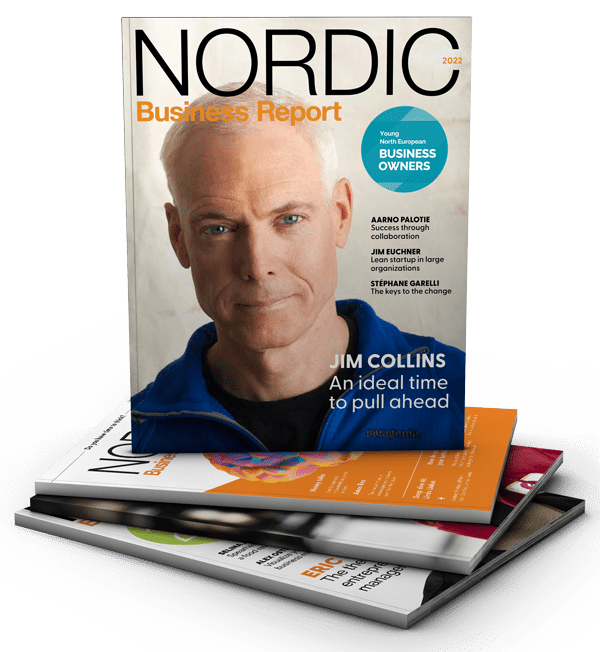 Get Nordic Business Report Magazines
Nordic Business Report is a business magazine, which is operated, produced, edited and published by Nordic Business Report Oy. The magazine covers themes related to entrepreneurship, innovation, marketing, and leadership. In addition, the magazine publishes rankings of successful business minds.
NBR Ranking Jury Panel
Our jury panel is comprised of people working in the field that the ranking encapsulates, and spans the nine nationalities of our ranking's scope. The selection process is done internally by Nordic Business Report (under the supervision of Nordic Business Forum).
See the "Jury Selection" section below for more on how we organize a jury for these rankings.
We aim for our jury to rotate over the years to get fresh perspectives on current affairs and the latest innovations in different industries. Some jury members, however, have reprised their role on our jury panel. Jury members typically are involved in three stages of the process: proposals, discussion and consensus, and distribution.
NBR Ranking Qualification Process
Step 1: Jury Selection
Each ranking project begins with an initial meeting to discuss trending topics in business and culture.
Once the topic is chosen, the jury selection begins. The typical profiles that we look for in our jury members include the following:
Connected to the local startup communities and incubators
Entrepreneurs, startup award winners or jury panel members
Involved with research in the given field, or the given area of study at a university
Social and business influencers with a wide network of contacts
The Nordic Business Report team invites their list of potential jury members and moves forward to the next step once the acceptances have reached the minimum quota for each country. We generally look for 5 jury members to represent each of the nine countries involved in the ranking, depending on jury availability.
Step 2: Research and Proposal
Each jury member builds up a long list of nominees, based on the criteria of the ranking. This involves reaching out to their local networks, collecting names of interesting candidates from their country AND rationales of why each person should be on the list. Once that information is collected, the jury members need to put the individuals in their list in their preferred order, creating a personal ranking for each jury member.
The order is important as points will be assigned to each person according to their position in a list. For example, if there are 10 people in the list, the first place will receive 10 points, the second will receive 9 points, then 8, 7, etc.
Step 3: Shortlisting
Once the individual lists are submitted to Nordic Business Report, our team will combine and create a proposal of the final set of names for the ranking, covering all nine countries. These individuals will have scored the highest number of points based on the point system and rationales provided by the jury members.
This will require feedback from everyone.
Step 4: Feedback and consensus
To come to an agreement on the people included in the final ranking, Nordic Business Report hosts a virtual Feedback Session wherein all the jury members are invited to join in a discussion and voice their opinions. During this session, Nordic Business Report leads the discussion by country to outline who each nominee is and explain why they are in their position on the list. Jury members who cannot attend the session are able to give their feedback in writing instead.
Step 5: Publish and distribute
The ranking is published on the Nordic Business Report (online), along with the list of jury members. Jury members can publish the ranking and write about their involvement in their own publications.