21Aug2014
How Marketing Makes or Breaks a Company
To have a chance to interview somebody like Tony Fernandes, Group CEO of AirAsia, requires hard work. This time the effort paid off, as I was able to interview him for this issue of NBR. Marketing ensures your business will continue, as Fernandes believes. And he really knows about marketing. He also knows about taking risks.
Fernandes bought AirAsia from DRB-Hitcom and turned it into a low-cost airline in Malaysia when it was bankrupt, in debt by $11 million and only had two Boeing jets. He even mortgaged his own house and spent his savings to build up the company. Many in the business world thought he was foolish, but after a year AirAsia not only broke even but paid its debts.
Known for wearing a red AirAsia cap, t-shirt and jeans, Fernandes shuns the so-called required tie and business suit. Educated at Epsom College and the London School of Economics, he has been recognized around the world, including by the business magazine Fast Company as one of the world's 100 most creative people in business in 2011 and awarded the 'Travel Business Leaders Award' by CNBC. Forbes lists his net worth as $650 million and he makes the 15 spot on Forbes' Malaysia's 40 Richest list.
Why You Must Market Your Business
Marketing lets potential customers know what you are offering, and ensures that your message is heard "over the clutter," Fernandes says. There is so much information being exchanged these days, that only relying on what he describes as 'static, one-way channels' just will not work. AirAsia's marketing strategy serves as a good example of this principle. The Malaysian airline doesn't only advertise on traditional mediums such as radio or television, but also on social media channels. There are several reasons for the heavy use of social media. Social media channels allow AirAsia to directly interact with its customers and potential customers and to gain feedback about its products and services.
You may have a great product, but if no one knows about it, "you're just wasting your time," Fernandes bluntly explains. Part of marketing is building a brand because a company is "only as good as its branding," he believes. Branding creates awareness of a company among potential customers and turns them into customers. Branding also keeps people as customers by building customer loyalty. Branding has opened doors for AirAsia for effective negotiations across different channels and regions.
A company is only as good as its branding.
Building a Brand When You Are Not Well-known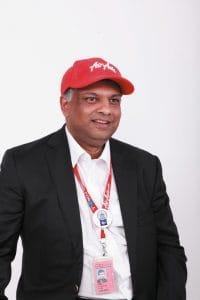 Fernandes took AirAsia from an unknown, small airline to what it is today. However, he did not do so by setting out to create a personal brand. "I never set out to create a personal brand," says Fernandes. Instead, AirAsia focused on making air travel accessible for everyone. In order to make that happen, Fernandes had to be "persistent and tenacious, making a lot of noise, usually with a red cap on my head." He fought to compete with full service carriers, and as he did people became aware of him.
Some companies focus on getting new customers or retaining old ones. Not AirAsia. It focuses on both marketing strategies. Whether customers keep coming back is a gauge for a company to know if it is doing it right or not. As Fernandes says, "Loyal customers are also usually the ones recommending a particular product or service to others." In other words, loyal customers market your business for you. However, Fernandes points out that it is just as important to acquire new customers in order to continue to grow your business. In AirAsia's case, as the airline orders more planes, it needs more people to fill the seats while maintaining "an exceptional level of service and a wide range of innovative products to entice new customers to fly with us and existing ones to come back again and again."
Be Willing To do Business Differently
Take a play from AirAsia and be willing to do things differently than other businesses in your sector. "Air travel in Asia used to be monopolized by overpriced full service carriers and with the competitive environment in the region," Fernandes says. AirAsia emphasizes the types of services and products it offers through 'bold and innovative marketing campaigns.' In 2010, AirAsia launched its 'Mind Blowing Fare' campaign, using social media sites such as Facebook and Twitter to heavily market the campaign. In one day the airline sold over 500,000 seats.
Since AirAsia has the vision of making air travel accessible for everyone, it naturally offers lower cost fares. And it is that aspect of its business which it emphasizes in order to differentiate it "from the rest of the field in terms of cost, connectivity, flight frequencies, convenience, innovation and many others," Fernandes states. AirAsia wants to continue to lead as what he describes as "world's best low-cost airline and as an innovator making air travel accessible to all." The airline could not differentiate itself from other airlines if it did not have the right marketing strategies in place.
Marketing is Everyone's Responsibility
Some businesses do not emphasize the importance of marketing among all of their employees, from the higher paid ones to lower paid workers. Not at AirAsia. It is the philosophy of Fernandes that everyone has a role in marketing. As he says, "Everyone has a role as a marketer." At AirAsia, all employees contribute to marketing, including those who interact with customers, particularly flight attendants and guest services staff. Fernandes says that everyone at AirAsia is "passionate about the brand and do their utmost to contribute."
Fernandes has turned AirAsia into a company that knows how to gain attention through bold marketing campaigns. It is also a company that has carried over 230 million people on its flights while creating new markets and boosting tourism and travel in Asia. Perhaps the reason why customers keep using AirAsia is that Fernandes views all of his employees as the company's 'greatest asset' and being appreciated in such a way makes happy employees who treat customers well.
Perhaps Fernandes developed his views on marketing while watching his mother sell Tupperware. In fact, he cites his mother as his marketing role model, explaining that she "pioneered the Tupperware business in Malaysia." He would attend dealers conventions with his mother, who he calls a "very good presenter and marketer…able to sell thousands of those things." His mother is his 'inspiration and mentor' and one of the reasons that he started his own airline because he learned from her that nothing in life is impossible if you are willing to work hard for it.
---
This article appeared on the August 2014 issue of Nordic Business Report. Read the full magazine here »