3Feb2015
Study shows how to trigger online shopping through TV ads
If you recognize yourself as being one of those multitaskers using smartphone, tablet or laptop while watching television, you are well on your way to becoming a part of the majority.
According to the research agency TNS, 41% of global internet users who are watching TV are already also using another screen at the same time. As the number seems to rapidly be getting bigger, the so-called "second screen" is getting more and more attention, even among advertisers. But does the second screen distract TV viewers and decrease the effectiveness of TV advertising? Or, does TV advertising actually trigger online shopping?
Results of a recent study – by researchers at Cornell, Harvard and the University of California, San Diego – seem encouraging from the advertiser's point of view.
"The findings indicate that television advertising does influence online shopping and that advertising content plays a key role," the researchers write.
The research team, led by Jura Liaukonyte, the Dake Family Assistant Professor at Cornell's Dyson School of Applied Economics and Management, analyzed nearly 1300 unique advertisements from 20 brands, worth more than 3.4 billion dollars in TV ad spending. They also looked at online visits by 100,000 web surfers to those 20 brand websites during commercial breaks. They divided the ads by content type into four categories: "action-focus", "emotion-focus", "information-focus" and "imagery-focus".
Action-focus content was found to increase direct website traffic and sales. Information-focus and emotion-focus ad content reduced website traffic but simultaneously increased the "conversions" among those who did visit. This resulted in a positive net effect on sales for most brands. Imagery-focus content reduced direct visitation without any meaningful impact on sales.
"These results imply that brands seeking to attract multitaskers' attention and dollars must select their advertising copy carefully," they clarify.
Liaukonyte and her fellow researchers, Thales Teixeira of Harvard Business School and Kenneth C. Wilbur of UCSD's Rady School of Management, were most surprised by the effects of informational and emotional ads. Information- and emotion-focused content in ads were associated with two seemingly contradictory effects: they simultaneously reduced traffic to the website while increased the number of purchases among those who did visit.
"The most likely explanation for these phenomena is that this type of advertising content is effective at resolving consumer uncertainty about whether the advertised product fits their needs," they explain.
According to Nielsen survey data, 27 percent of tablet and smartphone users look up product info when an ad airs and 22 percent look up coupons or deals related to ads they watch.
"One clear recommendation is that advertisers seeking to stimulate immediate online response might want to avoid heavy use of imagery content in their advertisements," Liaukonyte, Teixeira and Wilbur point out.
---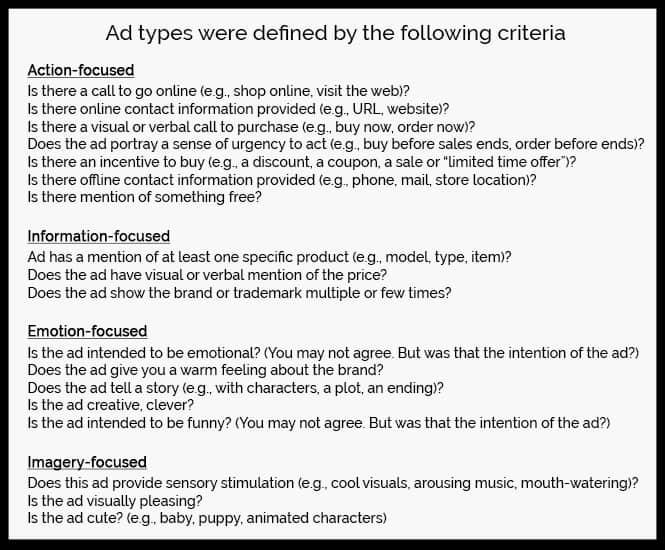 ---
References and more to read:
Liaukonyte, Jura, Thales Teixeira, and Kenneth C. Wilbur. "Television Advertising and Online Shopping." (2014).
Available online: here
Nielsen (2012) State of the Media: Advertising & Audiences Part 2.
Available online: here
Study shows how to open wallets of Web-surfing TV watchers (Cornell Chronicle).
Retrieved from: http://www.news.cornell.edu/stories/2015/01/study-shows-how-open-wallets-web-surfing-tv-watchers
TNS Connected Life survey:
http://www.tnsglobal.com/press-release/connected-life-tv-press-release