22Jun2022
Leader's Digest | June 2022
This time our Leader's Digest newsletter gives you ideas on organizational development from many fronts. We tackle the topics of psychological safety, culture of connection, performance management, and more.
Top Content Picks
💎 Blog + Webinar Recording: "Whatever form of excellence you are trying to achieve, you cannot do it without other people's voices and other people's participation", emphasized Amy Edmondson when talking about psychological safety.
🎤 5 Keynotes: How can you cultivate a culture of connection? Why should you make your employees act as CEO for one day to improve your culture? Those questions among others were in the spotlight at our Speaker Contest final. Watch the 5 final keynotes to learn more.
💶 Article: Money starts talking – InvestEU unlocks billions to support investment in a sustainable recovery and public and private investment mobilisation across the EU.
Our Recommended Source for New Ideas
— 3 Podcasts
While tuning into summer mode, we wanted to list a few of our favorite podcasts for you to listen to. We picked up episodes focusing on development, but we highly recommend checking the other episodes from these podcasts too!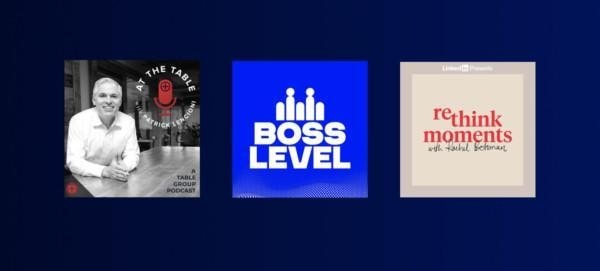 Table Group Podcast with Patrick Lencioni
→  In this episode, Patrick Lencioni talks with his colleagues about one of the most important jobs of any leader, and how it relates to hiring, firing, and everything in between. "We're going to blow up performance management and we're going to replace it with clarity and culture management", says Patrick.
Boss Level Podcast with Rutger Bregman
→  In the most recent episode of the podcast, the host Sami Honkonen interviews Nordic Business Forum 2022 speaker Rutger Bregman about how we should move to a more benevolent view of human nature and how that would change the way we run our companies.
Rethinking Doubt with Rachel Botsman
→  In the newest episode of her podcast, Rachel Botsman explores her experiences with doubt. She discusses why we need doubt and explains the differences between paralyzing doubt and productive doubt.
Stop and Think
"The best ideas typically happen when we're alone. The best ideas are typically built when we're together." – Lisa Bodell