3Oct2016
NBForum Survey: Business Leaders Keen to Adopt Virtual Tech, But Largely Unsure About How
The wildly popular augmented reality game Pokémon Go! put Virtual Reality technologies squarely on the map for millions of ordinary people the world over. The business sector sat up and took notice as the realization began to dawn that this could be the next big thing in technology platforms with the potential to disrupt existing markets and create completely new ones.
According to a new survey conducted in September for Nordic Business Forum by Kantar TNS (formerly TNS Gallup), in the next five years or sooner, a majority of business leaders in Finland will be looking for ways to ride this new wave of innovation. Interest in the technology cut across all sectors and represents the views of leaders in all areas of business, not just decision makers with a technical education. The study also found that while decision makers see the potential of Virtual and Augmented Reality technologies for improving products and services and developing experiences, most companies appear to be having difficulty navigating from to intent to action.
Virtual reality immerses users in a virtual world, while augmented reality superimposes a digital layer on the real world, much in the same way that the whimsical Pokémon creatures would appear on users' screens during their quests. In January 2016, the global investment banking giant Goldman Sachs published an innovation profile that focused on virtual and augmented reality technologies.
The firm sketched a baseline scenario in which virtual and augmented technologies would generate revenues of USD 80 billion by 2025 (USD 45bn in hardware and 35 bn in software, and driven more by VR than AR) and head-mounted devices (VR goggles or HMDs) would become increasingly popular as the technology improved. Moreover, Goldman Sachs projected that apart from the realm of video games, VR and AR technologies would disrupt sectors as diverse as the military, healthcare, education, live events, retail, engineering and real estate.
This then, is the brave new world in which companies in Finland and beyond will have to forge a competitive advantage. Kantar TNS set out to test the temperature of companies' appetite for virtual and augmented reality technologies by interviewing decision makers from just over 500 companies, 410 of them from Finland. Other respondents represented Sweden, Denmark, Estonia, Latvia and Lithuania and Norway, as well as beyond the Baltics and Nordics. Some 350 interviewees had commercial or business educational backgrounds, while 122 came from technical fields.
Substantial interest in virtual technologies
The study found that the vast majority of business leaders – 84% altogether – said they are likely, fairly likely to try, or definitely interested in trying virtual technologies in their companies. Close to one-third of these respondents (30%) said they are "definitely" interested in testing the technology. However, asked whether or not their companies had made plans to or were already using virtual technologies, just 10% were able to say that they are already using it – many of them larger firms – and another 13% said that they had tried it out in random projects. Some 14% had made plans but had not yet followed through, while 33% had made no plans at all to use virtual technologies in the workplace.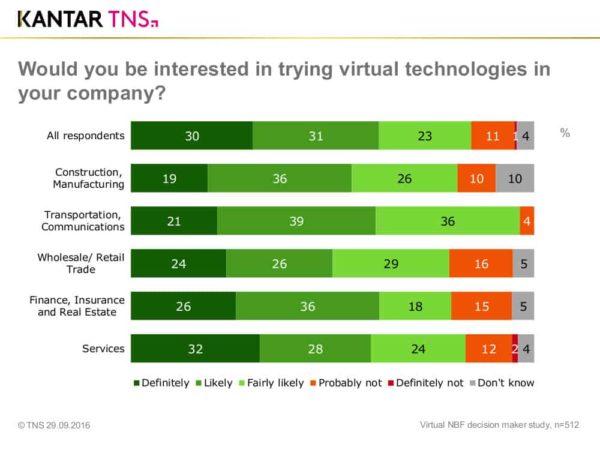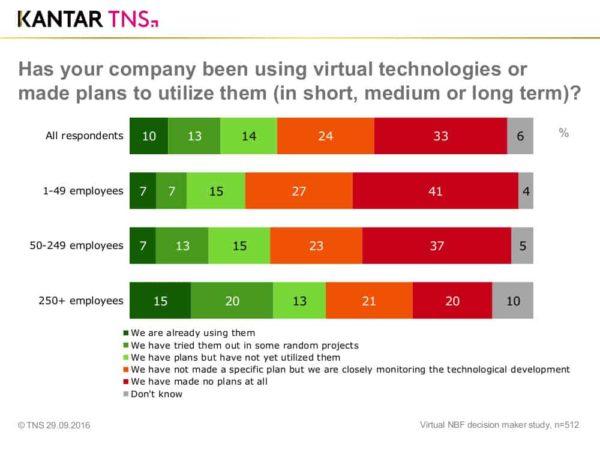 Kantar TNS research lead Katja von Alfthan parsed the results, noting that the survey revealed huge interest in virtual technologies from the business side, given that just a small percentage of respondents represented IT functions. She added that many of the companies that said they were "definitely" interested in trying the technology were somewhat more often in the services sector than other industries and that the majority of interviewees were board members (59%), an important group of decision makers. Combining the leaders who expressed a "likely" interest in trying virtual tech yielded an even broader distribution across business sectors. However, the outcomes suggested that actual uptake appeared to lag behind interest in the innovation.
"We can see the same that we see with many innovations and new technologies. There's a certain curve of adoption that shows there are companies that are ahead and have already found a way to use the technologies, some have not yet tried but see huge potential, and some haven't paid any attention whatsoever to those technologies," von Alfthan explained.
Virtual technologies revolutionizing experiences
What made Pokémon Go! excite the public imagination was its ability to shape user experiences. Even people who loudly proclaimed their disdain for modern digital games were soon hitching a ride on the Pokémon train, if only to see what the fuss was all about. The whimsical reboot of a now-classic 1980s computer game successfully harnessed the move towards an experience-based economy with an experimental technology to shake up the game sector and transform how people consume content.
The decision makers who participated in the survey by NBF and Kantar TNS showed they are acutely aware of the increasing weight of experience in building business competitiveness. The results indicated that 57% of business leaders interviewed felt that virtual tech could be used to develop customer experience in their companies. A similar proportion (58%) could see it used for education, while communication and marketing were also likely targets for VR deployment (56% and 52% respectively).
When asked in which areas virtual technologies could deliver business benefits, 62% pointed to developing new products and services. Some 48% saw the innovation as an enabler to access new markets, and 35% said it would help increase the effectiveness of internal processes. Overwhelmingly, business chieftains proved they were aware of the potential for VR technologies to develop and tap into experiential opportunities to deliver clear business benefits.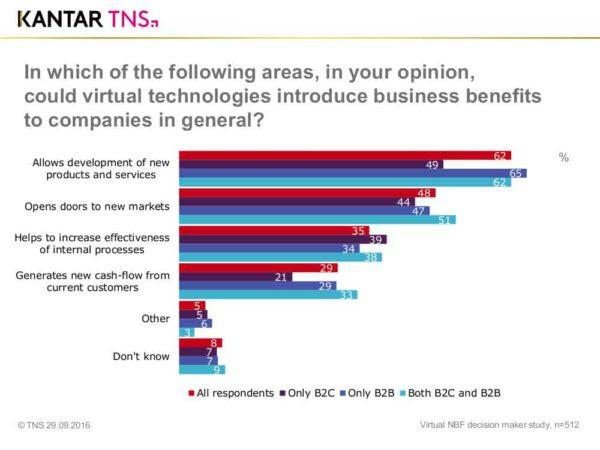 "We can see that the world is moving towards experiences. Businesses talk about competitive advantage being around customer experience. People are building processes around experiences. Consumers are also going for experiences – micro-moments, major experiences. There is a real opportunity for VR to add to experience," noted TNS Gallup's von Alfthan.
"Given the large degree of interest, I'll bet we'll see many more companies taking virtual tech on board as a topic in their strategic planning and moving forward with their business. Many are interested because it sounds trendy and exciting and promises opportunities for growth, but they may not have the tools or resources to allocate to pinpoint, analyze and validate real opportunities," she added.
Speed bumps on the path to adoption
Almost all of the captains of industry surveyed agreed that virtual tech is more than mere hyperbole – a whopping 82% said that they disagreed somewhat or fully with the assertion that virtual technologies are just hype. Moreover, a vast majority – 92% – agreed fully or somewhat that the B2C sector would benefit from such technologies. An equally emphatic proportion of 89% also fully or somewhat agreed that the B2B sector would reap benefits from the innovation.
In spite of their apparent enthusiasm for the technology, just 43% said they either fully or somewhat agreed with the claim that they knew where to find expertise on VR technologies. Responding to a separate query, a mere 27% said they would turn to a consultant or research company for more information about technologies and related content. A large majority – 83% – said they'd go it alone and conduct independent research online.
Researcher von Alfthan noted that there are a few components to VR technologies: there is hardware and software, but both are hardly usable without content. Companies are still grappling with a huge question mark over how to develop content, and more importantly, how to adapt VR to a value proposition – in other words, how to develop it to ensure that it becomes profitable for the business.
"It's very difficult to know where to start. This may be the reason why onboarding has not kept pace with interest. They see the benefits and they sense opportunities to develop their offering as a company. They see that virtual tech may be interesting, but then the next logical step is to plan to make it happen. So what do they do? Google? Who will take the lead there? They are stumbling in the dark, they don't know how to turn opportunities into growth," the analyst remarked.
Kantar TNS Digital Insight Consultant Saija Ahlgren noted that it is not uncommon for many companies interested in digital business opportunities to lose their way on the path to digital transformation.
"Tech service providers are busy developing their digital service portfolios but unfortunately they are failing in building their marketing messages. Tech service providers are tempted to talk about their shiny new products and technical features instead of what matters to the customer," she declared.
Reading the runes
The survey asked decision makers to anticipate what the landscape for VR-based business applications could look like in the near future. Roughly 4% predicted a significant increase in such applications as early as this year while 14 % saw the development occurring next year and 49% felt it would occur in the next couple of years. Another 25% saw the technology influencing new business applications in three to five years. Just 3% thought it would take more than five years.
Of the respondents who believed VR would bring new business services in the next couple of years, 7% said there would be a significant increase in the use of virtual technologies in their own companies this year. Another 15% of this group felt significant uptake would happen next year in their firms, while 42% projected that it would take a few years (around 2018) for their firms to ramp up virtual technology usage.
Among the other group of leaders who did not anticipate a significant increase in virtual technology-based business applications within the next five years, just 5% felt their companies would increase their usage of the technology this year and another 5% projected increased use next year. However, 28% said their firms would likely use the innovation more in the next two years, compared to 33% who projected ramped-up usage in three to five years and 18% who felt it would take more than five years.
In their January report, Goldman Sachs' analysts forecasted that due to its ease of use and the large number of potential use cases, VR and AR could rise to become a new de facto computing platform, with adoption driven by both consumers and enterprises. On top of that, the researchers reviewed the adoption curve for tablets and smartphones to derive a potential adoption curve for VR and AR technologies. They predicted a rapid early-adopter ramp up, followed by a slowing pace as adoption hits the lagging majority of users.
If the Goldman Sachs analysis holds true, Finnish corporates would do well to include adoption of virtual technologies in their strategic planning to ensure they stay ahead of the emerging technology curve rather than lagging behind it.
---
Sources:
Virtual NBF decision maker study: Kantar TNS, September 2016
Profiles in Innovation: Virtual and Augmented Reality – Understanding the race for the next computing platform, Goldman Sachs Equity Research, January 2016
http://www.goldmansachs.com/our-thinking/pages/technology-driving-innovation-folder/virtual-and-augmented-reality/report.pdf
Kantar TNS is one of the world's largest research agencies with experts in over 80 countries. We provide actionable insights to help companies make impactful decisions and drive growth. With expertise in innovation, brand and communication, shopper activation and customer relationships we help our clients identify, optimise and activate the moments that matter to drive growth for their business. We are part of Kantar, one of the world's leading data, insight and consultancy companies. | www.tns-gallup.fi