12Sep2022
Not a moment too soon
Nordic Business Forum takes place in Helsinki on September 20th and 21st, putting an end to a three-year drought all of us thirsty for new ideas and possibilities to network have suffered from. For host Pep Rosenfeld, the event brings back memories filled with presidential jokes and ideas for branding his own business.
This year, Christmas indeed seems to arrive three months ahead of schedule. Never in the history of mankind, let alone modern business, have leaders, CEOs, innovators, entrepreneurs, and business owners waited so eagerly and in such unison as the time for 2022 Nordic Business Forum inches closer – surely, but, as it often feels this close to the finish line, oh so slowly.
A most impressive lineup of speakers, along with extensive networking opportunities, ensure two intensive, productive, and certainly fun days of learning about future-focused leadership in the context of organizational culture, future of work, and brand strategy.
The arrangements have been going on for a long time: the speakers have been booked, the venue designed, the million details taken care of. The final preparations are ongoing as we speak, with everyone running busy but certainly excited. The host of 2022 Nordic Business Forum Pep Rosenfeld seems to be outright at the edge of his seat. For him, as a person whose work is all about performing in front of live audience, the past years have been a period of adjustment. Or, as he puts it, dark times.
However, his glass is always half full.
"The times have definitely felt weird. When you tell jokes into a camera, you can't hear anyone laughing," Pep summarizes his working during the pandemic. "The good side of that is, you can't hear them not laughing either."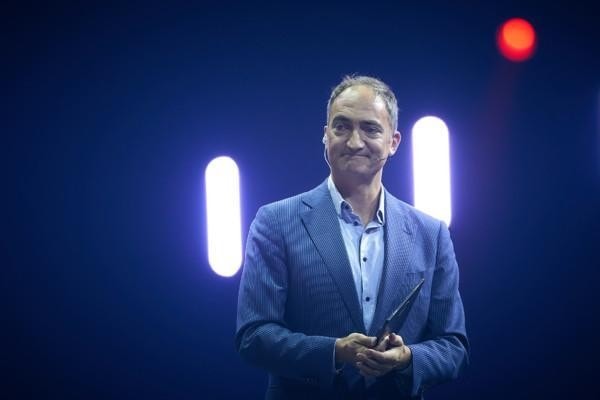 Pep Rosenfeld hosting the 2018 Nordic Business Forum. Photo: Pasi Salminen.
Getting ready for such a big event is all about perseverance and agility
Along with the rest of Nordic Business Forum crew, Pep has worked strenuously for several weeks to be fully prepared for the upcoming event. He looked through the initial concept, exchanged and developed ideas with Hans-Peter Siefen and Andre Noël Chaker, put together a script, rehearsed it time and again – and came across the usual course of development.
"In events such as this, schedule is a fluid document. Changes are bound to happen, and surprise after surprise started to appear. While a part of me was frustrated as things had to be redesigned and rewritten, the other part got excited about all these cool surprises that were added to the schedule."
Even the seasoned host begins to feel like a child waiting for that precious opportunity to rip open all the gift wrap and begin to enjoy the contents. Pep's relationship with Nordic Business Forum is long and deep, and the year 2018 – when he also appeared as a host – pops up as an especially unforgettable one.
"I told a little joke to Barack Obama and actually made him laugh – that was something special indeed, always nice when the audience gets the point. At that event one speaker asked the audience to think about what their company stood for. I was inspired to write the line "humor makes business better," which we now use as part of Boom Chicago's branding as well as in many of my presentations."
Pep Rosenfeld is an ideal example of how Nordic Business Forum both entertains and educates – and you never know what kind of inspiration you can discover unless you attend.
Certainly, Pep has some expectations towards this year's events as well?
"Oh, I love being inspired by world-class speakers…" – a slight pause – "and then I get to make fun of them afterwards."
Now, who can honestly say that would not be worth experiencing?
Make sure you get a chance to see Pep Rosenfeld and the impressive line-up of 2022 Nordic Business Forum speakers – check the last-minute ticket availability at nbforum.com