8Apr2022
3 Ways To Succeed In The Future of Work – Terence Mauri (Webinar Summary)
How can you and your organization thrive in the future of work?
On the 7th of April, we got together with Gapps to share our virtual webinar stage with Terence Mauri. He holds Entrepreneur Mentor roles at MIT and IE Business School and is the founder of the management think tank Hack Future Lab. During the session, he offered his insights on how to succeed in the future of work.
Here we give you a written summary of Terence's keynote, but you can also listen to his keynote on Spotify  or watch the recording of the entire webinar.
We Need Attention and Questions
To kick things off, Terence explained what he means by the future of work. "I mean human-led, technology-enabled, intentionally diverse, purpose-driven, psychologically safe, and built for speed."
You might have heard the saying that "data is the new oil". Terence disagrees with this. "I think attention is the new oil. Think about it: attention is rare and it's under attack." According to research done by the Hack Future Lab that Terence founded, 83% of people struggle to focus on what really matters, 76% of leaders are at risk of burnout, and over 63% of leaders spend too much time on shallow work. So, what we need is attention.
Additionally, Terence underlined that new contexts and a new world demand new questions. "When uncertainty is high and turbulence is high, questions matter more than answers. Questions are like the golden key that can help you unlock the door and help to see the world differently." To help us get started with brilliant questions, he gave us five catalytic questions:
How do you unlock the path to reimagination?
What are the new midsets, assumptions, and risks for this journey?
How do you prepare for the future of leadership?
What do you say "no" to, or unlearn to go 10 x wiser and healthier?
What are the "stretch" conversations and bold moves to get started?
"Questions are the answer. So, what is the boldest question that you're going to ask this year?"
Why the Future of Work is Now
"Everybody's talking about the future, but the future has already happened." Terence briefly went through the development of the past few centuries and pointed out, for example, how 175 years ago we humans came up with 3 innovation platforms (telephone, automobile, and electricity) that completely reshaped our societies, the nature of work, and how we work.
"We're at a new inflection point right now today, and there are 5 big innovation platforms that you need to be aware of: blockchain, energy storage, automation, robotics, and DNA sequencing. And my projection shows that over the next 10 years, they can potentially add over 210 trillion dollars to global equity market capitalizations. This is the new meta, and it has nothing to do with Facebook. This means that the competitive lines are redrawn."
According to Terence, there are two fundamental truths for you to reflect upon in this setting:
You can navigate a new world with an old map.
Competitive advantage is fading faster and faster.
In other words, Terence emphasized that you need to master the new logic of competition, leadership, and work. What he means by this is that you are now competing, for example, on the rate and speed of learning, on imagination and ROI (= Return on Intelligence), and on resilience and antifragility.
Business models are going old like yogurt in the fridge, workforce models are no longer fit for purpose, and many organizations in the world are still using leadership playbooks from the 1950s. It's obvious that transformation is needed, and to help us do that, Terence then gave us his three suggestions. "I want to now share with you three insights to scale the future of work which is human-led, technology-enabled, intentionally diverse, and built for speed."
1. Trust Is Your Workforce Multiplier
Terence said that knowledge tells us what is and imagination tells us what could be, but trust is the multiplier of the workforce. "We need to go big on three things: truth, transparency, and trust." To elaborate his point about the importance of trust, he shared us these 5 insights:
Flexible work is here to stay. You need to think of your culture as a product; constantly iterate, develop and improve the way your organization works.
Leaders are out of touch with employees and need a wake-up call.
High productivity is making an exhausted workforce. People are at risk of burnout and this makes innovation very hard. "Stress and innovation are like oil and water."
Generation Z is at risk and will need to be re-energized.
Shrinking networks are endangering innovation. We need to think about networks that are both deep and wide. Our operational networks are better than before but there's still a lot of room for improvement in our strategic networks that allow us to reimagine and develop.
So, think: Are you exceeding, meeting, or falling behind on trust? Do you have ecosystems of trust and ecosystems of excellence?
2. Lead From the Future (Not the Past)
"For most companies, we are trapped in a present-forward strategy." What Terence means by that is that we tend to extend the present way of seeing the world to the future. Naturally, this doesn't work anymore. "When the future arrives faster than ever before, we need to pivot to the future and work away backwards." Terence gave us two bigger points to think about in terms of leadership.
First, he underlined the importance of developing an "always-learning workforce". You should move away from a "one thing workforce" to an "anything workforce". You need to move from a bureaucratic mindset to an iterative growth mindset. And you should move from talent hoarding to talent creation and talent enablement.
Second, he mentioned that their study found 5 distinctive things that future-thinking organizations like DBS, Nike, and Mastercard had in common:
They are human-led, technology-enabled.
They embody lightening speed behaviours.
They treat and scale culture like a product.
They have investor expectations of future growth.
They rethink capability stacks around value creation.
Terence suggested that you can benchmark yourself against these points to take your leadership a step further into the future.
3. Turn Uncertainty into a Tailwind for Bold Action
"I want to reject this false constraint that disruption just happens to us." To further explain this necessary skill to harness uncertainty into an opportunity, he explained the story of DBS.
Through their research, Terence found four things that DBS had done to transform itself into an agile and courageous organzation:
Reskill and upskill employees with future-fit skills by 2025.
Engage employees by aligning opportunities to their own sense of purpose.
Improve organizational agility to maintain business continuity.
Democratize career development and increase workforce visibility.
With those insights from DBS, Terence called us to turn uncertainty into a tailwind for learning, growth, and reimagination.
Overcome the Barriers
"The biggest threat in 2022 and beyond is not uncertainty, it's not turbulence. I believe it's acting with yesterday's logic, yesterday's mindset, and yesterday's ways of seeing the world."
Terence then highlighted the five biggest barriers he sees are getting in our way of succeeding in the future of work: lack of cross-functional collaboration, low decision making, lack of clarity, rigid policies, and formal hierarchy.
And how can you overcome those? Terence showed us the way forward by summing up his insights on succeeding in the future of work:
Are you writing success headlines for the future?
When uncertainty is high, not taking a risk is a risk.
Success corrupts success! Scale culture like a product.
To thrive you must unlearn the always done ways.
You'll need to elevate trust learning and inclusivity at scale.
You can't use an old map to explore a new world.
Finally, Terence challenged us to make this the year of radical action. "Learning is never finished. Change is never finished. Transformation is never finished. The job of a leader is never finished. So, make this the year of courage of heart, and boldness of ideas."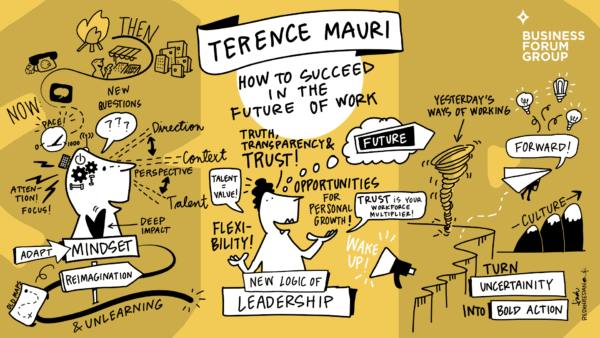 Visual summary by Linda Saukko-Rauta