12Oct2021
Rethinking Entrepreneurship with Christopher Parmo & Ida Marie Christiensen
At the fireside stage at Oslo Business Forum 2021, Christopher Parmo, COO at the specialist growth equity investor Verdane, and Ida Marie Christiensen, Head of Growth and Impact Norway at Danske Bank, reflect on the changes in the entrepreneurial landscape and new kinds of partnerships between investors, corporations, and startups.
Megatrends
Cristopher set the tone of the talk with a very straightforward remark: "Speed is becoming more important than ever. Entrepreneurs need to be very agile and very fast to thrive in this society". Next, he spotted three megatrends or "big waves" entrepreneurs can surf. The first one is the digitalization of the consumer through, for example, new apps and e-commerce, among other things. The second is software; "software service will become more strategic as it makes the business world more efficient". And third, sustainable societies. According to Christopher, at the intersection of these three waves lies "the sexiest place companies can be in for investors".
Ida Marie agreed and added that investment in the "high impact space", or companies that have sustainability built in their core business and tackle one or several of the UN sustainable development goals, has skyrocketed. She further broke down the high impact space into three subcategories: energy, which includes renewable energy production and energy storage solutions; materials and resources (companies that can help create a sustainable production line); and third, smart cities, companies with the technology to support the transition into smart cities, like green buildings.
Strategic Partnerships
Both Ida Marie and Christopher described new ways of collaboration between their companies and entrepreneurs. "We cooperate in many different forms. They are our customers, so we have a close relationship with them, helping them grow and scale their business", explained Ida Marie. Another way of collaboration is through strategic partnerships. "We see a lot of companies that have great technology and service that we want to offer to our customers, so a strategic partnership is created to integrate the startups' technology into Danske Bank's products". And lastly, there is matchmaking, bringing together corporate clients looking for innovation with startup customers that have great technology and service.
Christopher, for his part, said that a lot has changed in the investment business. The main reason is that the best startups will have no problem getting funded, so investors will have to innovate and go beyond their traditional role of being money suppliers. "We need to be partners". As examples of the next level of innovation in the investment area, Christopher mentioned two competitive advantages of partnering with Verdane. On one hand, "we have seen a lot of companies and have gathered an enormous amount of data so we can provide answers to the entrepreneur's questions through data". The other advantage is their expertise and the fact that they bring to the table the support of experts, from growth to sustainability specialists who can analyze the startups' internal architecture and teams and help them, for example, to make sure that they are able to scale or gain visibility.
Do's and Don'ts of Collaboration
Ida Marie pointed out that when a large corporation wants to cooperate with a small, maybe immature partner, the challenges will be outnumbered by the upsides. To make collaboration successful, Christopher and Ida Marie recommended, first and foremost, to align interests and have open and transparent communication. In addition, they advised to be realistic about time frames because for startups time is money and they are seeking to grow, but corporations could be in a different position, wanting to explore and learn.
Near the end of the talk, Ida Marie foresaw there will be a rise in strategic partnerships. For one thing, companies need agility and speed and they can't develop everything on their own; and also, there is a scarcity of IT talent. "When it comes to outsourcing or not, what you have to think about is: Is it close to your home ground, to your core business, or is it too far away? If it is too far away, you are really exploring, you don't have those competencies and it makes sense to outsource", she explained.
To wrap up, Christopher shared his last piece of advice: "Get your running shoes ready because things are moving fast."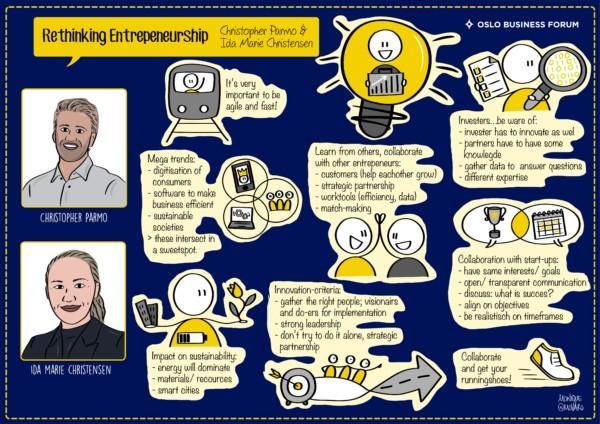 Sketchnote by Moniquevan Rooyen