13Oct2021
Rethinking Strategy with Marianne Hagen & Thomas Christian Magnus
Marianne Hagen, Director & Architect Strategic Accounts at The Assessment Company, and Thomas Christian Magnus, partner at ISCO Group, discussed the role of human capital in strategy and how to develop teams and individuals at the Fireside stage during the Oslo Business Forum 2021.
Human Capital
When it comes to rethinking strategy, it is essential to consider the role of human capital. In today's highly dynamic market, empowering and training people is more important than ever. "CEOs and leaders need to promote a continuous culture of learning", kicked off Marianne.
At ISCO, Thomas said that the starting point is to translate the strategy into competencies and capabilities. He recalled an occasion when he was reviewing the strategy for a client and found that there were "80 glossy pages on where, how and when to compete, but only one page on competencies and capabilities. The human capital side is downgraded, you need to significantly upgrade it", he argued.
Marianne also emphasized the importance of engaging people at all times. "There are new rules for engagement, new rules for security. Companies need to be learning factories and to fulfill careers more than to fulfill jobs. This change in culture also goes into the strategy, how we talk about people and how we involve them", she summed up.
Innovation and Empowerment
According to Thomas, innovation starts anywhere in the organization; therefore, it is crucial to place the best people at all levels and "move from hierarchy to meritocracy". If so, the immediate question is: how do you empower people?
"You need to empower them with what's most important for them; make them feel that they are part of the company's culture and that they can learn every day", explained Marianne. In fact, she added that the two main reasons why people want to quit are bad leaders and not having opportunities to be part of the culture.
Further elaborating on those two reasons, Thomas remarked that a strong, visible, and inclusive leadership never goes out of style, and reminded leaders to be very specific with the meaning and purpose of the company. On the second reason, he added that "the most basic and fundamental human need is to be seen, to be recognized and to feel a sense of belonging. It has been very challenging during the pandemic and we need to get back to that again in the companies, to reunite, to re-engage people, to have good conversations, and collaborations, with one another", he added.
Upskilling and Reskilling
The pace of change is so fast that it's easy to fall behind. Marianne pointed out that skills last for around 6 months, so it is necessary to reskill and upskill at all times. And since companies can't keep people away from their jobs for a year as it used to be done, training has to take place from day to day. "Research shows that 90% of training is informal, so why don't we have much more mentoring, people supporting each other, colleagues working together?", she suggested.
Lastly, Marianne and Thomas touched on the topic of the high level of job mobility. With 40% mobility in the market, leaders face the challenge of building capabilities that could drift away to other companies. Marianne's recommendation is to have a broader perspective. "It is not individual learning we are talking about. We are talking about team learning". Leaders need to foster collaboration and, for example, instead of taking several years to build the competency the company needs, it might be worth training 200 people during four months.
Lastly, Thomas said that this highly dynamic market makes the job of people selection and development very easy. His advice to leaders? "Make our work more difficult, that means focus on your employees, see them, recognize them, and let them feel a sense of belonging", he concluded.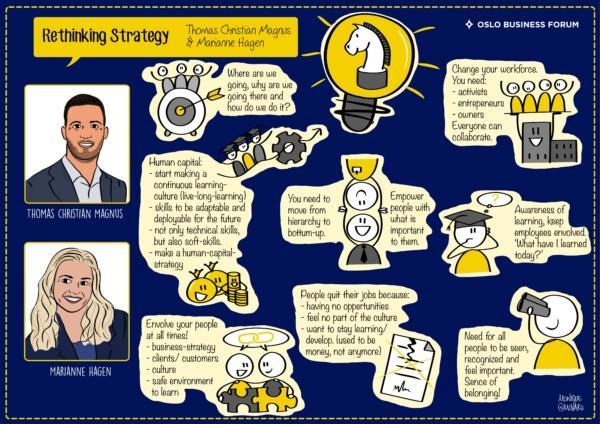 Sketchnote by Monique van Rooyen