21Oct2021
Rethinking Innovation with Alex Osterwalder, Arild Spandow & Pernille Hertel
At Oslo Business Forum 2021, Pernille Hertel, Director of Customer Advisory from SAS Institute, hosted a discussion on rethinking innovation. The innovation mastermind, Alex Osterwalder, and the CEO of Amesto, Arild Spandow joined her to talk about how to look at innovation today and in the future.
Moving from Innovation Theater to Innovation Impact
Pernille kicked the conversation off by underlining that it feels we are at a turning point: this is the moment to reflect and rethink the way we do business. Is it so?
Arild emphasized that especially due to climate change being such an important topic, we can't do what we've always done. "The only way we can create a sustainable future is by innovating our way out of the existing. So, I think innovation has gone from being something that you need to do to be competitive to becoming something that you need to do for us to inhabit the planet."
Alex strongly agreed and continued that in terms of innovation, he feels we are in a moment of moving from innovation theater to actual innovation impact. Many companies do innovation activities, but it's not enough anymore. You need results. "That could be the financial results, sustainability, or improving the workplace—all of these things. But we need to move from activities to real results. That means, that we need to measure the output of innovation, just like we measure the output of our existing business." Alex also highlighted that in the past few years he has been happy to actually see this shift happening in many companies and industries.
Both Arild and Alex had also noticed that during the pandemic many companies and industries have been successfully focusing on transformational innovation. To not let these successes go to waste, Alex highlighted that this is the moment for companies to actually institutionalize innovation.
"Now that we're (at least partly) coming out of the pandemic, we need to institutionalize innovation. Because if it's not in the organizational chart, it's going to go away and operations are going to swallow up everything. So, leaders need to really put it in the DNA of the company."
The Question of Who in Innovation
The three then moved on to discuss innovation in terms of people; who should be responsible for it? In their discussion, a few different aspects were raised on the aspect of who in innovation.
1. Responsibility vs Opportunity
Arild pointed out that he thinks every person in the company has to play a role in innovation. "And that's really hard because most people are focused on delivering their short-term or annual goals."
Alex, however, built on that to argue that it's not that everyone should be responsible, but everyone needs to have the opportunity to play a role. "Not everybody should be an innovator, and not everybody is good at innovation, but you should let everybody try."
The key here according to Alex is to lower the barriers of innovation within your organization to zero so that anybody has the opportunity to try. Each person in your company should have the chance, platform, and power to innovate on any project. But then, after a certain period of time (e.g. 3 months), they need to show evidence that customers care about their innovation. If there are no clear results, then their project is finished.
"That's how the best innovators emerge. Taking away all the blockers will lead innovators to innovate", Alex underlined.
2. People vs Structure
Alex also mentioned that in a recent interview he got asked the question of whether people or the organizational structure is more important in innovation. "I think it's a false question—it's the sequence that matters."
What he then explained was that the ideas and innovations always come from people, but the problem in many companies is that the structure doesn't allow the people to innovate. "So, while people come first in one sense, you actually need to build the structures first in order for the people to be able to innovate. I don't think innovation is a problem of ideas or people—we have them. What we need is the structures so that the innovative people can actually thrive."
He continued by pointing out that this is the reason why it's often the startups that are more innovative: their structure allows the people in those startups to innovate. "There's a lot of talent in established companies; we're just not using it well enough. It's a huge potential."
3. Internal vs External
Arild continued by saying how they in Amesto have found that it's not always enough to empower the internal and existing people. Sometimes you simply need help and experience from the outside. "A lot of ideas may come from the outside as well. So, you might want to look outside your organization and bring these people in—they can become the change agents."
Alex agreed and mentioned that especially in leading in innovation it can definitely be very helpful to hire outside help; experienced innovators. "In leading innovation, we don't necessarily need young graduates with fresh ideas, we need experience. And it exists." He continued that we should incorporate the same type of hiring principles for innovation as we have for hiring people in other areas of business. "We hire the best finance officers and the best chief operating officers, but we're not trying to hire the best innovators. We need to have the same rigor."
Pernille concluded that indeed both internal and external people can play a huge role in innovation. By mixing both, you might as well get the best results.
Size Does and Doesn't Matter
During the discussion, the question was raised whether the size of the organization matters in innovation. It seems that many people feel it's the big and the powerful who can innovate well. But is it really so?
According to Alex, anyone can innovate. Arild, however, challenged that it feels to him that for impactful innovation you actually need a bigger company. Here, Alex agreed that indeed when taking impact into the mix, it is often easier for the larger organizations. They have the possibility to scale their innovations and make an impact on society at large—especially when it comes to issues such as sustainability.
On the other hand, Alex believes that it can be a lot easier for the smaller, less bureaucratic organizations to innovate and change.
Alex pointed out that this question of size seems to be one of the popular innovation myths. He believes it comes from confusing innovation with R&D and technology as many people feel you need to have a lot of resources and technology in order to innovate.
But innovation is much more than just technology. "Innovation is creating value for customers in new ways. And that, any company can do."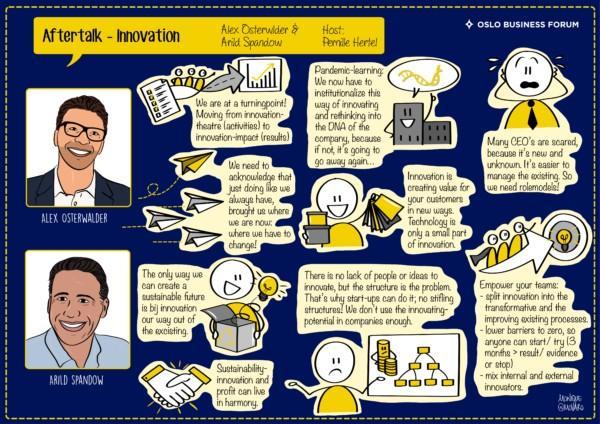 Sketchnote by Monique van Rooyen