22Oct2021
Future of Work with Jitske Kramer & Magnus Kuchler
After the Oslo Business Forum 2021 main stage program, corporate anthropologist, Jitske Kramer, and Country Managing Partner of EY Sweden, Magnus Kuchler, sat down to discuss the future of work. The two talked about the importance of this moment for the future and how leaders can actually make a change in their organizations.
The Importance of This Moment
Magnus and Jitkse began their conversation by wondering if people are aware of the significance of the moment we are in. Jitske argued that the changes we make in our working cultures now will have a huge impact on the way our children and grandchildren will work in the future. She emphasized that there's actually more to it: the decisions we make now affect largely not only the working habits and working culture but our societies as a whole—on climate change as an example.
What makes things even more challenging is that Jitske has found that in many organizations the people who are responsible for the culture or culture change, don't really know what culture is. "And if you don't know what it is, you don't know how to change it."
During the past 18 months and during the coming months, most organizations are confronted with the challenge of defining, developing, and changing their culture and ways of working to fit the new environment. Jitske argued that in many organizations leaders try to implement change in the wrong way. They try to create their version of a new culture and then through an efficient communications plan and corporate training programs they try to inject it across the organization. "It doesn't work like that. That's not how people change."
According to Jitkse, you need to invite your people into the process of change; sit down with them and have campfire conversations—deep, meaningful, and honest conversations.
Working Model for the Future
So, the change we are facing now is a defining moment and we need to do it right. But what is the change we actually need to make? What is the best working model for the future?
Magnus laid down the brutal fact: "Probably no one knows exactly what's the best model going forward. But what we know is that no one single model will work equally well for each individual and each organization." Jitske agreed that even though there are some best practices, each organization will need to tailor the working models to fit their own context. (Read more about the different aspects of working cultures from our summary of Jitkse's keynote at Oslo Business Forum 2021.)
In regards to future working models, Jitske threw in an idea that for some might seem a bit radical: what if instead of connecting our working contracts to time spent, we would instead connect them with the output of the work done? Magnus was a bit skeptical that organizations at large would make this change now. However, he did point out that this might be something that the companies in the forefront would be willing to try.
One of the aspects most discussed now among leaders is the question of working location. Many companies are implementing company-wide hybrid working policies and setting a certain amount of working time that each employee needs to work from the office.
However, Magnus told that at EY, they decided to go full-on flexibility; every employee and team can themselves decide how much they work from home and how much from the office. At least based on the first weeks, the model seems to be working. Employees appear to be happy and the leadership team has been positively surprised to see an increasing number of people return to the office. "This is a model based on trust. And we trust our people", Magnus underlined.
Actually based on the discussion between Magnus and Jitkse, no matter what your model is, trust is the key.
Campfire Conversations as a Tool for Change Leadership
Talking about trust, Jitske and Magnus also pointed out that there still seem to be some leaders who find it hard to let go of the feeling of control when not seeing their employees at the office daily. "Some leaders say that you can't trust the people to really be working if you don't see them at the office." He though mentioned that during the pandemic, even these leaders could see that people are working, sometimes unfortunately even too much. Nonetheless, he was still concerned about how to get these leaders to take a step forward.
Jitske believes that it's the campfire conversations that can be the key not only to lead change in the organization but also to actually change the leadership in the organization. "Have proper sessions on how do we do this. And remember, that it needs to be done with an open heart, an open mind, and by being honest. Then, you can find new ways."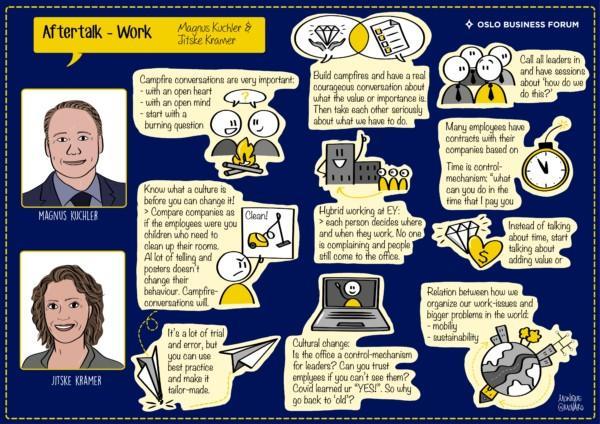 Sketchnote by Monique van Rooyen