10May2023
Maryna Saprykina Wins Speaker Contest 2023!
Maryna Saprykina will join the speaker lineup at Amsterdam Business Forum, Oslo Business Forum, and Nordic Business Forum in Helsinki in September 2023. She will also receive a 50,000€ speaker fee.
Maryna Saprykina won the 2023 Speaker contest with her speech titled: "Sustainability in the Times of War". Maryna is a sustainability consultant from Ukraine who has seen the resilience of Ukrainian businesses firsthand. Her keynote addressed the role of sustainability in business continuity during times of war.
Business Forum Group's fourth Speaker Contest concluded on the 10th of May 2023 at Scandic Helsinki Hub, where five finalists competed for the combined vote of the jury and hybrid audience. The jury consisted of seven members: Christoffer Omberg, CEO and Co-Founder at Oslo Business Forum; Hans Janssen, CEO and Founder at DenkProducties; Hans-Peter Siefen, CEO and Co-Founder at Business Forum Group; Priit Liiv, CEO of Nordic Business Forum; Christina Dahlblom, Professor of Practice, Board member, Entrepreneur, and Coach; Paula Kilpinen; Director and Executive Coach at Henley Business School; Rashmi Kasat-Majakorpi, Vice President at Digital Technologies Metso.
This year, the contest received over 200 applications, from which 24 applicants were chosen to continue to the semifinals. Four semifinals were organized, and one contestant from each was chosen to continue to the finals. The semifinal jury also chose a fifth contestant to continue to the finals. The other four finalists were: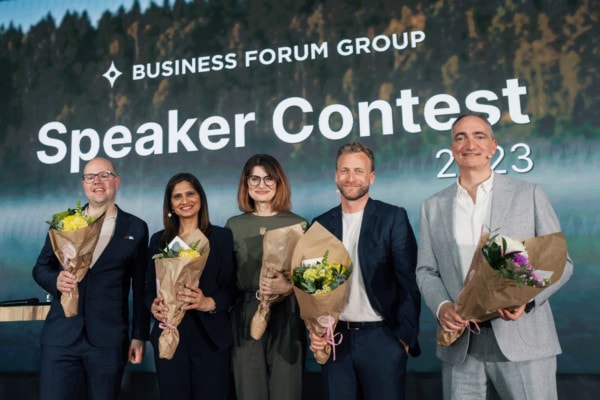 Maryna will take the stage at Nordic Business Forum in Helsinki on the 27-28th of September! She will join an esteemed lineup of speakers, including the activist and Nobel Peace Prize Laureate Malala Yousafzai and Entrepreneur, investor, and author Tim Ferriss.
Are you interested in seeing Maryna and the other speakers live? Join as at Nordic Business Forum 2023 to develop your leadership skills, learn from experts, and network with 6,000+ other attendees!
Join Nordic Business Forum 2023