HOTELS
Here are our recommended hotels for your stay in Helsinki during Nordic Business Forum 2018.
Our event guests have special room rates at these hotels – book with 15 % benefit for the flexible rates. You will automatically receive the discount by booking a room through the links provided below.

Getting here
Nordic Business Forum 2018 will be held at the Helsinki Expo & Convention Center , which is located close to the center of Helsinki with excellent transport connections.
Arrival by train
The Helsinki Expo & Convention Center is situated next to Helsinki Pasila railway station, so we highly recommend arriving by train. All national and international trains (apart from Allegro trains) stop at Pasila, and it is only a 300-meter walk to the main entrance of the Expo & Convention Center.
Arrival by plane
The Helsinki-Vantaa Airport is 13 km from the Expo & Convention Center. Look for the I and P trains, which connect the airport to the Pasila railway station. The journey takes around 30 minutes, and trains leave every 10 minutes during the day. You can also grab a taxi from the airport, which will take roughly 15 minutes and cost about 35€.
Arrival from the harbors
If you arrive in Helsinki via ferry, we recommend that you either take a taxi or a tram. Both are located in front of the arrival terminal.
If you are coming from Tallinn with a Tallink ferry arriving at 9.30 in Western Terminal 2, you are able to take a free-of-charge shuttle bus service. We will have transfer buses waiting for you at the harbor and customer service people guiding you. The buses will drive straight to the event venue (no stops in hotels, as they are not ready to check you in yet).
Arrival by bus
You can reach the seminar venue on buses 506 and 69, both of which stop at the Helsinki Expo & Convention Center.
Arrival by tram
You can reach the Expo & Convention Center easily with tram lines 7 and 9. All of these trams connect to the city center.
Taxi
To arrange for a taxi, call +358 (0)100 0600. Tell them that you are going to the Helsinki Expo & Convention Center and they will know where to go. The taxi stand at the Expo & Convention Center can be found at the main entrance (South Entrance).
The taxis that have been pre-booked will arrive at the Southern entrance bus stop on the other side of the street (Rautatieläisenkatu 4).
Regarding Uber, we recommend using Velodrom parking space (Mäkelänkatu 70) as the pick-up point.
Parking
The Expo & Convention Center Car Park is accessible to everyone and always open. It is located at the North Entrance of the venue. If you are using a GPS, enter the address: Ratapihantie 17. The parking fee is €12, which allows you to park once and stay for 24 hours. Parking fees can be paid at the automated ticket machines. We encourage you to pay for your parking upon arrival to avoid long lines at the machines at the end of the day.
Pre-check-in information
To enter the event, each attendee will need to collect their seminar pass from our check-in desks upon arrival at the venue.
Claiming Your Own Pass
Please be prepared to show your ticket and valid ID when you arrive at the pre-check-in.
Claiming Your Friend's Pass
If you want to claim your friend's pass/badge, have your friend's ID (or a copy of it) and your friend's ticket with you.
Early birds can collect their pass from one of our designated pre-check-ins:
Monday (Sept 24) to Tuesday (Sept 25), from 10.00 to 20.00.
Thursday (Sept 20), from 09.00 to 17.30.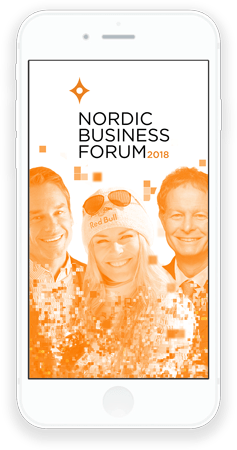 EVENT APP
The Nordic Business Forum event app is your go-to guide during the event. Ask questions from the speakers, share your thoughts and takeaways, and connect with other attendees.
You can also exchange contact information with other attendees with the app's "vCard Scanner" feature. Make sure both you and your new contact have the tool open on your phone, then select whether you want to scan or be scanned. You can even add a personal note to each scan! After the event, you can send all your new contacts to your email address.
Simultaneous Interpretation

Professional interpreters from Delingua Language Services offer translations of the main stage presentations into Finnish and Russian.
Interpretation app
Event guests can access the simultaneous interpretation service for free with the "Linguali Event – Participant" app, which is available for iOS and Android users.
To access the service:
Step 1: Connect to the "NBForum" WiFi network
Step 2: Download and launch the "Linguali Event – Participant" app
Step 3: Select either Finnish or Russian
Step 4: Plug in your headphones and enjoy!
NETWORKING
According to our findings, one of the biggest motives to participate in business seminars is networking with potential partners, clients, and other like-minded people. An important target for many is also to strengthen the existing partner and customer relations and to learn not only from the speakers but also other seminar guests.
To support the above-mentioned goals of our event guests, we offer some great tools for networking!
Brella – book meetings with other guests
When it comes to professional networking at Nordic Business Forum, there's one sure-fire way to meet likeminded people. Brella is the solution that you've been looking for to make networking with other event guests or viewers quick and easy. You can create an account, browse through profiles, and request meetings! See the detailed instructions below.
NBFORUM 2018 EVENT GUESTS
Download the app for iOS or for Android
Log in with LinkedIn, Google, or Facebook, or create an account using your email address
Next, select "Join new event" and enter the code 

nbforum2018

Fill in your profile and start networking.
You can also access Brella through their desktop site.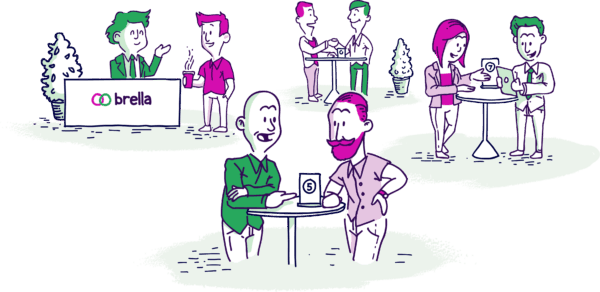 Theme Tables
Choose from over a dozen discussion topics at our designated Theme Tables. Use your session breaks to meet other seminar guests with similar interests, identify problems, and brainstorm solutions. The themes in the tables are:
1Artificial Intelligence
2Blockchain
3Board Work
4Company Culture
5Digitalization
6Entrepreneurship
7Execution
8Fundraising
9Future of Work
10Human Resources
11Innovation
12Internationalization
13Leadership & Management
14Marketing
15Peak Performance
16Purpose & Mission
17Recruiting
18Responsibility & Sustainability
19Sales
20Social Media
21Strategy
22Valuation & Investing
RESTAURANTS
In addition to the official event buffets served in the networking area, there are a couple of restaurants open at the lower gallery (see venue map). The food served in these restaurants is included in your conference ticket. Below you can see the opening hours of each restaurant.
Pizza & Grill
26 September: 8:45 – 17:35
27 September: 9:15 – 16:20
Sushirullen
26 September: 11:00 – 17:35
27 September: 11:55 – 16:20
Wok 'n' Curry
26 September: 11:00 – 15:00
27 September: 11:55 – 16:20
VIP Evening
Right after the first seminar day, First Class guests, VIP guests, and speakers are invited to continue networking at an exclusive cocktail evening hosted at the event venue (September 26th, from 19:30 to 22:30).
The evening will be accompanied by food and drinks, as well as a special performance by J. Karjalainen, one of the all-time singer-songwriters in Finland.
HEL of an Afterparty – The official NBForum afterparty by Helsinki Airport
Event guests are invited to continue networking at the NBForum Afterparty by Helsinki Airport! The party takes place at the Maxine nightclub in central Helsinki (Urho Kekkosen katu 1) on September 26th, from 21:30 to 02:00. If you arrive by 22:30, you will also be treated to a complimentary welcome drink. The party will feature a one-hour set by 28-year-old Estonian artist NOËP. Welcome to one HEL of an afterparty!
Looking for a restaurant to have a dinner after the official program at the venue? Here's a few we recommend: 
Head over to our frequently asked questions to find out everything that you need to know about attending Nordic Business Forum events. If you have any additional questions or concerns, our customer care is happy to help you! Contact us by email at info@nbforum.com, or give us a call at +358 20 775 1390.