20Dec2022
Leader's Digest | December 2022
Leader's Digest is back with a holiday edition! Prepare for ultimate relaxation and inspiration with this blast of content.
10 + 5 Podcast Recommendations for the Holidays
— Holiday Greetings from The NBForum Team
What could be better than having a warm drink, relaxing under a blanket, and listening to an amazing podcast? Here are some recommendations from our team!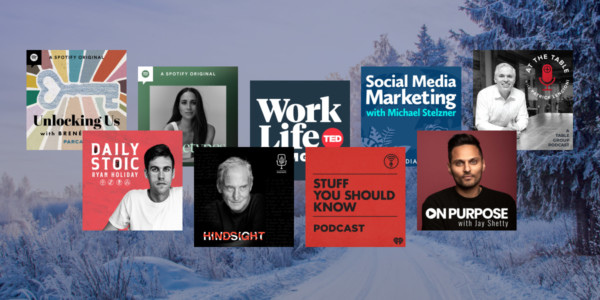 Hindsight by Al Jazeera
Expand your knowledge with this great recommendation from one of our account managers! Hindsight by Al Jazeera explores different important people from our history. The latest episodes have introduced some of the legendary football players of the past, but earlier episodes include significant figures from Rosa Parks to Idi Amin.
Archetypes
How do you feel about the boxes society sometimes puts us in? A recommendation from the MarCom team, Archetypes with Meghan Markle, is an interesting podcast exploring the roles and stereotypes given to women. In the episodes, Meghan discusses challenges and experiences with impactful figures in our society, such as Mariah Carey, Paris Hilton, and Jameela Jamil.
Stuff You Should Know
We all lack knowledge in some areas—but not to worry, because this podcast will help us learn all the things we have missed! Stuff You Should Know includes short and long episodes from all topics under the sun. You can find an episode about Rubik's Cubes, True Crime, perhaps you're interested in Mariachi bands or wonder about the Birthday Paradox, or did you ever question how owls work? Whatever it is, there's a good chance you'll find it here!
See more podcast recommendations!
---
6 + 2 Book recommendations
— Holiday Tips from Our Customers
More entertainment and learning for your winter evenings brought to you by our customers! Dive into these gems and find more on our blog.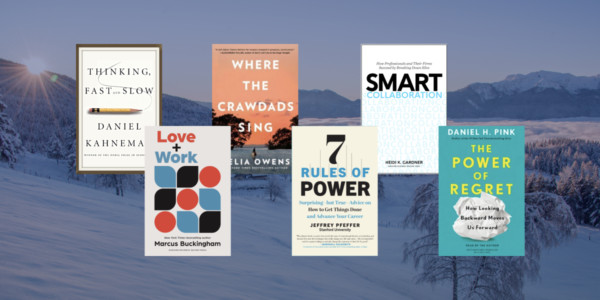 Heidi Gardner – Smart Collaboration
"In an international law firm, it is easy to get lost in individual targets, billable hours, and invoiced revenue. Heidi helps to pull you out of this trap and invites you to identify people and teams focused on collaboration and notice their high impact on the bottom line."
Carri Ginter, Partner, Sorainen Law Firm
Marcus Buckingham – Love + Work
"The book discusses the meaning of personal-level motivational factors in job satisfaction and productivity. The most important message is that we should see people's differences in a curious and positive light, instead of trying to push everyone into the same mold."
Mikko Kuitunen, Chief Executive Officer of Vincit
Delia Owens – Where the Crawdads Sing
"A book about how you don't have to live based on rules set by others. A masterpiece, which you can interpret on many levels. Very current now because the movie just came out, but I recommend reading the book first."
Timo Metsola, CEO of Vuokraturva Oy
Find more book recommendations!
---
Speaker Contest 2023
The applications for Business Forum Group's Speaker Contest 2023 are now open! The holidays give us a lot of time to brainstorm and pursue our creative endeavors—why not put that energy into an application?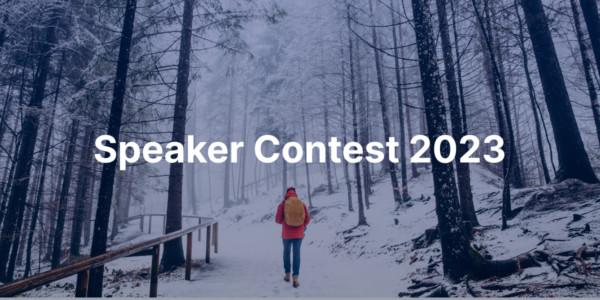 To give you something that helps you get started, here are the inspiring keynotes from past winners:
Duncan Wardle – Embedding a Culture of Innovation into everyone's DNA
Anssi Rantanen – Why Experimentation is the Future of Growth
James Hewitt – The Key to Sustainable High Performance
Do you have an inspiring idea to share with the world? Do you know someone who would be perfect on the stage? Share the message or muster the courage to apply!
Apply to Speaker Contest 2023!
---
Attitudes Toward Change
— A Survey to Share Your Views on Change
The past few years have shown us that things can change rapidly, and we need to be increasingly resilient and responsive to those changes. What issues concern you when it comes to change? What is needed to navigate it?
Our theme for Nordic Business Forum 2023 is Be:Change. With this theme we want to inspire leaders to handle change with resilience, strive for innovation, and build strong leadership. We believe that leaders of the world can be a part of the change we see, and direct its course for the better.
Take our 5-minute survey and share your ideas with the community and us! The answers are completely anonymous and the survey is open until the end of December.
Thank you for taking the time to answer!
Stop and Think
"You need to love people to lead people." – Lena Apler