7Oct2021
Erin Meyer – No Rules Rules: Netflix and the Culture of Reinvention
Erin Meyer is a bestselling author, speaker, and professor at INSEAD, one of the world's leading and largest graduate business schools. Her work specializes in cross-cultural management, organizational culture, and multi-cultural leadership. She is especially well-known for co-authoring the book No Rules Rules with Reed Hastings, CEO of Netflix. In No Rules Rules, Erin and Reed took a look inside the unconventional culture at Netflix and how that culture fueled the company's success. At the Oslo Business Forum, Erin revealed what leaders can learn from Netflix about building an organizational culture that breeds innovation and flexibility.
Playing by the No Rules Rules
In the span of just 15 years, Netflix grew from a struggling mail-order DVD company to a global giant in the entertainment industry. Today, the company produces award-winning content for more than 167 million subscribers across 190 countries. This type of success doesn't come easily, especially today, as many organizations are challenged to sustain relevance and thrive in an increasingly turbulent environment.
In her work with Netflix, Erin discovered that a vast majority of organizations operate with an "industrial era hangover," a mindset in which they're obsessed with error elimination and replicability. She encouraged leaders to shed this mindset and instead focus on cultivating the fresh thinking and flexibility needed to succeed today.
At Netflix, CEO Reed Hastings recognized that thriving in a competitive and rapidly-changing business environment requires high-performing talent and a strong organizational culture—one that offers employees freedom in exchange for innovation.
How did Netflix build such a culture? It started with an anything-but-ordinary approach—one that required a little bit of creativity, a lot of introspection, and a willingness to break some of the rules.
A Culture of Freedom and Responsibility
Netflix understands that agility, innovation, and accountability are bred under certain conditions. The company created those conditions by going against the norm in what Erin termed "the Netflix Experiment." They took three purposeful steps to cultivate a culture of freedom and responsibility, using unconventional practices:
Increase Talent Density
Increase Candor
Remove Controls
Step 1: Increase Talent Density
In 2001, the repercussions of the dot-com crash hit Netflix hard. Like many organizations at the time, the company was forced to make layoffs, eliminating nearly one-third of its 120 employees. Leaders feared the layoffs would result in a significant shift in morale and irreparably harm the business.
On the contrary, post-layoff, they saw a staff full of energy and motivated to produce high-quality work. "The remaining 80 employees were accomplishing almost double what the 120 did before," Erin said. "They had a group of people madly in love with their work."
Eliminating less-than-stellar employees had set a new bar and raised the talent density at Netflix. Top performers were thriving and pushing each other to produce high-quality work. As it turns out, performance—good or bad—is contagious. In the presence of just adequate employees, an entire team can be dragged down. On a team of top performers, people are inspired to perform at the highest levels.
This approach to talent is one that all organizations can benefit from taking. Today, Netflix works hard to maintain talent density, even making deliberate decisions to purge the team of low or average performers by firing those they wouldn't fight to keep. Managers are encouraged to apply to the "keeper test," regularly assessing everyone on their teams.
Step 2: Increase Candor
Netflix's approach to talent has resulted in a workforce of uber-talented, collaborative people. To maximize their potential and maintain high performance, the company encourages constant, candid feedback.
Giving and receiving honest feedback can be uncomfortable, and the standard performance reviews at most companies can have many shortcomings. Netflix recognizes that a culture of candor fosters a sense of co-accountability, keeping everyone on point and increasing performance organization-wide.
Cultivating candor is a bold approach for companies to adopt and difficult for employees to practice. As Erin said, "You have a dilemma between your frontal cortex—the logical part of your brain—and your amygdala—the primitive, fight-or-flight part of your brain. We all see the desirability of a culture of candid feedback, but we have to do it in a way that keeps the amygdala calm."
One method Netflix practices to encourage candor amongst everyone on the team is something they call "live 360 feedback dinners." At these dinners, colleagues take turns giving each other uncensored feedback—live, in front of the group—about how they can do their jobs better.
"One employee called this 'one of the greatest developmental gifts of your life,'" said Erin. "It's a crazy idea, but you might want to think about it."
Step 3: Now Remove Controls
Once they had built a high-performing team and an environment of candid feedback, Netflix chose to take a close look at the organization's policies and processes. In doing so, they made an unconventional decision to remove controls to empower their people.
Netflix recognized that strict policies and processes intended to control people's behavior often hindered creativity and innovation. When people are unimpeded by rules and empowered to take control of their work, they were more likely to be motivated towards high performance.
By removing controls—through moves like abandoning the vacation policy and expense approval processes—Netflix empowered people to make decisions that reside only with managers at most companies. A risky move, for certain. Netflix safeguarded against abuse by taking care to ensure people understood their responsibility.
"At Netflix, they say two things," said Erin. "First, don't seek to please your boss; seek what's best for the company. And second, lead with context; not control."
Erin offered leaders a contrasting picture to demonstrate how Netflix provides the context necessary to help people make good decisions. In many organizations, decision-making occurs in a pyramid structure, where decisions must pass through the higher-ups. At Netflix, barriers have been removed in favor of dispersed decision-making that looks more like a tree. In this model, leaders are down in the dirt, providing people with the context they need to make decisions that align with the company's goals. The ability for people at all levels of the organization to make decisions and own the consequences can increase accountability, spark innovation, and spur growth.
"When you have a tree, you have flexibility," said Erin.
Give Freedom to Get Responsibility
Netflix has created a culture of freedom and responsibility; one that values talent density, candid feedback, and limited controls. As a result, the company has achieved international success and is consistently ranked among the best places to work.
Erin left leaders with an important insight from Netflix CEO Reed Hastings: "Freedom is not the opposite of accountability," she said. "It is a path towards it. Give freedom to get responsibility." The "No Rules Rules" approach has shown that when people are valued, encouraged, and empowered, high performance is likely to follow.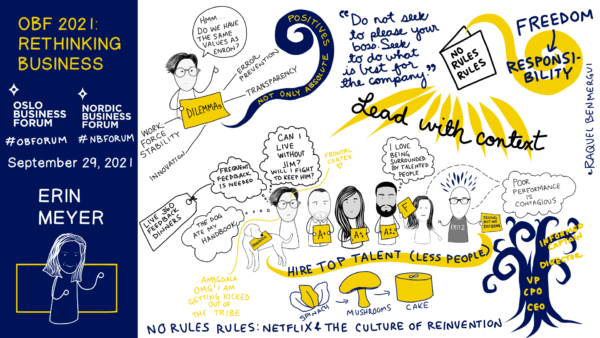 Visual Summary by Raquel Menbergui
---
Want to learn more from Erin Meyer? Join Nordic Business Forum Helsinki in-person or online next September to hear more insights from her and other top experts.
Get Access to NBF 2022 to Learn More from Erin Meyer