14Nov2023
Leader's Digest | November 2023
The AI Revolution is here—are you ready? This Leader's Digest Newsletter explores the competition and threats posed by AI, as well as the opportunities and growth that it may bring.
Top Content Picks
4 AI Lessons from NBForum 2023
Dive into the AI frontier with 4 AI Lessons from Nordic Business Forum 2023. From anticipating the direction of AI to unraveling the intricacies of human involvement, biases, and economic impacts, four experts deliver crucial insights 💎
Full Keynote on AI
AI's reality unfolds—Mikko Hyppönen uncovers the AI revolution reshaping our world in his keynote at Nordic Business Forum 2023. Learn about the AI revolution's promises and perils, from valuable use cases to unforeseen security threats 💡
Behind the Keynotes: The AI Revolution
The speakers of NBForum 2023 gave interesting interviews during the event days. Find out their insights on AI from the first episode of Behind the Keynotes: The AI Revolution 🤖
Our Recommended Source for New Ideas
The Dark Side of Competition in AI
In this compelling TED Talk, Liv Boeree, a science communicator and former professional poker player, highlights the risks and challenges posed by the intense competition in the field of AI. Drawing on her experiences, she explores the dual nature of competition, highlighting instances where it fuels innovation and positive outcomes, while also exposing its darker side, leading to lose-lose scenarios.
🌍 As companies race to achieve milestones such as acquiring more computing power, securing funding, and attracting top talent, the pressure to prioritize speed over safety increases. Liv expresses concerns about the potential neglect of safety testing as a consequence of this competition, emphasizing the need for a balance between technological acceleration and ensuring ethical considerations and long-term safety measures. She argues that the current short-term incentives, often driven by the desire to outpace competitors, can compromise the responsible development and deployment of powerful AI systems, posing significant risks to society.
💡 Liv advocates for a paradigm shift in how we approach competition, urging leaders to prioritize safety over reckless acceleration. Her thought-provoking insights challenge us to reassess the rules of the game and strive for a collective victory against the true adversary—unhealthy competition.
Price Increase Ahead!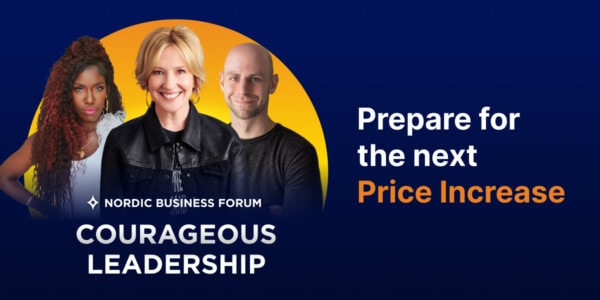 15th of December at 23:59 EET
Just a heads-up—the ticket prices for Nordic Business Forum 2024 will increase next month!
Now is a great time to start thinking about how to use the rest of this year's training budget or plan well ahead for next year. The prices won't get better than this, so we recommend making decisions by the 15th of December, 23:59 EET!
Stop and Think
"Maybe there is nothing inherently wrong with intelligence. There is a lot inherently wrong with human greed."

Mo Gawdat