22Mar2022
Leader's Digest | March 2022
This time, our biweekly newsletter offers insights into leadership, culture, and the future of work with the help of Seth Godin, Jim Euchner, and our Speaker Contest semifinalists.
Top Content Picks
💡Blog: "Leadership is this idea of finding problems and solving them. And one of the definitions of a problem is that it's solvable. If it's not solvable, it's not a problem—it's a reality", says Seth Godin.
💻 Keynotes: "Flames for Profit?", "Why Talented People Quit and How to Get Them to Stay", and "Green BS – How Behavioral Science Can Stop Global Warming". These are just a few titles of our Speaker Contest semifinalists' presentations. Watch the full 12-minute keynotes to learn more about organizational culture, future of work, and sustainability.
⚠️ Article: To compete more effectively with startups, companies must understand the internal fears that develop as they become more established. Read more about these 6 fears by Jim Euchner.
Opportunity to Step Up
— Free Webinar with Terence Mauri
In the last 2 years, everything changed. People changed. Technology changed. The office changed. Priorities changed. And the way we work changed. But are you prepared for the opportunity, choice, and growth in the accelerated future of work?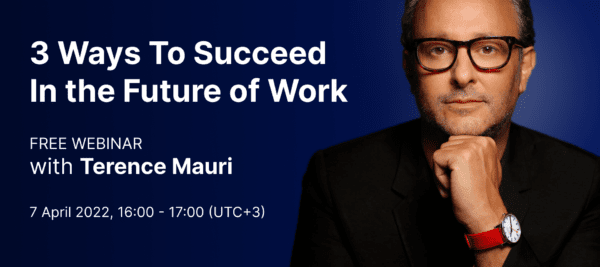 At our next webinar, Terence Mauri, the founder of the management think tank Hack Future Lab, will outline 3 ways to succeed in the future of work. He will tap into:
🔸 How to adapt your pace and mindset to the new world of work
🔸 When to unlearn the past in order to succeed in the future
🔸 How to plan and facilitate to be ready for the new opportunities
Our Recommended Source for New Ideas
— Brené Brown's Dare to Lead Podcast
How to find focus and own your attention?
With everything that's going on in the world, it can be sometimes hard to keep our attention in the right place. In her Dare to Lead podcast episode that came out yesterday, Brené Brown sat down with Dr. Amishi Jha to discuss exactly this: how to focus.
"We need to pay attention in order to have it go into long-term memory. What we often think is a memory problem, is actually an attention problem", says Amishi.
If you want to own your attention and get better at focusing, we suggest you listen to this discussion.
Stop and Think
"As leaders, it is your job to create a safe environment for people to bring themselves to work." – Amy Edmondson