26Sep2022
Duncan Wardle – Embedding a Culture of Innovation into Everyone's DNA
Duncan Wardle wants you to be more creative, and to be more creative, you have to think differently. You have to get outside your comfort zone, seek out new perspectives, and challenge yourself in new and unusual ways. "The opposite of bravery is not cowardice," he told attendees at this year's Nordic Business Forum in Helsinki. "It's conformity." As such, that rush of fear and exhilaration you feel when you do something new is a sign that you're actually on the right path.
"The opposite of bravery is not cowardice. It's conformity." – Duncan Wardle
We Are All Born Creative
Wardle, the winner of the Nordic Busines Forum 2022 Speaker Contest, is himself a master creator. He was once head of innovation and creativity at Disney, where he helped Imagineering Lucasfilm, Marvel, Pixar, and Disney Parks craft storylines and experiences. Indeed, Wardle conjured the spirit of Walt Disney himself multiple times during his talk, showcasing his models, and discussing how Disney's methods could be used by anybody with a will to think differently.
Wardle noted that most people are born creative, but that creativity is often lost as they mature and go through a regimented education system, where one is taught to color between the lines, and that there is only one correct answer.
"You were born a child, and you were given a gift and this gift came in a huge box," said Wardle. "Once the gift had been extracted, though, you usually spent most of the time playing with the box instead of the gift," he said. "The box was your fort, your castle, your rocket ship, anything you wanted it to be."
Creativity and Curiosity = THE Skills for the Future
According to Wardle, education is the "number one killer of creation." This is a shame, as creativity and curiosity are, in his view, the two most important skills in the coming decade, as they will be the hardest to program into artificial intelligence.
"Yet we drum them out of ourselves by the time we leave school," he said. Wardle noted that he recently did an experiment asking preschoolers and college students if they were creative. The preschoolers unanimously said that they were, and the college students said they weren't.
Instead, adults develop what Wardle called a River of Thinking. This River of Thinking grows only wider, deeper, and faster, and is dependent on one's industry experience and expertise. The longer you have been working in one industry, the deeper one's River of Thinking, Wardle said.
But the COVID-19 Pandemic has displaced these Rivers of Thinking. People had to completely reassess the way they worked. "Nobody is going back to business as usual," commented Wardle. "They are going back to business as unusual."
5 Steps to Creativity
"If somebody doesn't look like you, they don't think like you. And if they don't think like you, they can help you think differently." – Duncan Wardle
To navigate these changes and get into a more creative mind state, Wardle provided several steps.
List the rules of the environment in which you are working. Then ask the most audacious 'what if' questions. Wardle noted that Walt Disney wanted to make his 1940 cinematic masterpiece Fantasia more interactive for moviegoers. When theater owners were reluctant to implement his ideas, he turned to the idea of creating his own theme park. Disneyland was born. It opened its gates in Anaheim, California, 15 years later.
Bring in naive experts. A naive expert is someone who can provide a unique, external perspective. In particular, Wardle stressed that diversity is innovation. "If somebody doesn't look like you, they don't think like you," he said. "And if they don't think like you, they can help you think differently."
Ask the question, "How else." Wardle recounted how Netflix got its start as trying to respond to some issues with video rental stores, such as late fees, limits on films one could rent, and limited stock. The company soon put traditional rentals out of business. Similarly, Disney did not view visitors to Disneyland as customers. Instead, he saw them as guests having an experience. "If you know the answer, you are iterating," he said. "If it scares you, you are innovating."
The importance of freshness. In line with seeking new solutions to extant problems, one should also change their surroundings. "Fresh stimulation means fresh inspiration," Wardle said.
Finally, Wardle encouraged participants to be brave. He remarked that the bravest animal in the jungle is not the lion, but the humble butterfly. "The very large butterfly that can consume your stomach in a complete and utter sense of total panic." Such a butterfly is a sign that one is doing something new and innovative.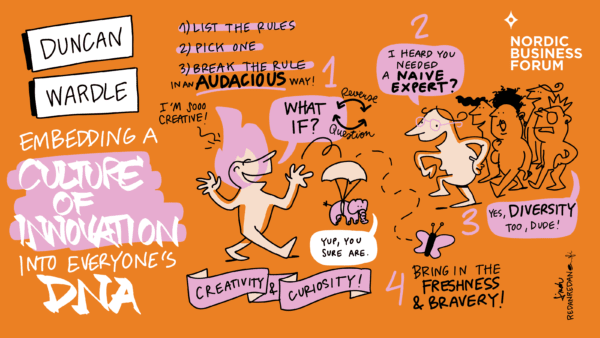 Sketchnote of the keynote by Linda Saukko-Rauta