26Jul2021
George Clooney – A Conversation on Storytelling, Branding, and Legacy
Academy Award-winning actor, humanitarian, husband, father, perennial prankster. All of these— and more—could be used to describe George Clooney, making up what many might consider as his brand and legacy. However, speaking with Francine Lacqua, Clooney explained that branding himself was not important, and it was more important that he be known for standing up for the things he believes in. The interview focused on several key areas: Clooney's humanitarian efforts, his family life, and his acting career.
Humanitarian beliefs and hunting down war criminals
Lacqua began her interview by asking what makes Clooney laugh and when he realized that he "made it." When he first heard that ER was being picked up for a second season, that was the first time he felt stable in his career.
After chatting about his early career, Lacqua turned towards more serious questions. She asked, "When did you decide to make a difference?" Clooney explained that his desire to help others was ingrained in him from a young age. Being a boy during the 1970s social movements in the United States, he knew that being part of something bigger than yourself was important.
In addition to societal events, his parents also played a significant part in this be- lief. His father was a television presenter in Ohio, and each year, he received letters from people who, for various reasons, would not be able to celebrate Christmas. Clooney recalled how, every November, his father would insist that he and his sister babysit and mow lawns so they could make money to buy Christmas presents for a family in need.
"It really bothered me at the time because I felt that it was our time. But it gave us a great lesson in that we're all in this together. It seems like a good lesson to teach my kids, too," he said, reflecting on his past experience.
Because of his upbringing and his belief in the importance of being involved in other people's lives, it felt natural for him to found The Sentry. The humanitarian foundation uses policy analysts, regional experts, and financial forensic investigators to track war criminals, those "profiting off of war crimes," and attempts to help the disenfranchised. As Clooney's acting career slows down, he is able to spend 60 percent of his time "chasing war criminals" with his wife, who also takes care of their children. To fund their foundation, Clooney uses the money gained from advertising for Omega watches and Nespresso.
Clooney's legacy as father and husband
Lacqua questioned Clooney further about his family life and asked him how fatherhood impacted him. Clooney chuckled, quipping that it "makes you feel small." Fatherhood taught him a "great deal of responsibility" and a "great deal of love." Of his wife Amal, Clooney commented that she was the "greatest partner I imagined having." Her work for their foundation and her legal expertise have left a lasting positive impression on Clooney.
When asked about his ideas of his legacy, Clooney recounted a conversation he had with his father before having children. He replied that he had a lot of movies of which he was proud. His father asked him how many silent movie stars he could name, and, when Clooney could name none, he then pointed out that they were famous actors over 80 years ago.
"Eighty years and that's it? And you're done?" his dad said to him. Clooney now acknowledged that his father was right when thinking about legacy and what is left behind for future generations.
"My version of legacy would be that I want to be involved in these conversations of trying to make things better in general. Whether we fail or not, that's going to be debated long after I'm gone and I suppose the legacy would be now what these kids will become," he contemplated.
Looking back at his acting career
When speaking about success and failure, Clooney was open about feeling angry, embarrassed, and sorry for himself whenever he failed. However, he underscored how important it was to get over it quickly and move on. Like many others, his great- est lessons from failures have informed his next career steps.
From his big break playing a medical doctor to voicing a food-stealing fox, to portraying a CIA agent in a role that earned him his first Academy Award, Clooney realized it was important to pick scripts that told interesting stories. There were many reasons he chose the different roles he has played, with it sometimes simply being that he liked the director and/or the project.
Then, there were films like Good Night, and Good Luck, which he wrote and acted in because he was being called a traitor for speaking out against the Iraq war. He explained that he was angry at the thought that people were not allowed to question the government's actions.
Throughout his time talking with Lacqua, Clooney illustrated his knack for balancing his work with his love of having a bit of a laugh. He ended his interview with a few thoughts on failure. "The greatest lessons I've ever learned came from horrific failures." Clooney encouraged the audience to take chances and know that even if things turn out badly, "you'll be okay."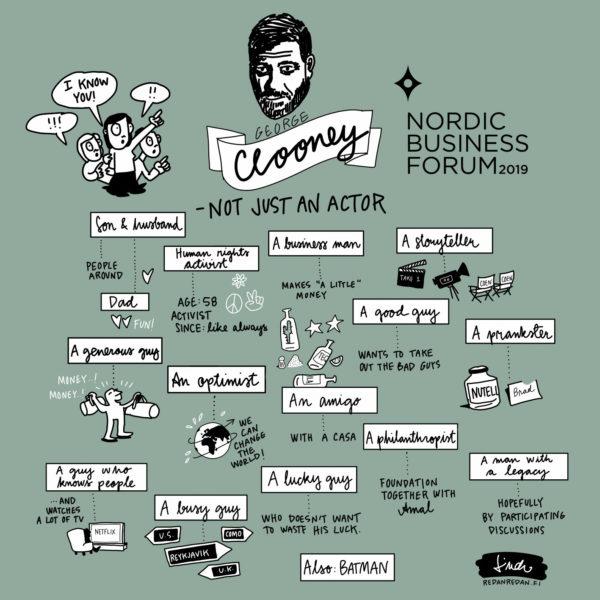 Visual summary by Linda Saukko-Rauta.
---
This article is a summary of Clooneys's discussion at Nordic Business Forum Helsinki in 2019. If you want to read what the other speakers said at the event, download the executive summary for free.