23Feb2022
Leader's Digest | February 2022
This time our biweekly newsletter digs deeper into the world of organizational culture with the help of experts like Adam Grant, Erin Meyer, and Ed Catmull.
Top Content Picks
✍️  Article: How can you create and develop a powerful organizational culture? Check our list of 5 insights on organizational culture to get started.
🎧  Podcast: How can you remove the barriers that inhibit creativity in your organization? Listen to the full keynote by Ed Catmull to learn how they developed a culture of creativity at Disney Pixar Studios.
💻  Webinar Recording: "You want to make sure that your purpose and culture are defined by your customers", emphasized Martin Lindstrom at our webinar last week.
📄  Article: "Creativity, criticism, and collaboration are core virtues for every employer as both routine tasks and corporate hierarchies are becoming endangered species when it comes to work that produces results."
Our Recommended Source for New Ideas
Want to dig deeper into the topic of organizational culture? Here are three great books to add to your reading list: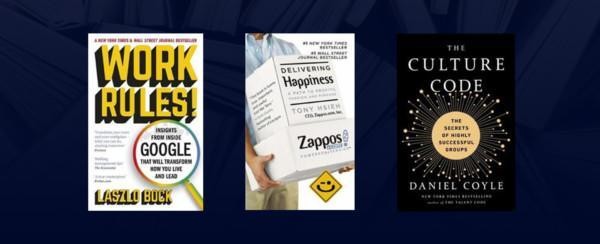 Laszlo Bock – Work Rules!: Insights from Inside Google That Will Transform How You Live and Lead
→ An insight from the book: "If you're committed to transforming your team or your organization, hiring better is the single best way to do it."
Tony Hsieh – Delivering Happiness: A Path to Profits, Passion, and Purpose
→ An insight from the book: "For individuals, character is destiny. For organizations, culture is destiny."
Daniel Coyle – The Culture Code: The Secrets of Highly Successful Groups
→ An insight from the book: "Culture is a set of living relationships working toward a shared goal. It's not something you are. It's something you do."
Stop and Think
"Conflict without trust is just politics, but conflict with trust is the pursuit of truth or the best possible answer."

– Patrick Lencioni
Join the Audience of Speaker Contest Semifinals
Want to hear aspiring speakers sharing their ideas about Future of Work, Culture, and Sustainability? Join the Speaker Contest Semifinals online to learn about these topics—and of course to see who wins!
The winner of the contest will step on stage at our events in Helsinki, Oslo, and Amsterdam, and will receive a speaking fee of 70,000€ for doing the 3 keynotes.
We have now selected 30 contestants to speak across five online semifinal rounds. Each of the semifinals will be live-streamed for free, and anyone is welcome to join the audience through these LinkedIn events or by signing up for the audience on our website. See you in the audience!