18Oct2021
Rethinking Digital Transformation with Staale Rise & Tor Kramvik Sivertsen
On the Fireside stage at Oslo Business Forum 2021, Staale Risa, CEO at 24SevenOffice, and Tor Kramvik Sivertsen, Partner at Deloitte and Leader of Business Operations and Enterprise Technology & Performance, shared their views on the technological transformations underway and the trends to watch out for in 2022.
Digital Journey
Digital transformation might seem complex for some people, but it is not that difficult for Staale. He broke the ice at the Fireside stage with encouraging words: "Just jump on the digital journey. The technology is here, the know-how is here. The key is execution and commitment."
So, where is a good place to start? According to Tor, there are many, but in essence, it is about how you evolve your business model, your processes, and sales using technology. "It's all about utilizing what you have, building on that, and taking advantage of the new opportunities". And, though approaches vary, all kinds of companies, large and small, can jump on the train and take part in the digital journey.
Resilience and Data
As digital transformation accelerates, innovations open up new opportunities and make others out of date. Companies risk investing in technology that could change very fast. Tor explained that finding your next pattern or your next way of doing business creates resilience and recommended companies to turn every stone to look into the future and use technology to make decisions based on facts and insights. In fact, "research at Deloitte shows that companies that invest upfront into scenario modeling and listen to the market and to the drivers behind their business, develop new ways of thinking and responding to change", he added.
Staale emphasized the importance of data in understanding the future and building new scenarios. "Be data-driven and plan for the future; even if you can't use all the data now, plan for it so you can use it later. Data-driven decision-making will empower employees and the management for the future." However, technology is not enough; management needs to think about the scenarios and get well-prepared before they happen.
Humans and Machines
Automation is another hot topic in the digital transformation agenda. Staale pointed out that all manual processes and volume tasks should be automated to optimize routine work which, in turn, frees up time. "It is crucial to think about how to use the spare time. We have a great example in Sweden. A one-hundred-year-old traditional Swedish company embarked on the digital journey and is on track to save more than 25,000 hours on bookkeeping. How does this company use 25,000 hours of saved time to gain more revenue or do better? It's all about how you can continue evolving in addition to the savings", Staale said.
Automation is also bringing about a massive change in the workplace. "It's working together with robots, with automated processes. Automation is creating new business opportunities. It's taking down costs, fostering innovation, and driving change", commented Tor. At the same time, companies face the challenge to create jobs that attract the right talent, luring university graduates "who want to put their knowledge into practice in their first job rather than punch a machine", added Staale.
Finally, the two gave some helpful suggestions for 2022. Tor recommended paying attention to the kind of technology that is driving the strategy, to decisions and hurdles that the technology brings, and to AI and machine learning. In particular, "getting AI and machine learning models into the core processes of the organization, not just doing them for fun". Staale, for his part, reinforced his initial piece of advice: "just do it, use what's there and take part in the journey."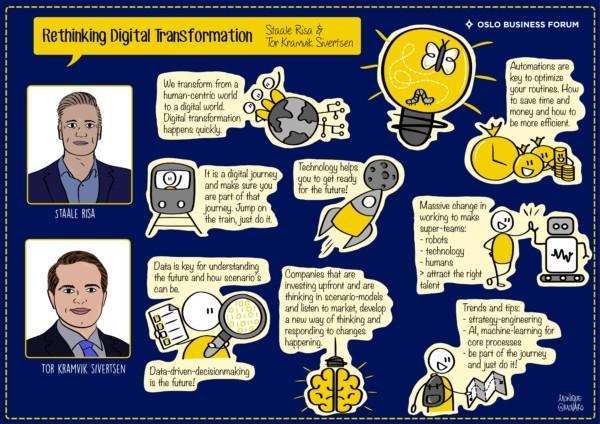 Sketchnote by Monique van Rooyen