19Oct2021
Rethinking Organizations with Grethe Bergly & Christina Kjær Seime
Creating values-based work environments and trusting employees are integral to successful organizations, agreed Grethe Bergly, who recently engineered a successful change process at Multiconsult, and Christina Kjær Seime, a Lean Coach at the consultancy firm Miles. Together, they discussed how companies can structure their organization around values that prioritize employees and relationships.
Invite People in
"We create more value when we think together," said Christina, who believes that employers need to do more than just involve their employees; they need to invite them in as equal partners in the process. She suggested transparency within the organization, inviting more stakeholders into decision or strategy processes, which she claims will allow everyone to co-create company culture together. It's a daring strategy, Christina pointed out, so ask: "Do I want to have my thoughts challenged? Because that might happen."
Grethe agreed: "Inviting the voices in is extremely important because for any leader, if you have an organization that is silent, that is very dangerous." Having group buy-in was particularly important during the change process at Multiconsult, where she said an important starting point was getting everyone to agree on where the company stood. Only from there could they move forward with implementing change.
Trust Your People
For Grethe, trusting her employees and giving them room to act was key to success. Rather than dictating tasks to her teams, she gave each manager the challenge of deciding what their team could contribute, and let them set their own targets. Once they had committed, she followed up monthly.
Christina agreed with this approach. When companies value people and interactions more than processes and tools, employees will be more engaged. Doing so will allow organizations to take a more scrutinized view of their processes and tools, and tidy up and remove anything that does not facilitate collaborative work. Using a values-driven lens in the workplace strengthens an organization's recruiting, discussion, and everyday work output. Christina pointed out that Miles' values of "professional authority" and "warmth" help her to make better decisions as an individual employee.
Keep Your BMI (Bureaucracy Mass Index) Low
Prioritizing people and interactions over processes and tools allows a company to maintain what Christina calls a low BMI, or bureaucracy mass index. Keeping a low BMI means few rules and a high degree of trust. She pointed out that it's easier to navigate a company with few rules. As an organization grows, it needs to focus on keeping the BMI low. She suggested asking yourself, "Do we need this rule, or can we trust people to make good choices?"
What should employers do to keep their BMI low?
"Put on your trust glasses, review your processes and your rules," said Christina. "Experiment, try new things, test them, and then you can do a lot of changes iteratively with lesser risk than the big programs."
Grethe expanded on this thought: "Make sure everyone working for you understands that they are part of the solution and part of the results that you create."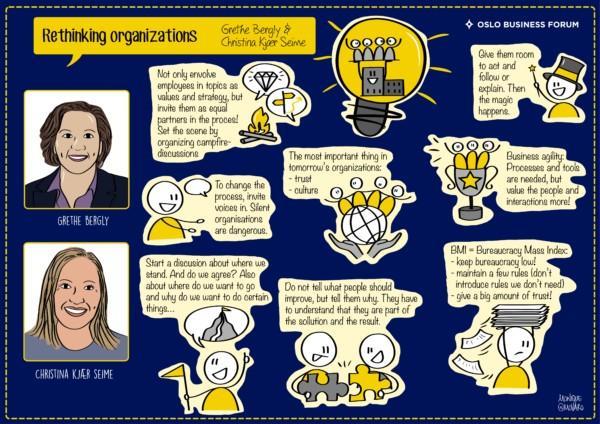 Sketchnote by Monique van Rooyen