4Oct2023
Maryna Saprykina – Ukrainian Grit: Empowering Global Business with Extreme Resilience
Sustainability expert Maryna Saprykina had to flee her hometown in eastern Ukraine nine years ago when it was occupied by Russia. A year and a half ago, she had to contend once again with Russian missiles raining down on her new home in Kyiv. About 1,500 missiles and drones took out 50 percent of the country's energy infrastructure, and Maryna was left without power. But she still retained her sense of purpose and dignity, and one morning during that cold winter, she ate a cold breakfast and obtained some hot water from a nearby coffee shop with a backup power generator. Maryna used it to fix herself a hot latte, which became a symbol of resilience.
"It was my moment, my helpline to normalcy," Maryna told attendees at this year's Nordic Business Forum in Helsinki while displaying the cup. "It gave me the strength to live and work."
Maryna is the CEO of CSR Ukraine, which has helped Ukrainian companies with corporate social responsibility for about 15 years. She is also the founder of the Ukrainian Women's Entrepreneurs Hub, a community for developing female-owned companies with social impact.
She also won the Nordic Business Forum's Speaker Contest this year competing against 200 applicants and 24 semifinalists.
In her contest winning speech, and again at the Nordic Business Forum, Maryna related a five-component model of sustainability that she maintains companies can use to survive in difficult times. Such challenging environments need not always be war, she underscored, citing recent flooding in Libya and earthquakes in Morocco and Turkey and continuous global tension.
"In today's uncertain world, I think that every business needs a resilience strategy," Maryna said.
A need for speed
She related her five-component model by using the metaphor of a train with five distinct wagons. The locomotive of this "resilience train" is speed. Speed involves how quickly and adequately one's business could respond to external shocks.
"How quick is your decision making?" Maryna asked attendees. "Could you relocate your business in one week, instead of six months?"
Many Ukrainians, she noted, have had to do just that.
Think Big
The second wagon on Maryna's resilience train is what she called the big objective. Companies have to think about their big objectives, beyond just making money. "For Ukrainian companies," she said, "the big objective is to help Ukraine win." She provided as an example the case of Resna, a cosmetics company from Bucha, the suburb of Kyiv that was occupied early in the war, and where hundreds of civilians were killed by occupying forces. The owners of the company were able to flee but they returned months later, reopened operations, and began producing a wound-healing cream for Ukrainian soldiers. The company has since quadrupled in size, has a new production facility, a new business model, and employs 22 people, Maryna said.
Actions and Values
The third wagon in Maryna's resilience train concerns values. She noted that while some are ready to talk about their values, maintaining them is more difficult. Maryna cited the cases of companies that had continued to do business in Russia, even though they had pledged to pull out.
She described how Work.ua, an employment website, drew up a sanction list of 200 companies that are still operating in Russia and said it will no longer work with them. "While this decision means giving up a substantial revenue of $500,000 per year, it's also a commitment to values," said Maryna. She urged firms to consider if their actions were aligned with their values.
Investing in People
The fourth component or wagon in the resilience train is people, meaning a company's employees and their families. Maryna drew attention to mental health issues. "For Ukraine, it's a big issue now," she said. "There isn't a single family in Ukraine that isn't affected by the war." According to Maryna, the Ukrainian Ministry of Health estimates that 15 million Ukrainians will need mental health care. Companies have been establishing psychological departments, and working with managers to help them cope with the stress of operating in constant uncertainty.
Maryna said that companies should take action to support the health of their employees. "In this era of anxiety, your employees and their families need you as caring employers," she said.
Follow Your Customers
The fifth and final wagon of Maryna's train of resilience is customers. Here, she said that companies have to be willing to support their clients no matter what. She gave the example of Nova Post, a private logistics company, which saw its turnover dwindle to about 1 percent of what it was pre-invasion. While such a decline could have resulted in bankruptcy, Nova Post decided to open offices in seven European Union countries to serve the refugee community.
"Their customers were happy," Maryna said. "So your customers could literally save you in turbulent times," she said. "Follow your customers in good and bad times, and this will be a path to resilience, innovation and competitiveness.
She topped off her talk by stating that before one can achieve organizational resilience, personal resilience is necessary, and even an everyday object could provide one with the strength to see things through. For Maryna Saprykina, it just happened to be a coffee cup.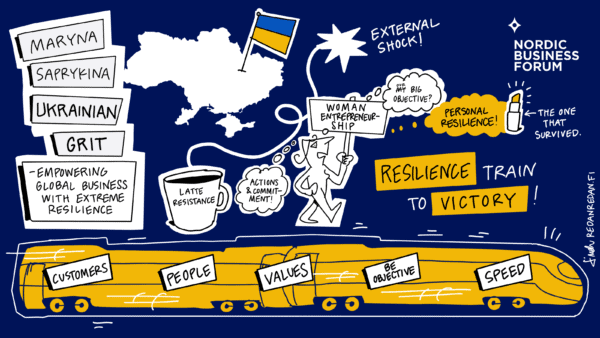 Visual summary of Maryna Saprykina's keynote by Linda Saukko-Rauta
---
Want to get the full summary of the Nordic Business Forum 2023 speeches + extra content for reflecting on your learning? Download your free copy of the full Executive Summary and summaries from previous events!
Get the full Executive Summary