17Jan2023
Leader's Digest | January 2023
In this Leader's Digest Newsletter, we cover some of the trending topics of 2023. Change, technology, investments, management trends, and more of what we can expect from the upcoming year in leadership and business.
Top Content Picks
💎 PDF: Learn how to create healthy organizations and build high-performing teams by reading the Executive Summary of Patrick Lencioni's most popular work!
🌍 Blog: Are you curious about how other businesses and business leaders view change? Here are the results of our survey about Attitudes Toward Change.
🔍 Article: If you have been on any media platform in the past few months, you have probably heard about Quiet Quitting. Read NBR's latest article "Exceeding expectations in a way that makes sense"
---
Webinar on the Top Tech Trends for 2023
– Opportunity to Step Up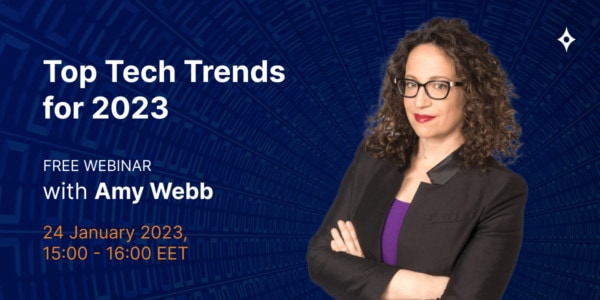 Which tech trends should you be following? What's the difference between "trend" and "trendy"? How to create preparedness when constant disruption is the norm?
Quantitative futurist Amy Webb will answer these questions and more in next week's webinar!
On Tuesday 23rd of January at 15:00-16:00 EET, Amy will discuss the next big tech trends, what they mean for businesses, and how to prepare. You'll get valuable insights and strategies for staying competitive in the digital age.
Sign up here and connect with other attendees at our LinkedIn event.
PS. Amy is also one of the Nordic Business Forum 2023 speakers. If you want to see her live on stage in Helsinki, get your tickets soon – the price is going up next week!
---
Our Recommended Source for New Ideas
– Investing in ESG
Millennials and Gen Z will inherit 30 trillion dollars of wealth in the coming decades, and what they do with their money will have an incredible impact on the future of the planet and the future of organizations. Impact investor Miguel Goncalves argues that ESG investing will help ensure a more sustainable and equitable future for us and the generations to come.
ESG stands for environmental, social, and governance. ESG investing considers environmental and social factors, and different ESG metrics increasingly influence investors' decisions. How will your company fare in the face of ESG metrics? How have you considered these metrics in your personal and professional investment decisions?
Watch the video and learn about the Virtuous Cycle of Investing in the 21st Century.
---
Stop and Think
"Sometimes it is in these moments of crises, where everything changes, where you just have no choice, but to get uncomfortable, and to get really innovative and creative that actually help us move our businesses forward." – Randi Zuckerberg