10Nov2021
Leader's Digest | November Part 1
Learning | Top Content Picks
💡  "If failure is not an option, then neither is success," says Seth Godin. Dive deeper into this and 9 other innovation quotes to boost your innovation processes and culture.
🌏  At our webinar last week, Richard Quest argues that despite the ongoing uncertainties due to the pandemic, there are signs of economic growth for next year.
📄  Business world highlights from October: Speculative bubbles in lithium price put energy transition at risk and Aerit completes Sweden's first commercial food delivery by drone.
Developing | Opportunity to Step Up
How can you prepare your company for continuous disruption? Join our next free webinar on 11 November, to learn about the topic from Costas Markides, the Professor of Strategic Leadership at London Business School. During the session he will provide thoughts on:
How to achieve continuous innovation
How to embed agility in the DNA of the organization
How to achieve "continuous readiness" for optimal response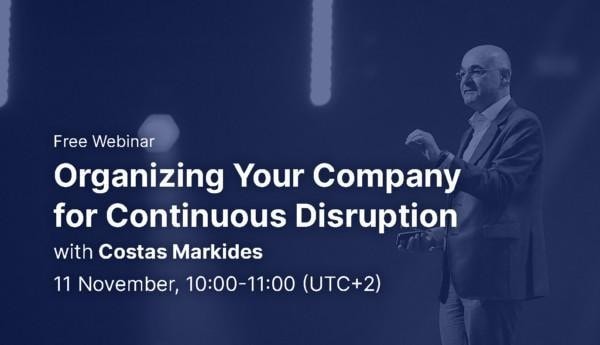 Inspiring | Our Recommended Source for New Ideas
It should be no news that the climate crisis is causing drastic problems for our planet (fires, drought, flood, tsunamis, and shrinking biodiversity). But, what Al Gore wants us all to do, is to shift our mindset to hope: we can stop the crisis if we try.
"The sustainability revolution is the single largest business opportunity in history. It has the scale of the industrial revolution coupled with the speed of the digital revolution." – Al Gore
In this recent 15-minute TED talk, Al Gore shares uncomfortable facts about the climate crisis but also encourages us all to take action.
Empowering | Stop and Think
"It's never a question if the change is going to happen, but how do we actually get ready for that change."

– Nilofer Merchant
Subscribe to Our Newsletter
Our Leader's Digest newsletter provides inspiration and valuable business lessons tailored for leaders. You get quality business content focusing on a different theme biweekly.