13Oct2023
Jos de Blok – How to Create a Striving Organization without Administrative Burden
As the founder of the neighborhood nursing, Buurtzorg, Jos de Blok has been pioneering a new approach to healthcare and leadership in general. Launched in 2006 with a team of four nurses, Buurtzorg now has more than 15,000 employees and offers home-based care services to more than 80,000 patients. It's a remarkable story, and its success, according to Jos, stems from its innovative approach to leadership. At Nordic Business Forum 2023, Jos gave insight into how Buurtzorg's transformative approach can be applied to other sectors.
A New Vision for Leadership
As he took to the stage at the Nordic Business Forum, Jos presented his audience with a simple but controversial question: do we need leaders? We all assume that bosses (love them or hate them) are vital. Someone needs to do the hiring and firing. Somebody has to make decisions, and someone has to set the strategic direction of the company.
With Buurtzorg, Jos has set out to see if all that could be done by the collective. He takes hierarchies out of the equation in favor of a collaborative solutions-based approach based on simplicity and getting the best results.
Jos's success suggests the approach is working. From a starting turnover of just 450 euros, they now turnover 450 million. Even so, they still work in the same way—using collaboration, trusting people, and keeping things simple. They may be turning over hundreds of millions each year, but the model remains the same. Although the numbers are bigger, the financial statements are just a page long.
It's a fresh approach to leadership that he believes can transform healthcare and the way organizations as a whole work. "I worked on the basis that if you focus on humanity and human principles, things work out much better than when you are doing things based on strategies, visions, missions, policy cycles, financial indicators, and so on," he explained to the audience.
Breaking Free From Bureaucracy
Jos's approach to leadership is shaped by his experience. He studied business but left to become a nurse. Since the, he's had leadership roles in several major home care providers before he decided to set up his own organization in 2006. It was a career path that put him right in the middle of the battle to provide high-quality healthcare. It's a battle that, for the most part he believes is not being fought in the right way.
Across the world, healthcare—and many other organizations—are becoming bogged down in bureaucracy. They are becoming very slow-moving and unresponsive. Instead, he wanted to create a more dynamic approach based on trustful relationships.
Healthcare, Jos said, spends hundreds of hours each year on things that aren't a problem. Everywhere we look, we see headlines worrying about the ability of healthcare organizations to cope with demand. According to Jos, though, capacity isn't the problem. The way we organize is.
The Power of Relationships
For Jos, it's all about simplicity. Hierarchical systems easily become overly complex. The focus can drift to strategies and policies rather than what patients or customers actually need. Instead, he tried to build a collaborative leaderless structure based on relationships.
"We have a lot of stress in society, and I see the neighborhood as the ecosystem of the future," he said. "A lot of things will be solved if we focus on relationships."
For Jos, everything is focused on outcomes. Rather than focusing on indicators and metrics, he decided to focus on solutions in which the nurses within his organizations took responsibility and ownership. They are freed up to focus on what they do best, with all mindless administrative tasks being taken over by IT.
To that end, he created an IT company, which developed its own software to integrate all the admin requirements they needed into one centralized system. Buurtzorg is a unique business with a unique structure. Everything is about communication and collaboration. They have built their version of Facebook. Rather than policy notes, they write blogs.
It's a leaderless operation with decisions taken by individual nurses. Teams come together for meetings to review operations and see where they need to improve. Decisions are made by consensus, with each person being able to bring their views to the table.
The focus is on doing as little as possible and getting patients to live a full and independent life as quickly as they can. For traditional healthcare business models—where the focus is on maximizing billable hours—that might seem counter-intuitive. For Jos, though, it's about focusing on the result rather than the process. The result, he says, is happier patients and happier nurses. In a world in which health services seem at a loss about how to attract new people into the profession, that can be incredibly valuable.
A Radical New Business Model
It's a compelling approach based on a few simple principles:
Integrating simplification: The simpler they can make things, the easier it is for everyone to see the easiest solution.
The needing principle: They avoid doing anything that is not needed. For example, most meetings contribute little value and take time and energy.
The rethinking principle: They reflect on everything to see how they can improve. Having everyone own their projects creates a great deal of collective intelligence. If you have a thousand people thinking about a challenge, you benefit from the combined power of a thousand individual brains. The problem-solving potential behind that could be profound.
The common sense principle: Management speak can be strange and unintelligible by design. Communication should be clear, simple, and direct.
Ultimately, Jos said, the goal should be to improve the world for the next generation. Simplify it and think about different ways to organize. We have learned plenty of useful lessons from traditional management theory, he said, but the world is changing. Technology is transforming the way we live and work. It's a new world, and it demands different ways of thinking.
This new approach flies in the face of traditional concepts of leadership. It makes decisions based on consensus. It solves disputes in a collaborative rather than emotional way. It's incredibly flexible and agile, drawing on the combined intelligence and talents of the whole organization. While this was devised as a new and improved way to deliver healthcare, the lessons can be applied to any organization: be simple, be flexible, communicate, make decisions based on consensus, and empower workers to take ownership of their own projects. To some, it may seem like a leaderless approach. In truth, it's replacing one leader with hundreds.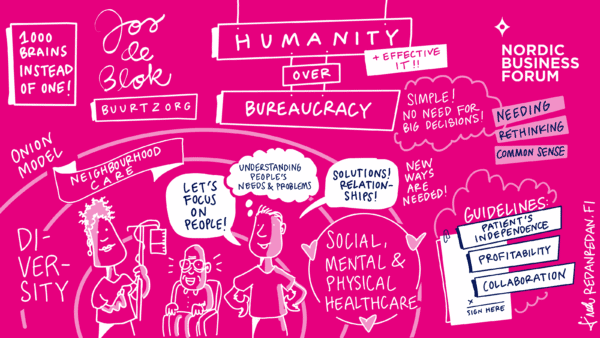 Visual summary of Jos de Blok's keynote by Linda Saukko-Rauta
---
Want to get the full summary of the Nordic Business Forum 2023 speeches + extra content for reflecting on your learning? Download your free copy of the full Executive Summary and summaries from previous events!
Get the full Executive Summary