16Oct2023
Malala Yousafzai – Creating Change
Never underestimate the power you hold and the impact you can make was the message from Malala Yousafzai, the youngest Nobel Peace Prize laureate and a prominent global advocate for female education, to the Nordic Business Forum 2023 attendees. "Change begins with one person, but it's the combined efforts of everyone that turn it into a movement."
Activism and Upholding Human Rights
Beginning her advocacy journey at around 11 years old, Malala recalled that she didn't initially label her work as campaigning or activism because she did not know those terms. However, she did understand the importance of sharing a story that exposed an ongoing injustice.
"I had no idea how many girls were out of school worldwide, but I knew it was unfair for me and my friends. I was not afraid of the Taliban because they had already done the worst they could to women and girls by denying them fundamental human rights, from education to liberty."
Reflecting on her past, she emphasized the importance of understanding the issue and developing a strategy for change when embarking on a mission, whether within an organization or on a global scale. "What is your expertise? What sets you apart from everyone else? Is it connecting people? Is it uniting stakeholders? Is it reaching out to the community?" The following steps are action (meaning going out and doing the work) and impact, which is learning from what happened to moments of success, both big and small.
However, Malala conceded the world of activism can be challenging and frustrating. "When I was little, I wanted things to change in a day. Then I said it should not take more than a year. Then I said, ten years should be enough. But I have realized that things, unfortunately, take much longer. It is why activists must get more involved because we must accelerate progress. I remain optimistic and ambitious because my mission needs to happen."
She has met activists in Brazil, Nigeria, and Pakistan working tirelessly in some of the most challenging regions to provide alternative learning opportunities for girls. For instance, in the Kaduna state of Nigeria, a law was passed guaranteeing a complete 12 years of education for children. In Pakistan, legislation was enacted to allocate adequate funding for girls' education. Moments like these fill Malala with hope.
These impactful instances reinforce her emphasis on the utmost importance of unwaveringly upholding human rights. This is especially crucial in today's intricate geopolitical environment, where companies are confronted with the choice of conducting business in conflict-prone nations like Russia or countries with contrasting human rights stances, like China and Saudi Arabia.
"It's important that you are not silent and still while atrocities happen. Understand the difference you can make and figure out how to empower local, disadvantaged voices because that can make a huge difference. People need economic security and independence, but they also need to be able to make choices for themselves."
Leadership and Generational Collaboration
One of the most significant discussions in corporate management circles revolves around promoting greater diversity and gender equality in top roles. While quota systems or setting specific targets can be informative, Malala emphasized that they alone are not a solution. She stated, "Without addressing the fundamental reasons behind women's limited access to top positions, lasting change remains elusive. Our perception of leadership is too narrow and must be expanded to be more inclusive."
Malala suggested shifting focus toward long-term, inclusive visions and strategic planning can help companies align with the values of the emerging workforce, which seeks authenticity and commitment to issues like climate change, environment, gender equity, and racial equity.
"Young people have heard about these issues for a long time. They thought those in powerful positions would make something happen, but the realization sets in that much of the responsibility is deferred to successive generations. There's a sense of impatience among the young that can help put pressure on each other to keep the world going and be a driving force."
The next generation can gain valuable insights from those with experience—those who have made things happen, engaged in advocacy and undertaken strategic work within organizations. Conversely, there's also much that the older generation can learn from the youth, such as the importance of not abandoning one's dreams. "With age, it's easy to become disheartened by setbacks and disappointments."
Malala highlighted her discouragement during the pandemic when initial research indicated that an additional 20 million girls were at risk of never returning to their classrooms. "I was worried about the girls already out of school, and now, the pandemic was making it harder for girls to get back to their studies. Even with online education, boys often had more access to devices than girls. This experience taught me that you should redouble your efforts in the face of setbacks."
In concluding the discussion, she expressed deep gratitude for every kind of support, acknowledging its significance to her and everyone actively striving to improve our world. "My final message is to ensure that we see a world in our lifetime where every girl has access to safe, high-quality education and the freedom to learn and lead."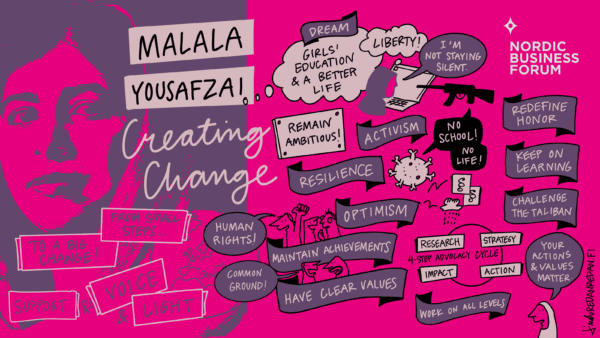 Visual summary of Malala Yousafzai's discussion by Linda Saukko-Rauta
---
Want to get the full summary of the Nordic Business Forum 2023 speeches + extra content for reflecting on your learning? Download your free copy of the full Executive Summary and summaries from previous events!
Get the full Executive Summary