20Oct2023
The Executive Summary for Nordic Business Forum 2023 is Out!
During 27-28 September, Nordic Business Forum 2023 gathered over 6,600 CEOs, business leaders, entrepreneurs, and decision-makers to Messukeskus, Helsinki. Over 25,000 people were also following the event via live stream.
The theme of the year was Be the Change, through which we encourage leaders to become the change they wish to see in the world. Twelve speakers stepped on stage to discuss this theme from the perspectives of innovation, artificial intelligence, leadership, and resilience.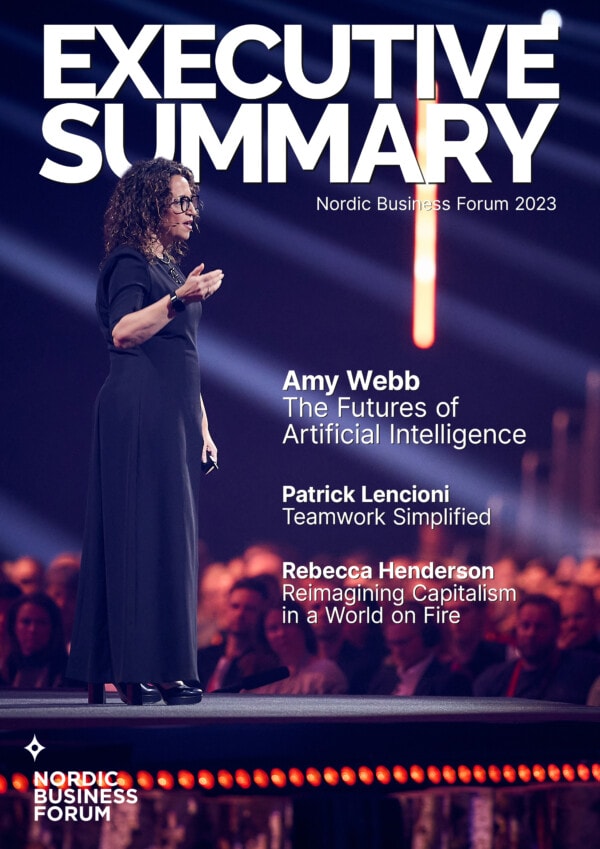 In this Executive Summary, you will find an overview of all the main stage presentations, followed by key points and questions to consider. Read the summaries and reflect on the questions to deepen your learning and think about how to implement the insights in your own work. The visual summaries of the presentations were sketched by Linda Saukko-Rauta.
In the Executive Summary, you'll be able to read about:
Patrick Lencioni – Teamwork Simplified
Rebecca Henderson – Reimagining Capitalism in a World on Fire
Tim Ferriss – Productivity and Innovation
Amy Webb – The Futures of Artificial Intelligence
Malala Yousafzai – Creating Change
And much, much more!
Enhance your knowledge about leadership, innovation, resilience, and AI, and download the Executive Summary today!