13Mar2023
Leading Change with Patrick Lencioni
Leaders and leadership are subject to change as much as they are the facilitators of change. Leadership and business management author Patrick Lencioni has observed this change throughout his career while offering his expertise to leaders all over the world. We wanted to know what he has learned throughout the years and how he would advise leaders of the future. Therefore, we asked him a few questions about leading change!
Be:Change is the theme of Nordic Business Forum 2023, where Pat will be giving a keynote on "The Teamwork Trifecta". If you are interested in seeing him live in Helsinki this September and want to learn more about how to create strong and effective teams, build a culture of trust, and much more, get your tickets today!
Changes in Leadership
At first, we asked Pat to tell us about the change he would like to see in leadership:
"I would like to see leaders take a strong stand for dignity and freedom for their employees, both at work and in their personal lives. Too many companies are coercing their people to participate in social and political matters that they aren't interested in, and this is a dangerous phenomenon that erodes the dignity of employees, and even customers."
Knowing that Pat has authored several books on leadership during the past few decades, we wondered if he had seen a change in leadership during that time:
"I think my views on leadership have changed a little, and the nature of organizations has changed even more. Having said that, I'd say the most fundamental principles of leadership that I subscribe to remain largely the same. Humility and trust lie at the roots of it all."
The Challenge of Remote Work
It seems that the nature of leadership hasn't changed that much, but the way we work has:
"The nature of work has taken a turn for the worse in the past few years, mostly because of the transition to remote work during the Covid situation. Today, many organizations are choosing to keep their people working remotely, to cut costs and retain employees who don't want to commute."
As Pat pointed out, the nature of organizations and work has changed drastically. One of the big changes we've seen is the popularity of remote work, which some are weary of. In Pat's opinion, these suspicions aren't unfounded:
"This is having a negative impact in two areas. First, people are experiencing less relational development and satisfaction at work, which has a real impact on society. Second, productivity has declined, and will continue to remain low as long as we deny the importance of the role of human interaction in maximizing performance."
Leading Change
Pat writes about the importance of safe team environments, which are needed for leading change and managing remote work. Therefore, we asked him to further explain the benefits of safe team environments on leading change:
"The only way to create a safe team environment is to build trust among people. This leads to healthy conflict, the kind that is focused on finding the best answers to problems rather than winning personal battles. Safe working environments are not soft, focused on protecting people from disagreeing with one another."
Given these difficult circumstances in which leaders have to lead their teams, we also asked about the characteristics leaders need to have:
"Courage and character will become even more important in upcoming years. I'm concerned that there is a lack of selfless, principle-centered leadership in society as more and more people seem to lack a moral and ethical North Star. It will become even more important for leaders to provide clarity about moral and ethical behavior."
---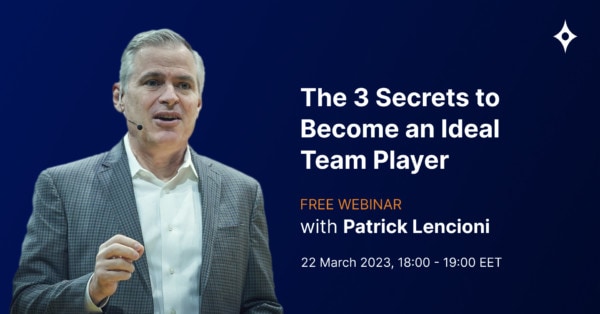 Learn More from Patrick Lencioni
On the 22nd of March at 18-19 EET, we will have a webinar with Pat about the 3 secrets to become an ideal team player!
In this webinar you will learn about the virtues of an individual team-member— humility, hunger and people smarts— that make some people better team players than others. Whether you're a leader striving to bring about a culture of collaboration or an employee who simply wants to make yourself a more valuable team-member, this webinar will provide insights that can help you change your organization or your career.
Learning points:
What are the strategies for boosting each team member's performance?
What makes some people better team players than others?
How to ensure you have the right people on the team and in the right seats?
Join us next week to hear from Pat directly and hone your skills in creating effective teams!